Featured Image Source: Tanvi & Co & Vivaah Wedding Decor
Everybody wants their wedding ceremony to be the best of the year. There are so many aspects of  wedding planning where you require the expert opinion. One of such important component is the decoration of wedding stage for various consecutive events taking place in your wedding. One particular element of wedding decor that's certainly been sculpted over the years to stand out among the rest is the wedding stage.You can not determine your wedding stage decoration overnight so usually people hire the wedding decorators or wedding planners in advance for the smooth execution of their ideas.
Image Source: Dreamzkrraft
Decorations in Indian weddings have excelled the typical exemplar of ordinary hanging or screwed up drapes and old-fashioned wedding flower arrangements a long time back. With never-ending eccentric ideas and creative minds, the best wedding decorators are incubating and executing unique and fresh trends. The vast sweeps of wedding stage decoration have a lot to offer nowadays. From bizarre and minimal out of the ordinary ones to titanic ones, we're all wrecked by choices. In this article, we will share 10 Wedding Stage Decoration Ideas for you. Right from latest Indian wedding stage decorations to captivate all-time favourite wedding stage decoration ideas with phenomenal decor elements, we've tried to put some mix of fresh and ideas together.
1. Out-of-the-box Floral Arrangements
Wedding decor adds to the enticement gimmick featuring creative installations at the ceremony and reception sites, couples are looking to the sophisticated art world to present a new take on traditional wedding stage décor. Here in the picture, a circular arch with carefully selected pastel florals, dotted with hanging lamps and fairy lights are adding artistic value to the venue decoration.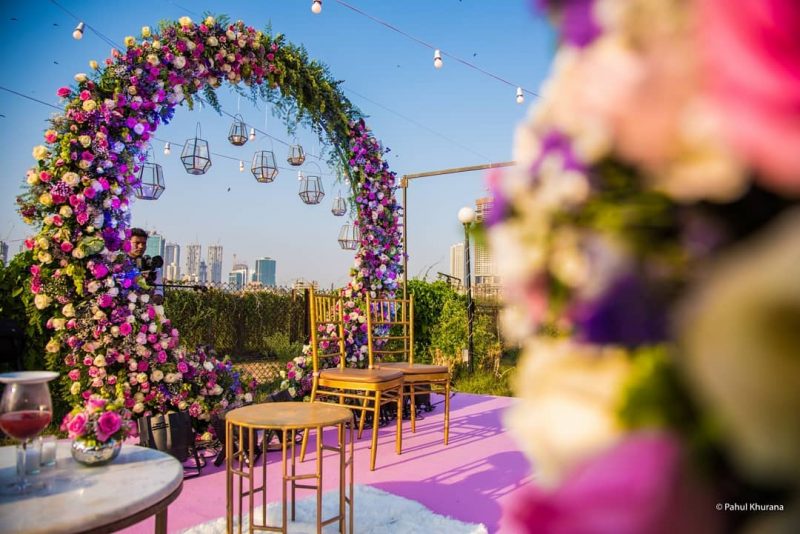 Image Source: AASH STUDIO
2. Thematic Decor
If you're having a destination wedding at an elegant venue or more specifically in a heritage site then your aim should be to augment the decor with the heritage. Here in this picture, the fort is being transformed into a  decadent palace of roses.
Image Source: AASH STUDIO
3. A Simple Stage Decoration with a Theme
This entire setup is perfect for the couple who loves all things subtle. A Holi party for the bride and groom to entertain their guests is being crafted in the picture. Equipped with white linens, blooming Asters and watercolour backdrops, this event transforms the fort with its modern minimal charm.
Image Source: Atisuto Events
4. Use of Floral Backdrop
 This is a very easy wedding stage decoration idea for weddings that have less preparation time. Floral arrangements infuse life into wedding decor and make the venue bloom with its natural radiance and lovely fragrance.
Image Source: Designer Events
5.Chandeliers and Voluminous Green Backdrop
The combination of voluminous green backdrop on furnished with glimmering golden drapes makes for stunning wedding stage decoration. The chandeliers add to its sophistication.
6. Floral Power House
With a floral backdrop, sofa with flower vases on both the sides and minimal lights, this entire setup is perfect for the couple who loves all things simple and gorgeous at the same time.
7. Minimalist Stage Decor with Red Floral Array
This stage beautified with pink flowers and a hint of pink light is an absolute adorable beauty. Subtle yet classy, this simple wedding stage decoration idea is a must!
Image Source: Pinterest
8.Play with Light and Sparklers
This contemporary idea is a glamorous one with its shiny glitter strings, a thick chain of flowers, perfectly placed lights and a simple sofa.
Image Source: Pinterest
9. Wedding Mandap Decorations
You are free to experiment with the material for the canopy with fabrics like chiffon, silk or satin or a net made of garlands of marigold or jasmine or tuberose or other exotic flowers. Diyas and candles, as well as crystal or mirror work embellishments, can be used to enhance the decor.
Image Source: Pinterest
10. Use of Drapes
Drapes and canopies give the stage decoration a prominent look. If you have chosen a central color, match your draperies with it. Yellow & red is the standard color when choosing drapes.
Stage decoration is one of the most important aspects of the wedding, it would be featured in all of your photos and is a huge part of how you would remember your wedding. From curtains to lights, you need to invest a lot of thought and intellect to pick the perfect set of wedding stage designs for your special day.
Once the design is decided, you also need to have a budget sheet ready assigning a certain amount to particular components. This would help you to see if you had overshot your estimate or you are well within your budget.
Apart from the above decor ideas, you can search with the keyword " Wedding Stage Decorations" on Pinterest or with trending hashtags like #weddingstagedecor #weddingdecoartion etc on Instagram for the same. You can subscribe to the wedding allied magazines like The Wedding Trunk for various articles featuring the industry experts and their creations.