12 Brides who opted to wear a Yellow Lehenga and made our hearts happy!
I firmly believe in the line "yellow yellow not so dirty fellow!" I love the vibrant colour for the positivity that it radiates. It is also one of the most popular colours when it comes to the Indian Wedding scenario. And there is nothing like "I can't pull off yellow!" You can, honey! Yellow is an evergreen colour that suits each and every one of us! If you are still skeptical, just have a look at these brides who will blow away all your doubts!
1. This bride wore an offbeat mango yellow lehenga for her mehendi sundowner..
Image source: You by Poonam Kotecha
2. Guntas' turmeric yellow lehenga with gota patti is just as pretty as her!
Image source: Infinite Memories
3. It is mustard, unique and flowy. What's not to love?
Image source: The Lightsmiths
4. Nikita took the internet by storm with this beautiful yellow lehenga!
Image source: Israni Photography
5. You think brides don't wear yellow on their wedding day? Think again!
Image source:  Candid Wedding Stories
6. Recreating Kareen Kapoor's look with this stunning mustard yellow lehenga!
Image source: Camera Crew
7. Designer Anushree made her own mehendi lehenga!
Image source: Blu Swan Media
8. Sabyasachi's famous lemon lemon yellow lehenga is a breath of fresh air!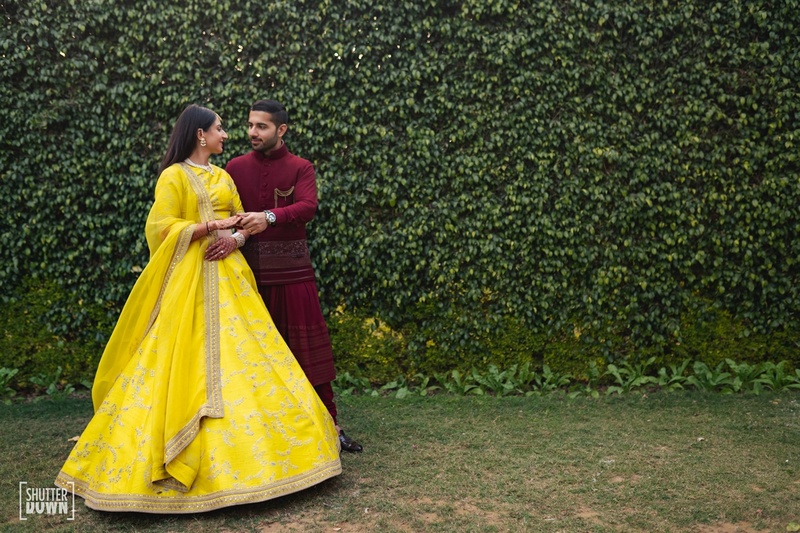 Image source: Shutterdown Photography
9. Meenakshi wore a pale yellow off shoulder lehenga made by her dad!
Image source: Avnish Dhoundiyal Photography
10. Ouu, a pretty yellow lehenga with mirror work! Take a look at those floral kaleeras!
Image source: The Lightsmiths
11. A lehenga in the lightest shade of yellow with 3D flowers is your answer to "I can't handle bright yellow!"
Image source: Shades
12. In love with Palak's mustard yellow with silver beadwork and tassel details on the choli
Image source: Shades
So, are you selecting a yellow lehenga for your wedding too?