25 Latest Inspiring Mehndi Designs for 2019 Weddings
Mehndi design latest images for 2019 are out and about on the internet and I couldn't help but curate the 25 best henna designs for you. Be it a simple mehndi design or an Arabic mehndi design, you will find all styles of latest mehndi design images right here! Henna is adorned by women across ages, religions and castes in India for special occasions and if you are one of those who loves getting your hands and feet stained with henna at every opportunity, then you are totally going to love these new mehndi designs of 2019.
Scroll on and check out 2019's mehndi design latest images and pick something that's in sync with your taste for any occasion from weddings, engagement, anniversary parties, baby shower and so on! Pro tip: Make a mehndi inspiration board on Pinterest and save every mehndi mehndi design image you like to refer whenever you feel like getting a mehndi done. 
1. Latest arabic mehndi design for backhand
Image Source: Henna by Divya
If you are on the lookout for the latest Arabic henna design with floral pattern, then this mehndi design image is the one you should definitely save to your phone!
2. Floral Arabic mehndi design for feet
Image Source: Henna by Divya
Not a big fan of legs full of henna on your big day? Take cues from this simple feet mehndi design with basic floral motifs that looks stunning too!
3. Latest mehndi design with swan on backhand
Image Source: Henna by Divya
Want a stand out motif on your mehndi design? Save this backhand mehndi design image and use the swan portrait as an inspiration for your henna.
4. New mehndi design with beautiful bride and groom portrait
Image Source: Henna by Divya
Getting run-of-the-mill bridal portraits is passe! Get a bride and groom portrait on your 2019 mehndi design that looks close enough to the two of you. 
5. Simple mehndi design with Warli inspired art
If you got a bit of artist in you and don't mind experiments with new mehndi designs, then this beautiful henna with Warli inspired art form is a stunning choice.
6. Mehndi design image with dainty floral trail on backhand
Image Source: Girly Henna
Want a minimal and simple mehndi design to rock at your 2019 wedding? Save this mehndi design image ASAP!
7. Easy and simple mehndi design for 2019 bridesmaids
Hola, bridesmaids! This mehndi design image right here is something your entire squad can get to look like a match made in heaven! This simple henna design is perfect especially if you are planning to wear modern bridesmaids dresses!
8. Latest mehndi design with floral pattern and shading
If you thought shading was only limited to painting, then you gotta have a look at this mehndi design image! The beautiful curves, flowers and motifs along with subtle shading takes this mehndi design a notch higher. 
9. Simple new mehndi design perfect for engagement
This simple Arabic style mehndi design is a great choice to wear for your engagement; especially if you don't want to overdo with a hand full of henna for an intimate function! 
10. Mehndi design 2019: Flowers and birds galore!
Image Source: Henna by Divya
This beautiful mehndi design with flowers, birds and butterflies is straight out of a book of nature painting. If you want an artistic mehndi design on your big day, go ahead and get something like this!
11. Intricate bridal mehndi design for hands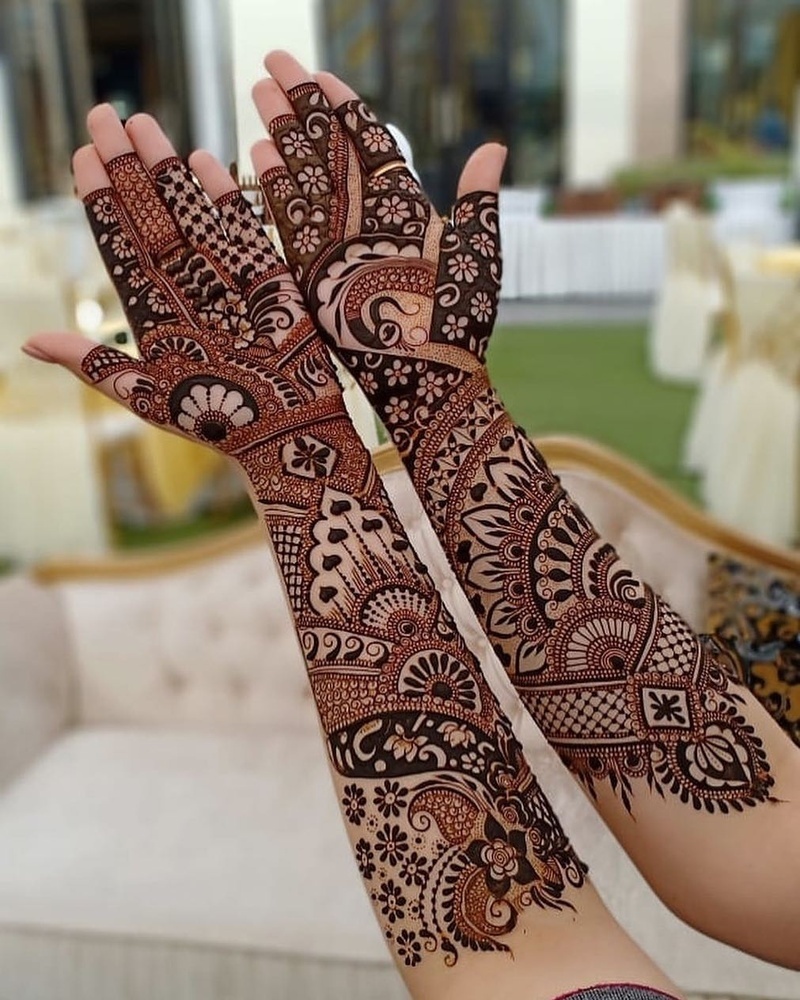 Intricate mehndi designs never really go out of style! If you are a bride who likes to keep it traditional, then this mehndi design image is a great reference to show your mehndi artist.
12. Mehndi design image with lotus and swan motifs
Image Source: Henna by Divya
Looking for some latest mehndi design for an upcoming engagement? This beautiful Indian mehndi design with lotus and swan motifs at the center of the palm is a fantastic option.
13. Latest Arabic mehndi design for 2019 brides
Arabic mehndi designs have been popular because of their simple motifs and eye-catchingly bold patterns. Get a simple mehndi design like this for you big day, if you're not too keen on having hands painted red with henna.
14. New mehndi design that's the perfect example of traditional patterns
Image Source: Henna Inspira
Traditional Indian mehndi designs comprise mainly of flowers, curves and leaves. This latest mehndi design uses all these motifs to create a traditional pattern that's perfect to wear as a bridal mehndi.
15. Gorgeous new mehndi design for the lotus pattern lover
Image Source: Henna Inspira
Do you love lotus motifs in mehndi designs too? Well, this mehndi is for the floral lover who just can't get enough of lotus motifs all over their hands.
16. Arabic mehndi design with cascading floral trail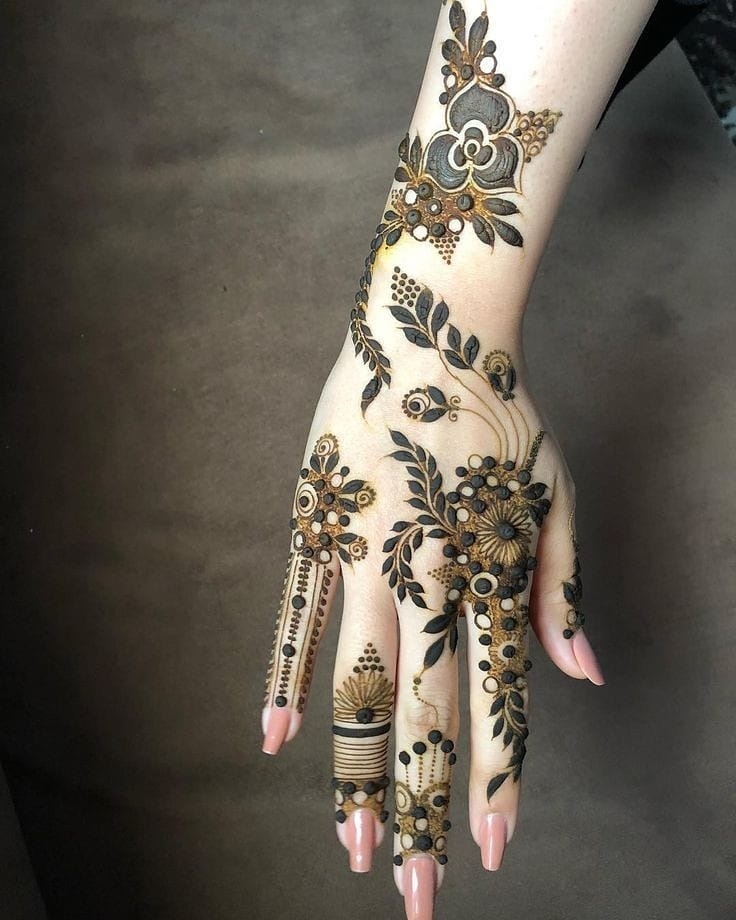 Here's another latest Arabic mehndi design that's every bit modern. It's a great cascading trail of flowers to get on your backhand for Eid or Karwa Chauth.
17. Latest feet mehndi design for 2019 bride
Your search for the perfect bridal feet mehndi design ends right here! This beautiful mehndi is everything that Indian bridal henna stands for: intricate, gorgeous and well-drawn!
18. Easy mehndi design to wear for small occasions
Want some latest mehndi design on your hand for a small pooja at home? This mehndi design image can your go-to! Save it NOW!
19. Latest mehndi design with classic mandala motifs
The mandala mehndi motif is here to stay; and for all the right reasons! It is a classic Indian motif, but can also be modernized as per your liking. This mehndi design right here can be a perfect engagement mehndi!
20. Glove style new mehndi design for backhand
Got something modern on your mind for the big day? This latest mehndi design of 2019 that looks like a lace glove is just a smashing choice!
21. Simple henna design for front and backhand
This latest mehndi design image is a perfect pick to wear save and use for any small and special occasion at home. Take your pick and wear it for anything from Karwa Chauth to Eid.
22.  New Arabic mehndi design for hands
Arabic mehndi designs have changed over time. Traditionally showcasing floral motifs, they have now started to incorporate beads, leaves and a lot other designs too!
23. Feet mehndi design image with traditional henna motifs
Image Source: Heena by Pallavi
Mehndi applied to the feet is a sign of a newly wed bride. If you are looking for a simple yet striking mehndi design image to wear for your big day, then this one right here is a great option to have in your mehndi image bank.
24. Super simple mehndi design for those who love minimalistic designs
If you have a soft corner for simple mehndi designs, then this beautiful floral trail with leaves is minimalistic enough to wear for your bestie's wedding or engagement. 
25. Arabic mehndi design vines with intricate Pakistani patterns
Got a penchant for intricate Pakistani designs and Arabic style mehndi. This latest mehndi design of 2019 is here to save the day! Pin it to you henna board on Pinterest for future reference.
Now that you have see the mehndi design latest images for 2019, I hope you have liked some and saved them to share with your girls and wear on some special occasion.