Best Destination Wedding Venues in Jodhpur for a lavish extravaganza
A place that has preserved its history and is well-known for its royal treatment, surely the blue city of Jodhpur promises to be a lavish experience for everyone who visits it. Being one of the heritage cities of Rajasthan, it offers a blend of both natural beauty and architectural masterpieces that you definitely would love to explore. The royal culture here dates back to centuries. When we talk about royal treats, it always has a connection with royal weddings and what better place than Jodhpur to host your dream destination wedding. The Rajasthani craft offers a perfect landscape that has some of the best destination wedding venues in Jodhpur that will surely leave you awestruck. We've got you all covered and here is a list of five royal destination wedding venues where you can plan your royal wedding.
When we talk about grand, lavish and royal things the ITC welcome hotel at Shikargarh, Jodhpur does justice to all these words. Big events need grand gestures and here at the ITC Welcome Hotel, your big day doesn't fall short of anything grand. From hosting open-air wedding functions to having both indoor and outdoor cocktail parties, the ITC is a place you look forward to hosting your lavish destination weddings in Jodhpur. With a stunning ambience that stands out, your special day has all the ingredients of becoming a grand success. The ITC group of hotels have always been in the forefront when it comes to serving some of the best cuisines from around the world and here in Jodhpur it surely delivers what is promises.
 
Where: Khasra No.53, Near Vidhyashram International School, Village Uchiyarda, Jodhpur, Rajasthan – 342027.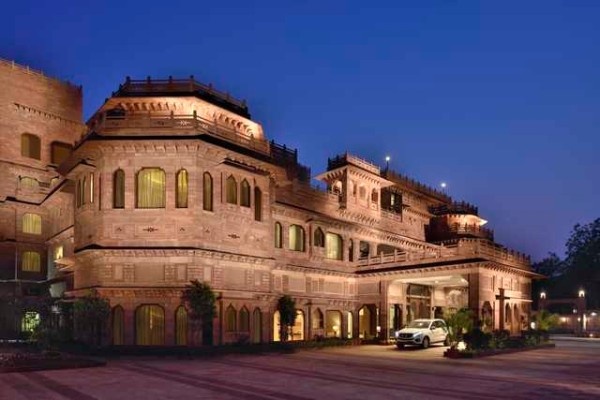 A classical heritage hotel in Jodhpur, the Ranbanka Palace in Ratanda is located on Circuit house road and is conveniently placed to access key attractions in and around the Blue City. It doesn't get any more royal as it is was a part of India's first heritage hotels. When you plan your wedding at the Ranbanka Palace, royalness literally sits on your shoulders. Royal weddings in Jodhpur have a different charm altogether and you'll definitely feel it at the Ranbanka Palace. From traditional music and performances to exotic veg and non-veg dishes, your big day promises to be inscribed in your memories. The Ranbanka Palace prefers to differ from the rest as it has sitting arrangements in verandah where you can relax and soak in the serenity this place offers. So plan your destination wedding at Ranbanka Palace and get drenched in the royalness.
 
Where: Circuit House Road, Jodhpur, Rajasthan-342006
Out of the top wedding venues in Jodhpur, the Bijolai Palace is an ideal location on Choupasni road for your long-awaited destination wedding. Situated in the midst of nature, offering a lakeside view the Bijolai Palace is a combination of both nature and art. Indeed, for your special day, this is what you will desire. A perfect location away from the chaotic world that lets you and your loved ones celebrate your big day in grand style definitely is a place that needs your attention. You can host all your wedding ceremonies like haldi, mehendi, sangeet and reception as the banquet hall, lawn and terrace are well equipped for such arrangements. Celebrate your special moments at the Bijolai Palace.
 
Where: Bijolai Palace, A Treehouse Palace Hotel, Near Kailana Lake, Jodhpur, Rajasthan 342003
A city that speaks for itself, Jodhpur has some of the most engaging venues when it comes to architectural brilliance. One such destination wedding venue is the Rasala, Mandore which is a well-known place for conducting weddings.  The Rasala in Mandore offers some of the best hospitality and the testimonies of the guests speak for itself. Planning your special day at the Rasala not only will be an experience to remember but also something that will be treasured for years to come. It has an event banquet hall where your pre-wedding and post-wedding ceremonies can be conducted. The wedding lawn is an addition to its armoury which has a large seating capacity for the guest. All your beaming weddings and reception ceremonies will be a definite hit here at the Rasala as it is one of the best places when it comes to wedding resorts in Jodhpur.
 
Where: 8th Mile, Surpura Bypass Road, Mandore Industrial Area, Near NLU, Mandore, Jodhpur, Rajasthan- 342304.
Radisson on the residency road in Jodhpur defines luxury like none other. Located at a close distance from the Jodhpur Railway Station make it easily accessible. The structure of this place is appealing and is something that will definitely stop you in your stride. Giving it a haweli kind of look, each corner is structured with minute details. A grad wedding ceremony is always on the cards when one is associated with the Radisson in Jodhpur. For your comfortable stay,  it has spacious banquet halls and a lush green lawn which is perfect for an open-air function. Of all the wedding reception venues in Jodhpur, The Radisson surely stands out to host your special day.
 
Where: Gaurav Path Road, 8, Residency Rd, Air Force Area, Jodhpur, Rajasthan 342001
 
By now you'll have a good idea of the best destination wedding venues in Jodhpur where you should be looking out to plan your wedding. The above top 5 destinations should ease the process for a hassle-free experience and a memorable one.