Say Sayonara to Bachelorhood
When you woke up this morning, did you notice or feel something different? Yes, besides the fact that you are married to your sweetheart, your life is never going to be the same now. You are now honoured with the title of 'Husband', which means you will be immediately stripped of certain liberties. Spontaneous cloud bubbles will pop in every corner of your head. Will I be able to hang out with my pals until the wee hours? Will that pending tour-of-the-Caribbean with my homies be possible? What exactly has changed or is going to change now?
While you have this monologue with your conscience, let's assure you of this — things will turn upside down! Well, we really do not want to scare you (at least, we hope so).
Am I Still Dreaming?
Photo By: Going Bananas Photography
Ting! Ting! Ting! The wedding bell has rung out, and it's time to snap out of the dream and step into the reality. While it will still feel like it was only yesterday that you were drenched in haldi, dancing at your baraat or taking seven vows with her, it's a new day today. There are things to be done. One of them is to escort the group of relatives out, who are suspected to overstay their visit, as humbly as possible.
How and What Should I Prioritize?
Photo By: Bosco's Photography
Decide! We are not talking about walking on egg shells around her, but we want you to put things into perspectives and think long term. Listen to your inner voice and as a husband if there are two tasks in front of you A) To do the dishes and B) To complete the last stage of Assassin's Creed, what would you go for? Take the initiative, be a dear one and do the dishes.
Are New Responsibilities = More Responsibilities?
Photo By: Bosco's Photography
Of course! While it took forever for you to get accustomed to the old ones, you are likely to add a few more to the checklist. Now you cannot just think about yourself, but about your better half too. In many cases, put her needs before yours, and yes sacrifice is your new best friend. Try hard not to be tagged as irresponsible for at least, well how about — forever!
Is it Cool to Chill Out for the First Few Days?
Photo By: Bosco's Photography
Nope! It's time to pull down the socks and keep it where it belongs. Your baby definitely won't appreciate you being a sloth or a lazy ass. Remember, you will share the bedroom with her, and cleanliness is something that she will not negotiate on. Put things where they belong and life will be peaceful. It may be difficult, but not impossible. Remember, practice makes men perfect and husbands geniuses.
What Will Happen Next?
Photo By: Navdeep Soni
You will constantly find yourself asking the above question. Things will dramatically change for you, especially mentally, emotionally and financially. You will look at the world differently, and the world will also look at you differently. In and around your lives, people will now see you as a much mature and responsible specimen. Soak it in, enjoy it. FYI,  post bachelorhood, it's going to be fatherhood.
No More Bird-Watching Now!
Photo By: Dipak Studios
Old habits die hard, isn't it! Well, if yours is checking out the lady who walked just past you right now, drop that glance immediately! Now there will be no more scoping of other babes—well at least in front of her. Even if it's a harmless glare, avoid it. Control your pupils, command your retina and ask your cornea to mind its own business. She will notice it, like it or hate it, but you will have to drop it!
Will She Think – Why Did I Marry This Guy?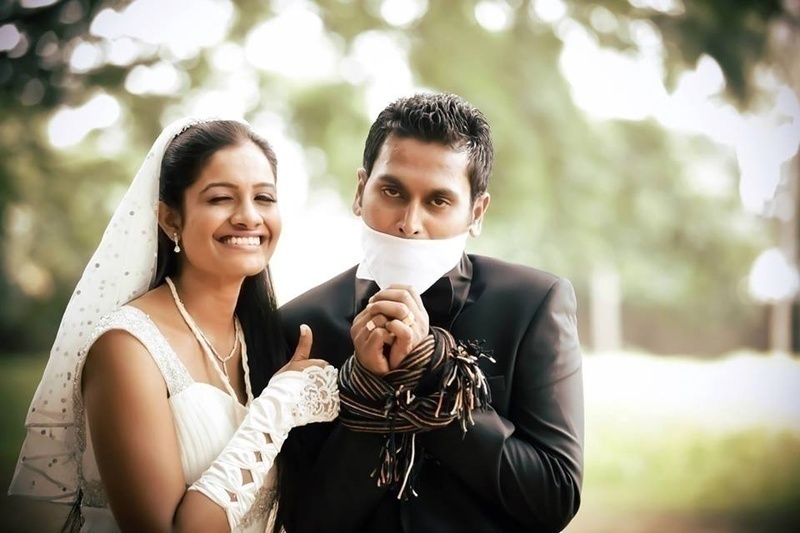 Photo By: Bosco's Photography
She can! But at no point, don't let this thought sink inside her and make her wonder why she is with you in the first place. No matter how long and well you both know each other, she is still getting accustomed to the new environment. Do not come home sloppy drunk and cut back on the frequent outings. She will always wait for you, never take her for granted.
Is it a Buh-Bye to Bachelorhood?
Certainly! Yes, it's a bitter truth folks because it's time to renounce your bachelorhood and accept the new you. And it's a good new you. Freedom might be gone, but the spirit shall always remain within you. It's up to you to know how tactfully you use it and emerge as a more caring, affectionate and compassionate person.
Photo By: Bosco's Photography
Once again, you need to know that things will change without your consent. Never compromise on your individuality or spontaneity. Be yourself, but alter a few things here and there. Remember two things – acceptance is the key, and she is always right. This way you will shorten the war by many years.