Latest Mehndi Designs For The 2018 Bride!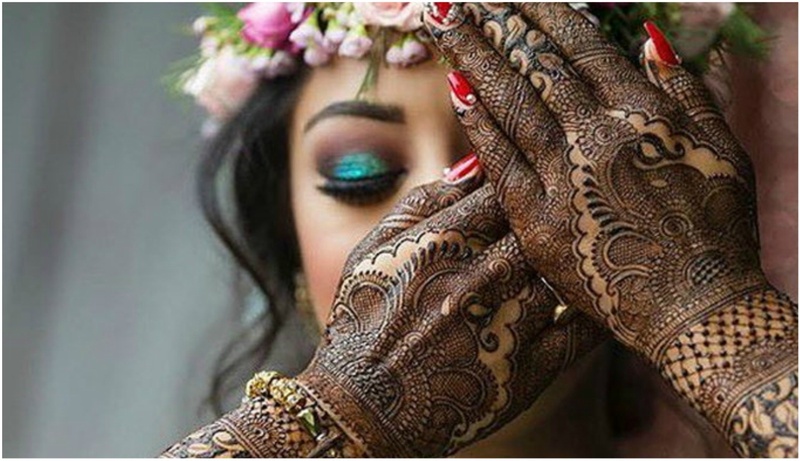 Bridal mehndi designs today are going through a big makeover. A millenial bride's mehndi design today consists of awe-inspiring art, which is a trend setter in itself.
We have been seeing a lot of mehandi designs which are either over-the-top personalised ones with brides telling their stories through it, or going completely minimalistic with nothing but a mandala pattern in it. These easy mehendi designs completely jazz up your bridal portrait, making them a sight for sore eyes.
If you too are on a lookout for something different than the conventional henna designs, then we've got you covered! We have compiled a list of the latest mehndi designs – some oh-so-awesome, some modern and some classic for every kind of 2018 bride!
1. For the quirky bride:
Include your dear pet in your henna design. We love how this bride got a picture of her pup as a part of her mehndi design. Her dog bestie is just too cute to handle!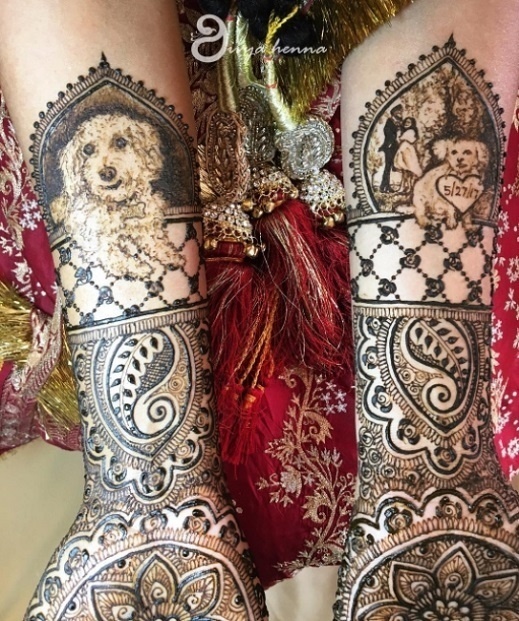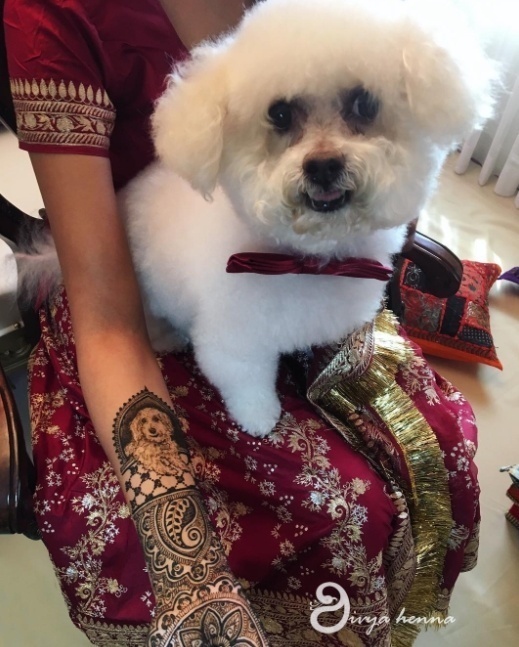 Image Source – Divya by Henna
Are you a minion fan? Then you are going to go gaga over how this bride got minions in her mehendi design.
Image source – 1 plus 1 studio
2. Poetry slam:
How about getting your favourite poetry included in your mehndi design? We say 'totally romantic'!
Image Source – PhotozApki
3. A love note for the groom:
If you find it hard to express your love for him in just 2 lines, then get the whole love note included in your mehendi design, sister! We are totally eyeing this creative yet simple way of incorporating a heartfelt message in the mehandi design!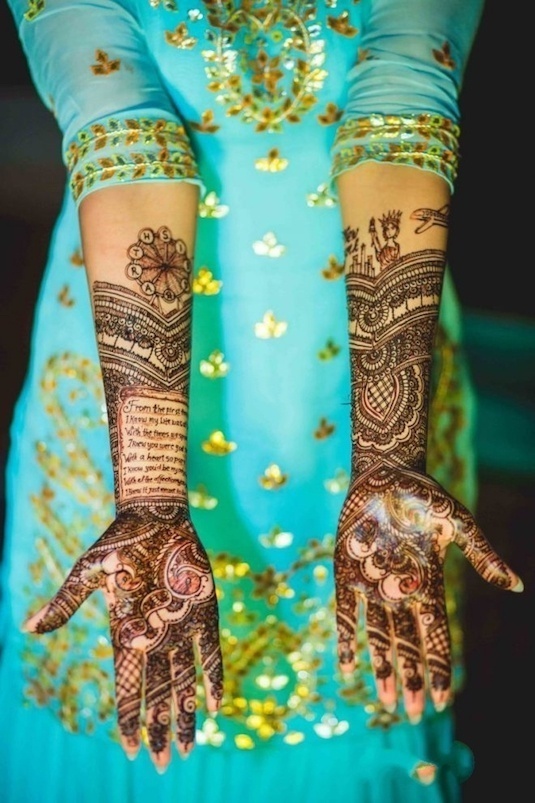 Image Source – Jodi Clickers
4. With the groom's portrait:
Noticed the right palm of this bride already? Yes, the bride actually got her groom's portrait etched in her mehendi design. *how cute*
Image source – Kundan Mehendi Artist
Here's one more bride who got her groom's potrait in her bridal mehendi.
Image source – The Wedding Story
5. The layered pattern:
If you can't decide which design you wanna go for in your bridal mehandi, then you can also layer them all. We are guessing these brides were spoilt for choices!
Image source – Candid Wedding Stories.
Image Source – Eleven Gates
6. With the whole baraat and doli scene:
If you're a tad too crazy about your baraat, then get your whole baraat and doli scene included in your mehndi design.
Image source – Morvi Images
7. Your proposal in the mehendi:
Including your romantic proposal scene in your mehendi design is pretty cool too – just include the proposal location or any other memorable aspect of it in your mehandi design. Check out the London Eye, Eiffel Tower & the moons & stars night below!
Image source – What Knot Photography
Image Source – Wedding crashers photography
8. For the minimalist bride:
Do you believe in the saying 'less is more' ? Well, then you don't have to always go overboard with your mehendi design. The simple yet minimalist henna designs are equally gorgeous too.
Image source – Henna by Divya
Image source – Foto Walle
Image Source – The Wedding Salad.
9. Lattice love:
Lattice or jali has been a traditional form of mehendi from the Mughals and the Rajput period. After all this time, they remain a classic and are still a popular choice for all the millennial brides.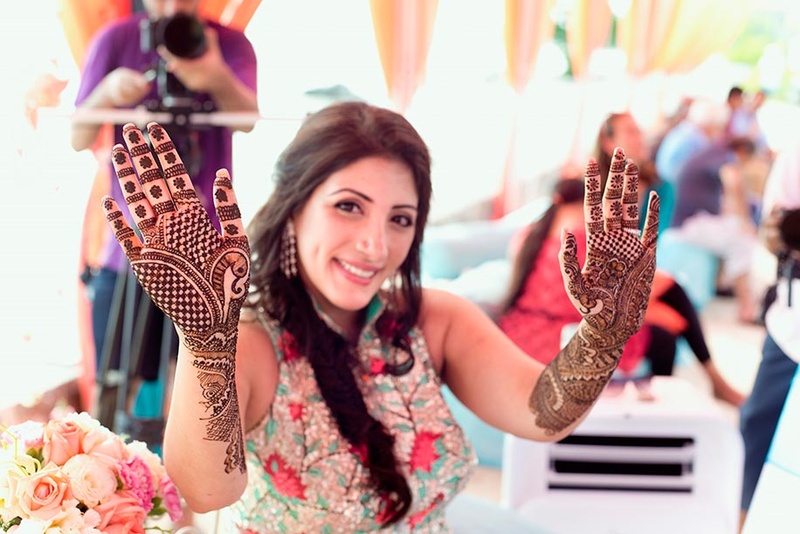 Image Source – Aidan Dockery and Kerry Manning
Image Source – Taaniyah Seth Photograph.
10. Circle of life or mandala:
The word 'mandala' symbolises wholeness. Simple mehendi designs incorporating single mandalas include a single concentric motif on each hand, surrounded by desired mehendi patterns around it.
Image Source – Rahul Arora Photography
Image Source  – Coffee Stains Photography
Image Source – Gautam Khullar Photography
11. Mehendi as jewelry:
How cool is this mehandi design that looks like you're wearing jewellery? You can get a design that very closely resembles a bracelet or an anklet (BTW, this also means you get to do away with the actual jewellery :p)
Image Source – Shutter Down
Image source – Plush Affairs.
12. Keeping the hashtag game strong:
It's a very popular, yet age old tradition of hiding the groom's name inside the intricate mehendi pattern. This trend being a little jaded right now, you can also opt for including your wedding hashtag in your mehndi design.
13. On the Sole:
Getting mehendi applied on your feet is just too 'been-there-done-that'. A lot of brides nowadays are opting for mehendi on their sole and they look just stunning!
Image Source –  Art Capture Productions
14. Bringing the sexy back:
Brides are constantly taking their mehendi game up a notch with the forthcoming wedding season and these delicate and easy mehndi designs on the back are nothing less than gorgeous!
Image Source – Nitin Arora Photography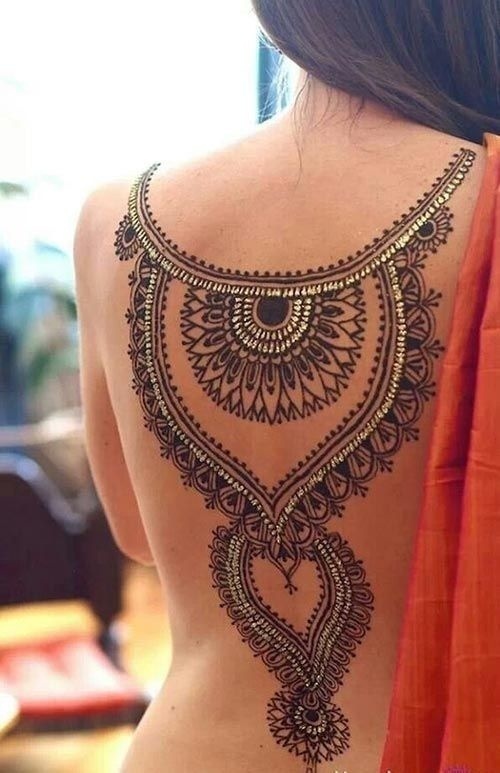 With this list of latest mehndi designs coming to an end we're sure you've decided which mehendi design to go for. So go ahead and jazz up your mehendi design with your love story, loved ones or love notes! After all, it's your big day and your henna design should portray the same!