Luxury Wedding Venues in Coorg you Should be Looking Out For!
If you have shortlisted Coorg as your wedding destination, then we know that you have a thing for mesmeric nature. A hotspot for tourists, Coorg is a hill station with waterfalls, green landscapes, and mystical mountain tops. No wonder, it is also known as the Scotland of India. The colorful and rich flora can add richness and a pop of greenery to your wedding ceremony, making it as charming as this location. The musical water fountains complemented by tiny flowers set the perfect wedding backdrop. Need we say more? So, we believe that you are already in love with Coorg! We have compiled a list of luxury wedding venues in Coorg that will blow your mind away. What are you waiting for? Jump right in and take your pick!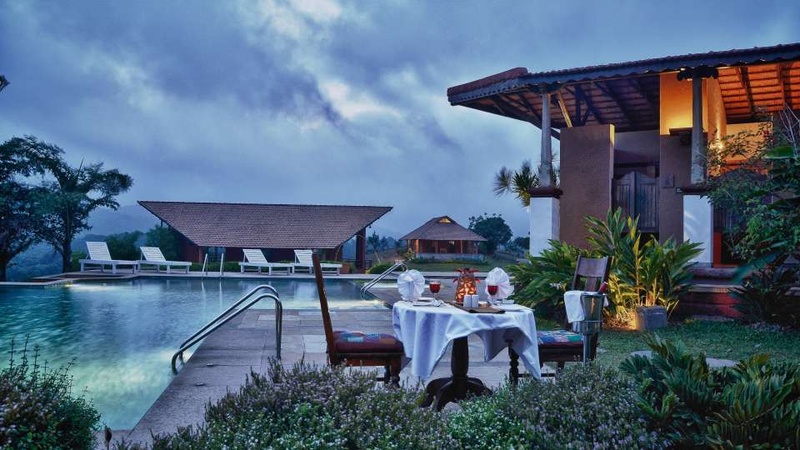 Heritage Resort is one of the most luxurious resorts in Coorg, located in the verdant hills of Karnataka. Perched on a mountain top and wrapped in the fresh embrace of rainforest is our beautiful resort, which offers an offbeat setting to host the best day of your life. Overlooking the deep valleys and gurgling streams, this beauty can be captured and treasured forever. All the event spaces offered by this wedding venue in Coorg are perfectly apt for intimate gatherings. Choose this idyllic venue for your wedding as you can't find any reasons not to select. 
Key Features:
Star-rated venue showcasing classical and traditional decor
Ideal for both intimate social and corporate gatherings
Serves premium alcohol at the venue
Heritage Resort, Madikeri, Coorg
Address: Heritage Resort, 50/3, 1st Monnangeri Village Galibeedu Madikeri, Galibeedu, Karnataka 571201
Landmark: Galibeedu Post Office
Virajpet is known for its thick jungles, paddy fields, and coffee plantations interspersed with pepper and cardamom plants, and the aroma around you is just amazing. Our next venue is located right in Virajpet. Club Mahindra Resort is a well-known wedding venue in Coorg, popular for its best in the industry services and standards. Scattered against a background of lush green coffee plants, this resort in Coorg has a huge lawn for around 1000 guests. The venue also has a hall if you are looking forward to hosting an indoor destination-style wedding. So, book this venue and host events with joy and vigor.
Key Features:
Lodging facilities available within the premises
Conveniently wedding venue in Coorg
Food and decor curated in-house
Club Mahindra Resort, Virajpet, Coorg
Address: Club Mahindra Resort, Village Karada Post, Club Mahindra Virajpet Road, Palangala, Karnataka 571218
Landmark: Club Mahindra Virajpet Road
If you are looking for a venue that resonates with your wedding story but also serves as a perfect getaway to rejuvenate your soul, then check out this venue in Coorg. Amritara Ambatty Greens Resort is one of the best wedding venues in Coorg that has a lawn and hall with varying capacity to let you host the wedding of your dreams. You can experience the salubrious climate of Coorg, and the beauty of rolling hill from this perfect wedding destination. What are you thinking about? Don't you think this place is definitely a go-to destination? So, book it right away. 
Key Features:
Luxury wedding venue in Coorg
Serves multi-cuisine delicacies
Efficient and well-trained staff
Amritara Ambatty Greens Resort, Virajpet, Coorg
Address: Amritara Ambatty Greens Resort, Bitangalla, Near Coorg Golf links, Virajpet, Coorg, Karnataka 571213
Landmark: Deviah Memorial Preparatory School
Set in the heart of coffee-scented Coorg, Purple Palms Resort is surely a magical paradise. Revel in a luxurious ambiance that makes you feel absolutely royal. Imagine looking around and all you see is greenery and the majestic hills and the aromatic air – isn't it just like the movies? And the good thing is you can have it all in your wedding story. This resort in Coorg is located at a convenient spot just before the hilly terrains begin. You have both indoor and outdoor options available, a plush banquet, and a cozy lawn, so, you can choose accordingly. Choose this venue if you are really into nature and would love to indulge in it.
Key Features:
Multiple event areas available at the venue
Complimentary changing rooms provided
Open decor services
Purple Palms Resort And Spa, Kushalnagar, Coorg
Address: Purple Palms Resort and Spa Coorg, Post, Guddehosur, BM Road, Bollur Village, Kushalnagar, Karnataka 571234
Landmark: Cauvery Nisargadhama
We have another Club Mahindra Resort in Coorg! Located at a hill station, Madikeri is surely an epitome of luxury. Nestled in the Western Ghats, this district is one of the most beautiful ones in the state, and this beauty is reflected in the ambiance of this resort. This wedding destination in Coorg offers tranquility and you will surely fall in love with this resort. In-house chefs will serve you authentic Madikeri food prepared with delicious, age-old recipes, so, you can literally drool over it. So, tell us, is there any place better than Club Mahindra Resort, Madikeri?
Key Features:
Banquet hall and lawn available for all events
Offers commendable food and decor
Luxurious lodging facilities available
Club Mahindra Resort, Madikeri, Coorg
Address: Club Mahindra Resort, Galibeedu, Road, Madikeri, Karnataka 571204
Landmark: Navoday School
Phew! This was our rundown on the luxury wedding venues in Coorg. Don't you feel all the venues listed above were indeed soaked in luxury, and it is difficult to pick just one? If not, then you can keep exploring more venues in Coorg.