Simple but helpful things to remember to avoid the last minute wedding blunders!
From wearing the best wedding Lehenga to picking out the finest jewellery to go with it, you may have it all ready for your big day. Yet some things are just bound to slip out under the utter excitement and enthusiasm, and may end up creating blunders. So here we are, yet again to provide you with a solution to all the bridal problems you may be prone to & how to avoid them with these small but helpful solutions –
1. A friend in need is a friend indeed-
Image Source: Little Big Weddings
The last moment blunders are bound to happen if the bride is left alone for a while. Covered in heavy jewellery and dress, with a mind full of beautiful thoughts, it's difficult for you to keep a track of the possibility of mishaps on your big day. For this, it is important for a friend or a family member to accompany you for things that you might need or to be prepared before hand for the possible wrong dos.
2. Eat healthy for that beautiful glow-
Under the busy schedule that you have on your most special day, it is advised to keep a check on your diet. A lot of cases have occurred where the bride faints while in the middle of the ceremony. To avoid this, the bride should be fed with ample fruits and a balanced diet.
3. Glucose / Lemonde is a must-
If your diet is taken care of, there is not much need of glucose, but sometimes the lady in the red may lose control over her body due to nervousness. Glucose is therefore, considered amongst the most important of the essentials checklist. You may also take lemonade to stay energized for the big wedding day.
4. Last minute touch up with an emergency make-up kit-
Probably the most important thing for a bride is to wear the best of the bridal make-up and look absolutely stunning on the big day of her life. Ensuring nothing goes astray, that your mascara and liner stay the way they were meant to be, or the colour of your lipstick stays bright red, our suggestion would be to keep a make-up kit for the emergency cases.
5. First-aid kit coz 'Prevention is better than cure'-
Although all our blessings stay in your favour that nothing might happen to the beautiful couple and their guests, but just to be on a safer side, I would suggest to keep a handy first-aid kit, coz you don't know when the newly introduced heavy and glamorous jewellery might end up hurting you. Just stay safe ☺
6. A beautiful smile goes a long way-
Image Source: Vogue India
Remember Sonam Kapoor winning our hearts with her bubbly wedding pictures? Well, a beautiful smile does go a long way..make sure you don't forget to wear it along with all your beautiful jewellery and magnificent wedding dress.
7. Don't forget to pee-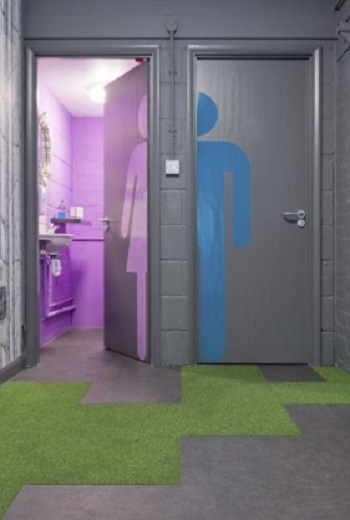 That is definitely not an option. You don't probably know how long you're gonna have to stay on the stage enjoying all your precious moments in such an uncomfortable position. Forgetting to pee is a big NO NO!
8. Walk confidently with those extra pair of bridal sandals-
Always, always keep a spare set of bridal sandals with you.  It's a very common mishap that might happen while you're all set to marry the man of your dreams. Plus, that's a brilliant excuse to get an extra pair of beautiful sandals. I don't think you wanna say 'no' to that.
9. For a safer side, use safety pins
Oh God! Safety pins are life savours when it comes to situations like the drape of the wedding dress getting opened, although the drape is tucked in properly but you never know. You don't want anything this small to spoil your beautiful grand day, right?
And the best advice – stay cheerful stay happy, stay what you always are, beautiful. We wish you a lifetime of success, all the best!
Image Source Pinterest unless specified.