The Best of Gaurav Gupta Couture on 2017 Real Brides- #Weddingz2017Rewind!
The name Gaurav Gupta is synonymous with elegant gowns, splendid designs and jaw dropping couture. The undisputed king of ruffles, Gaurav Gupta has strengthened his foothold in the wedding couture year by year and 2017 has been no less.
After our best maang tikka looks, bridal hairstyles, nose rings, mehendi outfits, cocktail outfits and bridal lehengas we now bring to you the best Gaurav Gupta brides of 2017!  We witnessed some alluring Gaurav Gupta brides, but here are our top 10 favourite ones!
1. All that glitters is gold!
This custom made golden gown with ruffles puts a gold mine to shame!
Image source: The Wedding Story
2. Silver Queen
This silver pre draped saree makes for the perfect cocktail outfit!
Image source: The Wedding Crasher
3. The Ruffle Mermaid
Oh my god we can't take our eyes off this dark grey mermaid gown with ruffles! The bride is totally rocking it with just the perfect amount of makeup. Also, the red pout is on point!
Image source: Recall Pictures
4. Peach eye candy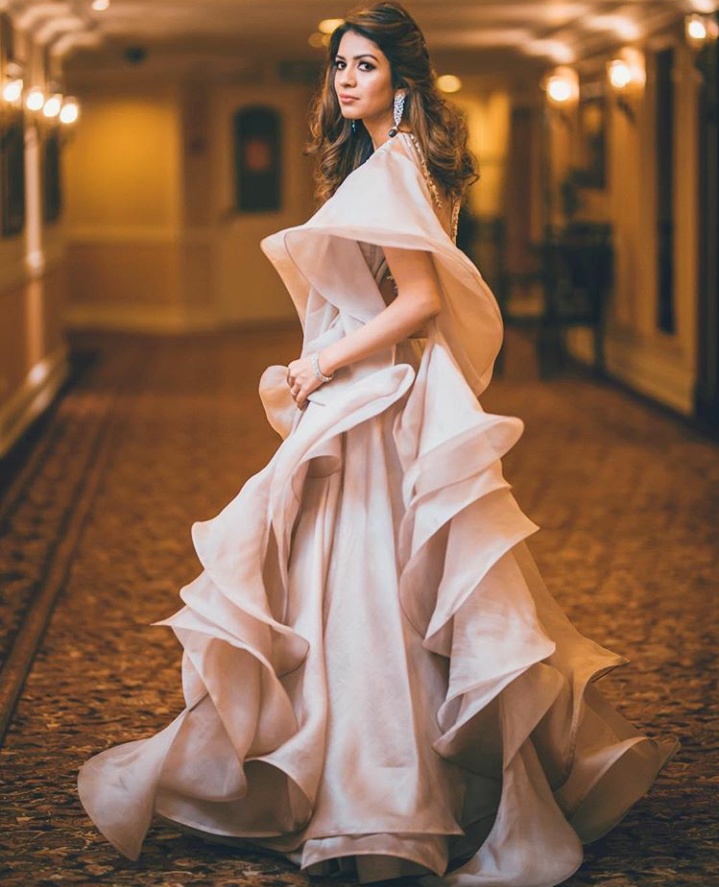 We love this bride's peach coloured engagement gown with soft swirls by Gaurav Gupta. Simply elegant!
Image source: Astha Jagwani
5. Elsa would be jealous
Summiyya of the HouseofMisu is looking fabulous in this custo  ice blue gown by Gaurav Gupta. She is beating Elsa at it!
Image source: Stories by Joseph Radhik
6. Silvery Autumn
We absolutely love this silver-ivory autumn gown!
Image source: Brellow
7. The colour of Love
This fiery red gown can make heads turn everywhere!
Image source: Stories by Joseph Radhik
8. Sparkle Sculpture
This icy blue multi layered cocktail gown is making the bride look like a princess!
Image source: Gaurav Gupta
9. Twirling Beauty
Gaurav Gupta never fails to surprise us with his stunning designs and this ivory swirl is definitely one of them!
Image source: Gaurav Gupta
10. Ivory Splendor
Just look at this splendid water slit gown! As we mentioned earlier, Gaurav Gupta is the undisputed king of ruffles!
Image source: Dotdusk Studios
We love each and every piece of couture designed by the super talented Gaurav Gupta! We are still in an awe, the #GGBride awe!