The most gorgeous Bridal Bun Hairstyles for your wedding – with DIY videos!
There are a lot of options when it comes to your mehendi or Sangeet hairstyle, but when you have to take the saat-pheras and have the dupatta pinned to your head, your options are limited – a solid bun to hold up the dupatta!  
We have curated a list of 12 trending bridal bun hairstyles that we spotted on real brides along with DIY videos. Check them out –
1. Low bun with flowers:
For brides with long and straight hair, this softly made low bun adds both style and innovation. Jazz it up with real flowers to elevate the simple look.
Image Source – Feather Tree by Avira
How to do it:
2. Messy side bun:
Complicated mixed braid buns are perfect for a bridal look. To add a touch of glamour, use a statement jeweled clip or band. To have a softer look, try a spiral lock in the front.
Image Source – Design Aqua
 How to get it:
3. Twisted bun:
Twisted hair strands rolled up into a bun adds a lot of volume to your bridal hairdo.
How to get it:
4. A braided updo:
You won't need flowers for your tresses with this unique side twisted bun for a traditional yet stylish look. Only an expert hand can handle the complexity.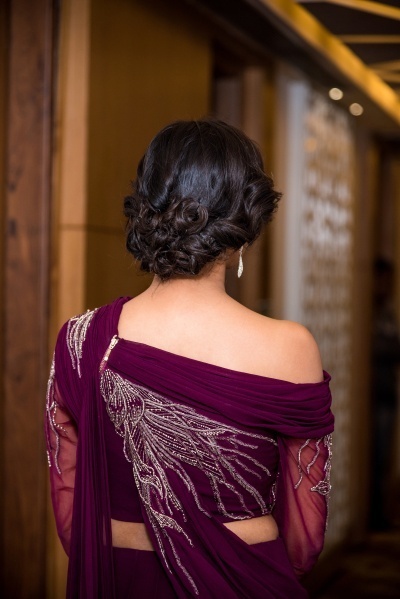 How to get it:
5. Top knot bun:
If you are not aiming for something too fancy and wanna create a look that's stylish too, we say opt for a top knot bun!
Image Source – Ivy Weddings
How to get it:
…or you can also cover your top knot bun with flowers all the way:
Image Source – Da Momento Studios
6. Double dutch braided bun:
Tied low on the back, this bun is softly pulled back with braids. Accessorize it with a dainty flowers and see the magic yourself. Also, this updo gives a softer look to the eyes and cheeks.
Image Source – Memento of Shades Photography
How to get it:
7. French braid bun:
For the fashion-forward brides who adore a Hollywood-inspired hairstyle, try this glamorous french braid bun. The updo guarantees a diva-like appearance.
Image Source – North Star Photography
How to get it :
8. Side braided bun:
Show off your style with a side braided bun. The updo is perfect for both long and medium hair.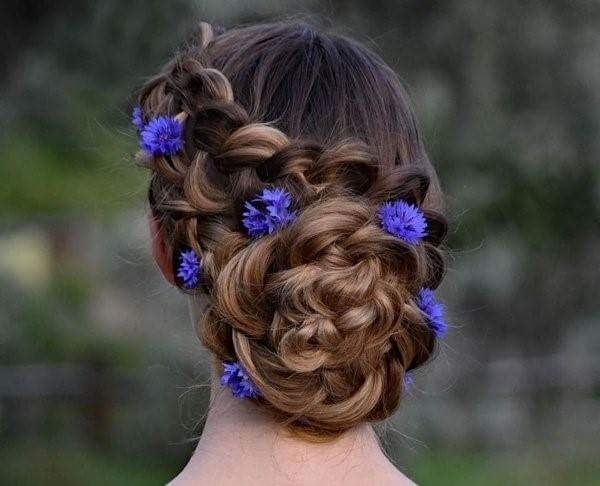 How to get it:
9. Bun with curls:
This wedding updo utilizes many braids, perfect for fashion-forward brides who want a standout style.
How to get it:
10. Braided bun:
This hair updo is perfect for a boho bride's jazzy night!  Stunning wavy locks adorning the messy side bun are a sight for sore eyes.
How to do it:
11. Floral bun:
Anushka Sharma broke the internet with her bridal all floral bun and we don't think we are going to get over this hairdo for a long time!
Image Source  – Stories by Joseph Radhik
How to get it:
12. The classic low bun:
This one is a timeless classic and should be your go to option if you want to keep all the attention to your dress than your hair!
Image Source – The Lightsmiths
How to get it:
Did you pick a favourite yet?
Image Source – Pinterest unless specified.