Trendsetting Traditional Maharashtrian Weddings
Indian culture is often labeled as an amalgamation of many cultures and traditions and we get a glimpse into this very diversity through how each culture practices its wedding ceremonies. What we adore about Indian culture is that each ritual has deep, meaningful roots that have been practiced by our forefathers for ages. This, we think, makes Indian marriages a million times more special.
Out of the wide range of cultural weddings that happen, Maharashtrian weddings are perhaps the simplest yet the most special ones – and a few of these have left an impact on us like no other.  We've put together five the most Trendsetting Maharashtrian Weddings that had elements of grace, class and style that left us spellbound and we're sure it'll do the same to you!
Pradnya and Mayur
Pradnya and Mayur wanted to plan a wedding, away from the hustle and bustle of the city, and what better location than the rustic green belt of Konkan. The venue was a heritage eco-resort, popularly known as Mamach Ghar, set in a cozy little place called Tural. A terracotta tiled roof, adobe and geru walls, red painted wooden posts and ranch style architecture set this wedding venue apart from any other we've seen so far. They had the ideal Indian Green Wedding with the natural light of the setting sun as their backdrop – yes, it looks just as beautiful as it sounds!
Look through Pradnya and Mayur's Green Wedding here.
Vineet and Radhika
Images by : P.K Suri Photography
Fairy lights on grass frames, jute back drops with colorful DIY fans and a Vedi mandap decorated with banana leaves – Vineet and Radhika did it differently, they did it good! Unconventional wedding décor coupled with the right dash of tradition made us want to shower them with multiple heart-eyed emojis (for real). Even though Maharashtrian weddings are known to be simple and sweet, Radhika and Vineet did it with grandiosity and style yet not leaving behind the simplicity factor.
Look at more photos from this super-chic wedding here.
Samart and Aishwarya
Aishwarya and Samarth's wedding ceremony was one such affair that spoke of glamour, class and style without leaving behind the meaningful customs and rituals, right from the sangeet to the wedding ceremony. Three things that caught our eye at this splendid Maharashtrian wedding was the decor, the gorgeous attires and Aiswarya's jewellery. (Her jewellery!!) This wedding had maximum grace, style and the CUTEST kaan khichai ceremony we've ever seen!
Look at their tasteful wedding celebrations here.
Stimit and Purvi
This wedding ceremony went from traditional to classy in minutes! Their wedding attires were kept simple and chic, where Purvi donned a blood red nauvaari saree with gorgeous gold jewellery that we were completely drooling over! Her thushi haar coupled with the other layered gold jewellery had her looking like true royalty. This couple kept up this grand vibe at their reception too! Purvi went with the super trendy naked dress – her bodice captured the naked trend while the body of the gown opened up into a gorgeous A-line flare. Soon-to-be Maharashtrian brides, listen close! Level up the class factor just like Purvi with her gorgeous gown and we're sure you'll leave everyone mesmerized.
Look at more photos from this wedding here.
Aditi and Niranjan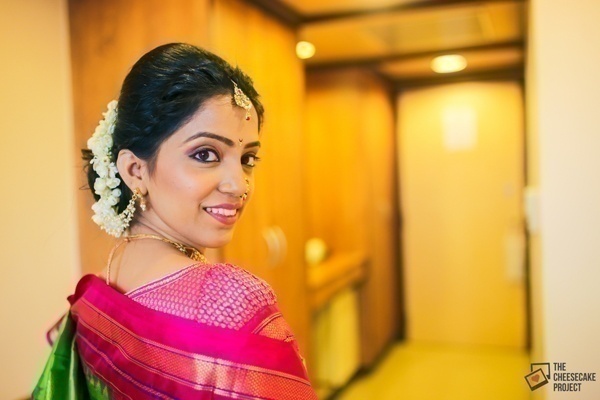 Images by : The Cheesecake Project
A beautiful banquet hall with yellow-lit chandeliers, color coordinated marigold flowers, and a beaded antarpat cloth – the kind we'd never seen before! Aditi and Niranjan's wedding was done traditionally to the T. Right from the gorgeous bride's Nauvari dhoop-chhaon saree to every ceremony practiced – who says a wedding has to be grand to be special? We absolutely adore this beautiful banquet hall wedding in all its class and simplicity.
Look at more from photos from stunningly simple wedding here.