Mumbai is known for being one of the busiest cities in India and finding a serene and peaceful venue to get married to the love of your life seems like an impossible dream. However, you know that we don't speak without finishing our homework, right? So, we have searched the busy lanes of Mumbai and found out some pretty great venues for you that can help you in romantically celebrating your love. We are super thrilled to present you with the best wedding lawns in Mumbai, where you can start planning your love-filled festivities. So, dive in with us and pick your venue and all you have to do is scroll. 
The Silverador Resort Club, Bhayander West, Mumbai
The Silverador Resort Club is now been serving the hospitality industry for a long time, and you can expect to have a great experience. It has multiple banquet halls, lawns, and an alfresco wedding facility. This wedding resort in Mumbai renders a lot of services in-house along with the accommodation. This outdoor wedding venue in Mumbai tops our list for a reason. One being, it is the most preferred venue as it offers all the best arrangements and has the best team on-board to make your day nothing but beautiful.
Exotica – The Tropical Retreat, Thane West, Mumbai
Do you find a poolside banquet more appealing than a lush lawn? Then Exotica – The Tropical Retreat is the one you should be looking at. It surely is going to be aa awesome wedding weekend getaway and that too amidst the bustling Mumbai city. It is one of the most gorgeous lawns in Mumbai ideal for a picturesque wedding ceremony. The hospitality at this venue is one of the best in industry and you will experience it right from the time you book this venue. The in-house chefs serve you authentic Indian, Chinese or Continental cuisine that will be the highlight of your wedding. If this venue fits right in your dream list, then pick it right away. 
Golden Swan Country Club, Thane West, Mumbai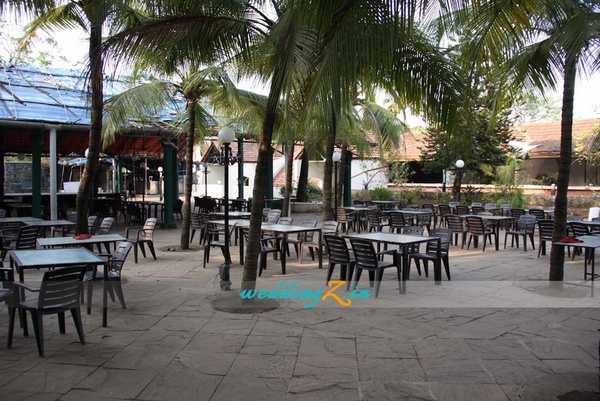 Located 1300 feet above sea level, Golden Swan Country Club, Thane West, Mumbai, has a magical ambiance and also provides a perfect setting for an unforgettable memory of your special. The courteous staff at this wedding lawn in Mumbai will not leave any stone unturned in making your day a grand success. The largest lawn can hold up to 1500 guests while the banquet hall is perfect for hosting a small-sized gathering. The decor and food at this venue are also on-point making your wedding the talk of the town. So, you have all the right reasons to book this venue and have a joyous wedding. 
The Resort Hotel, Malad West, Mumbai
This beachside wedding venue in the busy city of Mumbai can surely make you skip a beat! The Resort Hotel, Malad West, Mumbai, will be the one for you. Located very next to Aksa Beach, the venue offers you a beautiful setting to say your vows. If you have a dream to host a beach wedding, then this is an ideal wedding venue in Mumbai, and it can even hold up to 2500 guests. The backdrop of the sea will make your wedding photographs looks right out of the fairytale. Make sure to book this elegant location to add the beachside wedding tag to your big day. 
Eskay Resorts, Borivali West, Mumbai
If you wish your wedding pictures to look nothing but stunning, then Eskay Resorts is the venue you should look out for. It has multiple event areas including lawns, halls, and also a terrace venue. So, you can pick from indoor and outdoor party areas or capture the mesmerizing view from their open-air terrace. With so many perks and a giant glass pyramid complementing the intricate decor, this outdoor wedding venue in Mumbai is indeed a great venue. We won't be surprised if you book this venue to host the most significant day of your life.
So, if you have such a romantic wedding celebration in mind, then we hope our list of the best wedding lawns in Mumbai would have been of some help to you. You can still explore for more wedding venues and services on our exclusive website.
Weddingz.in brings hassle-free event planning and venue booking at your fingertips! Book with us and bag 'Guaranteed Best Prices' on all the wedding venues or event areas listed on our website. If you have any queries about a venue or want to learn more about our services, visit Weddingz.in or give us a call at +91- 76-66-77-88-99.