12 Cake Designs For The Modern Couple
The wedding cake is the centerpiece of the reception hall. It must be a perfect masterpiece made for the lucky couple. We picked a few cakes fit for a modern couple with unique taste. Enjoy!
1) 'As Simple As Love' Wedding Cake
Image Source: Method_shop
This adorable masterpiece, though simple speaks a thousand words. The cake toppers are truly something unique and cute! Best day ever with the best cake? They've got that right on!
2) 'A Love Worth Time Travelling For' Wedding Cake
Image Source: Slodki_bufe
This cake has a modern twist with figures and different elements made of fondant, along with a classic vintage theme to it.
3) 'A French Love Story' Wedding Cake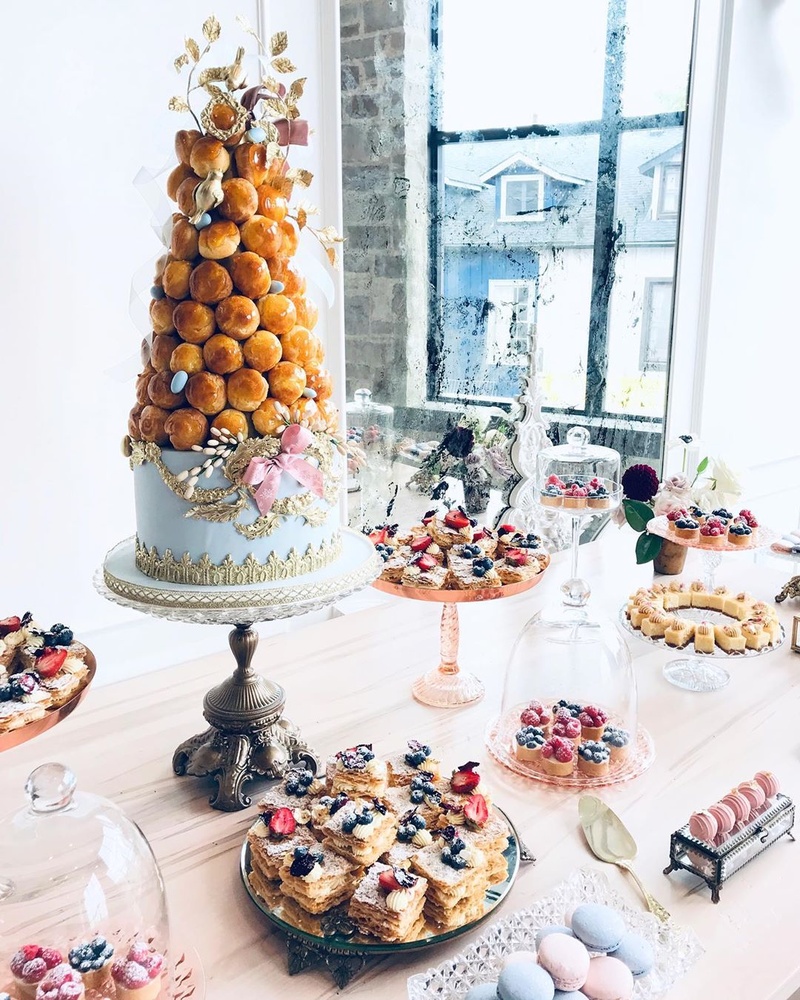 Image Source: nadiaandco
We may not know the whole story of this wedding but we do know that the couple really loves french pastries. They've combined that love into their wedding with this gorgeous croquembouche inspired cake and a spread of all the pastries the chef could make. This is one wedding we'd really love to be at.
4) ' Through Thick And Thin' Wedding Cake
          Image Source: loverosie_cakes 
This gravity-defying wedding cake is a masterpiece to have at any wedding. With real flowers and gold foil decorations, the cake is modern, fresh and gorgeous. If you are looking for something traditional and new, this is one cake to consider.
5) 'The Eternal Pillar Of Love' Wedding Cake
Image Source: Marco.failla
 A cake that represents an old piece of architecture makes a great cake for that history-loving couple. This stone cake is unique and works really well with the ambience of the wedding reception.
6) 'The Donut Love Story' Wedding Cake
Image Source: eventsbyonefineday
  There was never a written rule that the wedding cake needed to be cake. Here is a modern delicious take on the traditional wedding cake. It is gorgeous, will not need any knives and scrumptious. 
7) 'A Love Like Marble' Wedding Cake
             Image Source: Sucre coated
Marble is considered a luxury for many. Your wedding is a day to embrace all the luxury the world can offer you. This marble cake is a great way to include luxury into your special day.
8) 'A Painter's Love Story' Wedding Cake
         Image Source: sweetombre
This painted cake is a unique creation. With light buttercream and different colours the cake looks sophisticated and very Van Gogh. 
9) 'The Up' Wedding Cake
Image Source: cherrycakeco 
If you are marrying the love of your life, this is definitely a movie the two of you have cried through. Let the love of Disney flow through to all your guests with this magical cake.
10) ' A Ruffled Love' Wedding Cake
          Image Source: violetandsalt
This modern, abstract cake will result in some great pictures. This is perfect for those chic and artistic couples, looking to make an impression on their guests.
11) ''For The Love Of Quartz' Wedding Cake
Image Source: jasmineraecakes
These precious stones work well when incorporated into a beautiful cake. With the different shades of blue and marble glaze work, this is a cake for a futuristic couple. The spray of flowers gives the cake a touch of life, the life the couple will now share together.
12) 'Pandora's Box' Wedding Cake
Image Source: Jasmineraecakes
So take a bite out of life with these gorgeous cakes.