25 bridal lehengas with floral prints & embroidery that stole our hearts!
Florals have always been a preferred choice for brides for their wedding trousseau because of the grace and beauty that they add to it. I mean aren't they just perfect? Whether you opt for classy or bold, subtle or glamorous, florals can easily be adapted into any preference.
Most brides are embracing the floral print & embroidery like a legacy these days. Don't believe me? Scroll further to check out 25 gorgeous floral print lehengas that made our heads roll-
1. Anushka sharma's subtle pastel pink lehenga
Image Source: Stories by Joseph Radhik
What better example can possibly be given when the star wedding of this year featured Anushka Sharma wearing one of the most beautiful floral printed bridal lehenga on her D-day! She looked resplendent in a pale pink Sabyasachi lehenga with Renaissance embroidery in vintage English colours embellished with silver-gold metal thread, pearls and beads.
2. Shweta Tripathi's vibrant floral lehenga
Image Source: Stories by Joseph Radhik
Shweta Tripathi, who recently got hitched in a beautiful destination wedding in Goa, looked her radiant self in a fuschia pink pink lehenga skirt paired with a floral choli and a sheer mint green dupatta by Papa Don't Preach!
3. Vibrant pink lehenga with light embroidery
Image Source: The Wedding Salad
We spotted a bunch of pretty pink lehengas, and this one is one of my favourites. This minimalistic silk lehenga with light floral embroidery over it is complemented perfectly by the groom's floral printed off-white sherwani.
4. Pretty turquoise chiffon lehenga
Image Source: Zohaib Ali Photography
Relatively lightweight, this chiffon lehenga is perfect for brides who believe in keeping comfort as their priority. Loved the broad floral border and floral printed complementing chiffon dupatta of this alluring sea-green lehenga.
5. Vibrant floral printed red-beige lehenga!
Image Source: Ali Khurshid Photography
This beautiful red-beige lehenga of this bubbly bride just had me staring for quite a few minutes. The pop-out pastel pink and red floral embroidery  adds a special charm to this lehenga. It is finished with beautiful broad golden border on the edges.
6. Pretty pop out embroidery over pastel pink lehenga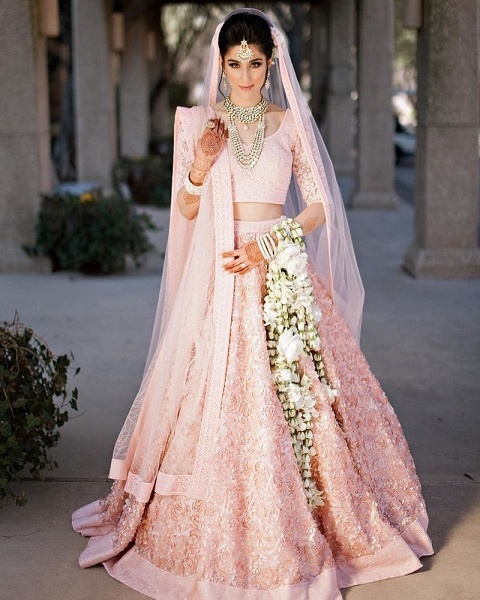 Image Source: Ivy Weddings
This bride's love for pastel pink can be seen from this soothing rose floral print lehenga. The pop out embroidery of roses is what that had me glued to this pretty bride's picture for quite a time.
7. Rubina Dilaik's lovely ivory lehenga!
Image Source: Knotting Bells
This wedding seems like a yesterday's affair cause it's just so difficult to get over the gorgeous wedding ceremony of Rubina Dilaik. She looked like an absolute princess in her ivory lehenga with pastel pink, silver and golden thread floral embroidery all over it. She complimented her trousseau perfectly with offbeat choker set and layered necklace jewellery.
8. Subtle multi-coloured floral embroidery lehenga for this blogger bride!
Image Source: Anurag Rathi Photography
This blogger opted for a subtle off-white lehenga with multicoloured floral embroidery all over it. Paired with minimal traditional golden jewellery, this outfit definitely stole our hearts.
9. Off-white silk lehenga with minimal floral embroidery over it!
Image Source: Brides Of Sabyasachi
This subtle silk lehenga's beauty is simply beyond words. The sleek golden and red border on the edge of it along with its light floral embroidery is what that made this lehenga, minimalism in perfection.
10. Lovely turquoise lehenga for this minimalistic bride!
Image Source: Cupcake Productions
Stunned by the beauty of this turquoise lehenga, and utterly happy to see such a cheerful bride. The all over golden thread embroidery of this bangalori silk lehenga is too pretty to look at. It's classy, it's graceful and it's one of a kind.
11. Bright pink lehenga for this gorgeous looking bride!
Image Source: Design Aqua Studio
Another exquisite example of a vibrant pink lehenga. It has golden thread floral embroidery all over it with silver threads giving it a glittery finish.
12. Floral print and brocade embroidery lehenga for this twirly bride!
Image Source: Wedding Nama
Beautiful as it is, this half and half embroidered lehenga is giving us major offbeat trousseau goals. Loved how the vibrant print on the top falls into a beautiful brocade embroidery.
13. Glamorous ivory lehenga from the house of Manish Malhotra
Image Source: Manish Malhotra
Manish Malhotra who is perceived as the king of glamorous outfits, created this beautiful outfit which is simply gorgeous to look at. Ivory Floral embroidery with heavy embellishments over it make this lehenga drop dead gorgeous.
14. Cute blingy net lehenga for this alluring bride.
Image Source: Vows and Tales
Ever seen a bridal trousseau so elegant and pretty yet utterly light and comfortable? This net based pale green and yellow lehenga has patch work floral embroidery and added to it is a subtly created charm of bling. Loved the intricate pattern over the blouse and the complementary dual coloured net dupatta.
15. Perfect red and white combination lehenga for this bubbly bride!
Image Source: Altif Studios
This lehenga is the perfect example of how to play with colours in the most alluring way. A perfect combination of red and white mixed together for a beautiful bridal trousseau. And added to it, are the two complementary coloured dual dupattas completing the bridal look in perfection.
16. Pretty peach lehenga for this bride with a pretty smile!
Image Source: Gautam Khullar Photography
Words cannot perfectly describe the beauty of this marvellous peach lehenga. With light floral golden thread embroidery all over it, this lehenga looked like an absolute aww-gazed affair.
17. Gorgeous off-white lehenga for a funky bride like this!
Image Source: Kismet Jewell Nakai
Look at this pretty bride giving a funky pose with her cute shaggy dog. Her wedding trousseau was as gorgeous as her quirky pose. With an off-white base with patch golden thread embroidery and complementary net dupatta made in an apt choice for an offbeat bridal lehenga.
18. Lovely combination of lotus print banarasi lehenga and temple jewellery
Image Source: Mahesh Shantaram Photography
This oh-so-pretty bride chose an amazing Banarasi silk lehenga with pretty lotus prints all over it. Her offbeat choice wasn't just limited to her pretty choice of lehenga but her jewellery was an exotic one as well. She paired the lehenga with alluring temple jewellery and won hearts with her gorgeous bridal look.
19. Red florals on white lehenga for this picture perfect bride!
Image Source: Namrata Soni Photography
Again a very simple yet subtle bridal lehenga flaunted beautifully by this pretty bride. The gorgeous white lehenga is filled with red florals and on the base it features a broad golden gota embroidery. Look at her beautiful twirl.
20. Subtle pastel pink and silver floral lehenga to rule hearts!
Image Source: Picture Perfect India
A wildly popular colour combination of pastel pink and silver is what that is showcased in this bride's wedding lehenga. Silver thread embroidery all over it and a broad intricate border at the bottom is the reason why this colour combination is always seen making headlines!
21. 'Dil Guldastan' lehenga from the house of Sabyasachi!
Image Source: Sabyasachi Official
Words are not needed to describe the beauty of this 'Dil Guldastan' lehenga, coming from the latest bridal collection of Sabyasachi named 'kesaribai pannalal'. The lehenga is intricately embroidered on Bordeaux silk with hand-dyed velvet appliques, silk-floss, beaten silver and gold thread and rose-tinted crystals and rhinestones. The look is accessorized with jewellery from the Sabyasachi Heritage Jewelry Collection and romanticized with a sheer, diaphanous, embroidered veil completing the look of a traditional Indian bride!
I know this one is not a real bride but I bet we would definitely be seeing a Dil Guldastan Sabyasachi bride in the near coming weddings!!
22. Gorgeous ivory lehenga with subtle ivory embroidery!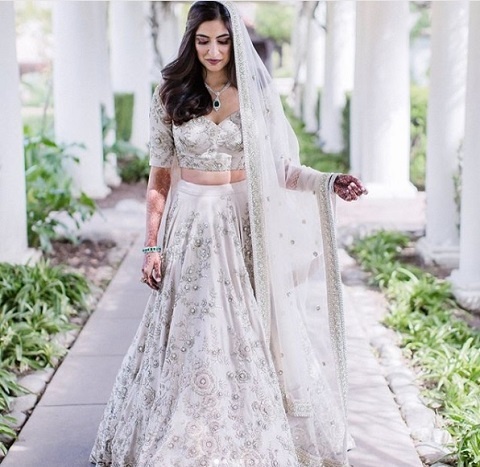 Image Source: Amy and Stuart Photography
Since ivory falls in my list of favourite colours, so I am keeping this lehenga as well in the list of my personal favourites. With bottom to top subtle floral embroidery and light stonework over it, makes it absolutely perfect for a 21st century bride.
23. Elegance at its best- Maroon velvet lehenga from the House of Sabyasachi!
Image Source: Design Aqua
This elegant lehenga coming from the house of elegance of Sabyasachi does not need any words for appraisals. This deep red velvet lehenga has periodic floral embroidery all over the lehenga and towards the border it has a gorgeous golden thread embroidery finishing the look.
24. Peach lehenga with vibrant florals adding grace to it!
Image Source: Shahid Naar Photography
This bride ruled hearts at her wedding with this charismatic pastel pink lehenga with vibrant floral patch-work embroidery  all over it. The net dupatta with border floral work is perfectly complementing this oh-so-pretty lehenga!
25. Deep red velvet lehenga with alluring floral embroidery
Image Source: Dot Dusk Studios
This beautiful velvet lehenga is simply too alluring to look at. The golden and silver thread embroidery of a beautiful pine cone crafted into flower like structure gives the lehenga its royal grace.
So, I hope you concluded some amazing ideas for your bridal trousseau. Happy shopping, ladies!