8 Unique Wedding Invitations that Raised the Bar
One of the best things about working in this dynamic industry is that everyday is full of surprises. Each day a bride is breaking the rules while her picture is breaking the internet. The decor game has reached new heights over the years. While every aspect of weddings is getting a lot of attention, why should the invitation cards be left behind? Everyone was spellbound by the huge invitation baskets shown in Yeh Jawaani Hai Deewani. You don't have to go all out and shell out big bucks, but you can stay away from monotony. Expand your horizons and think of wedding invitations beyond red and gold! Let these images help you in your quest to find the most unique wedding invitation for yourself.
1. Embroidered Cards
Invites: Pink Whistle Man
Actress turned politician Nusrat Jahan tied the knot with long time boyfriend Nikhil Jain and blessed our instagram feed with beautiful wedding invitations! These are hand embroidered invites carefully sewn to perfection. The blush pink circular box adds to the creativity.
2. A Virtual Reality Card
Invite: Puneet Gupta
Woah, who came up with this genius idea? A virtual reality based wedding card definitely raises the bar!
3. Music Box
Invite: Puneet Gupta
A pretty wooden box that plays music when it opens? Oh, yes! This box also doubles up as your invitation card. The laser cut details gives it a personal touch. You can play 'your song' and make the invites as quirky as possible.
4. Vintage Cassettes
Invite: Pink Whistle Man
Take a trip down memory lane with these 80s cassette inspired wedding invites. The nostalgia will be worth it!
5. Blue Print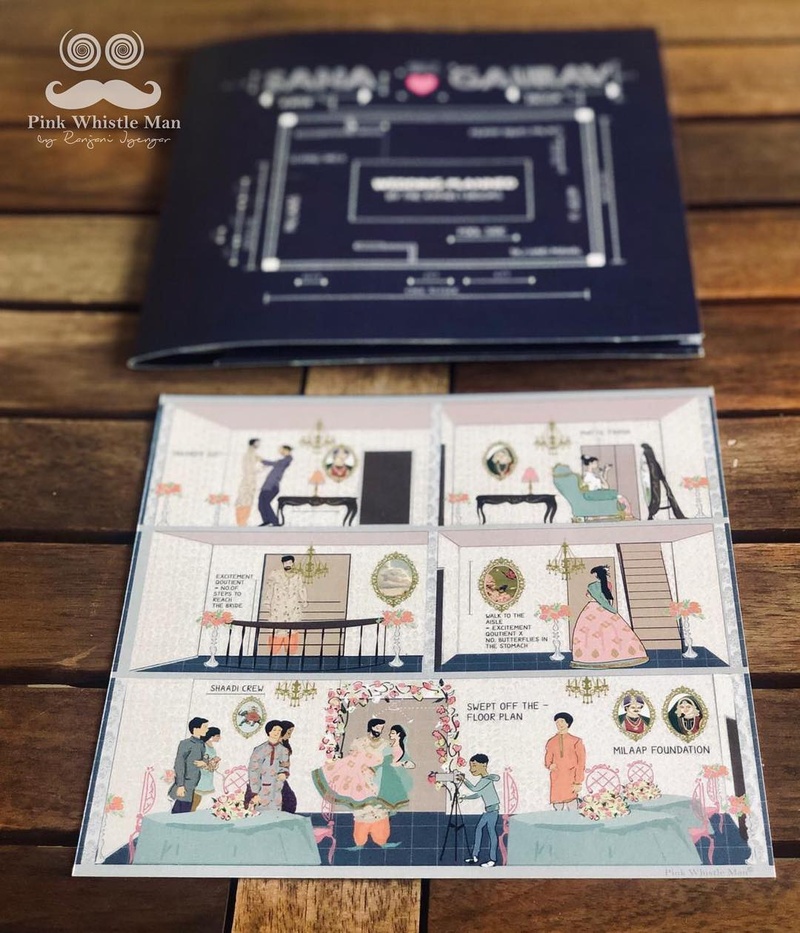 Invite: Pink Whistle Man
When you win an interior designer's heart, make sure you make her extra happy with these cards! Pink Whistle Man made an apt invitation for an interior designer in the format of a blueprint.
6. A Chic, Boho Box
Invite: Studio Works Co.
Enclosed in a glass box, this boho themed invitation is ideal for the millennial bride. Elegant and chic, these boxes are also reusable.
7. Crime Report
Invite: Pink Whistle Man
Give 'stole my heart' a hatke touch with these invitations inspired by a crime report.
8. Aviation Themed Cards
Image source: Pinterest
A lot of couples are opting for quirky wedding invites that are based on passports and boarding passes. You don't have to be a pilot couple to get one!
Make sure your wedding invitation is as unique as you!