All the exclusive pics & deets from Priyanka Chopra & Nick Jonas' Christian plus Indian Wedding!
The much awaited pictures from Priyanka Chopra and Nick Jonas' wedding have finally arrived and I am literally losing my cool! *for real peeps*. Without much further adieu, scroll down to know more:
The bride wore red!
After saying, "I do" in a Christian Wedding ceremony Priyanka Chopra and Nick Jonas tied the knot in a Hindu ceremony at the Umaid Bhawan Palace in Jodhpur, Rajasthan on Sunday and it was every bit beautiful as I thought it might be.
PC chose to wear a traditional red Sabaysachi lehenga and looked surreal. It was a custom made lehenga with the names of her fiancé and her parents, Ashok and Madhu, were sewn into the waistband of her skirt in hindi.
Priyanka said in an exclusive interview to people magazine, "For the Indian wedding, I wore Sabyasachi. I always knew I wanted a red traditional silhouette for my wedding but Sabya brought in incredible French embroidery to the mix and with incredible jewelry and Western-inspired veil it was just such an amalgamation of who I am".
She completed the look with pear-shaped diamond and earring set . Jonas on the other hand complimented his bride in a hand-quilted silk sherwani paired with a hand-embroidered chikan dupatta and a chanderi tissue safa. He completed the look with a rose-cut kalgi and Syndicate diamond necklace from the Sabyasachi Heritage Jewelry Collection.
The couple wore Louboutins:
PC and Nick both chose to wear shoes by Christian Louboutin. Jonas chose gold loafers from the French designer and Chopra wore a pair designed by Christian Louboutin x Sabyasachi. *woot woot*
Here's looking at their mandap: 
Two weddings:
When Nick proposed to Priyanka this summer, the two knew their wedding had to be a meld of their cultures, religions and families.
From the bride –
"Every girl dreams of being a princess on her wedding day. But I never had a plan about what I wanted it to be. Nick suggested to dream big and opt for not one, but two ceremonies in India to celebrate their different backgrounds. It melted my heart.Being able to have two big weddings, in India, with our closest family and friends was unbelievably special."
The Christian ceremony:
The couple married in a Western ceremony on the palace's lawn and it was beautiful! Priyanka Chopra walked down the aisle as a string quartet played in the background wearing a hand-beaded and embroidered Ralph Lauren gown with a stunning 75-foot long veil!
She was escorted down the aisle by her mother Madhu Chopra that walk did give me some major goosebumps! 
From the bride,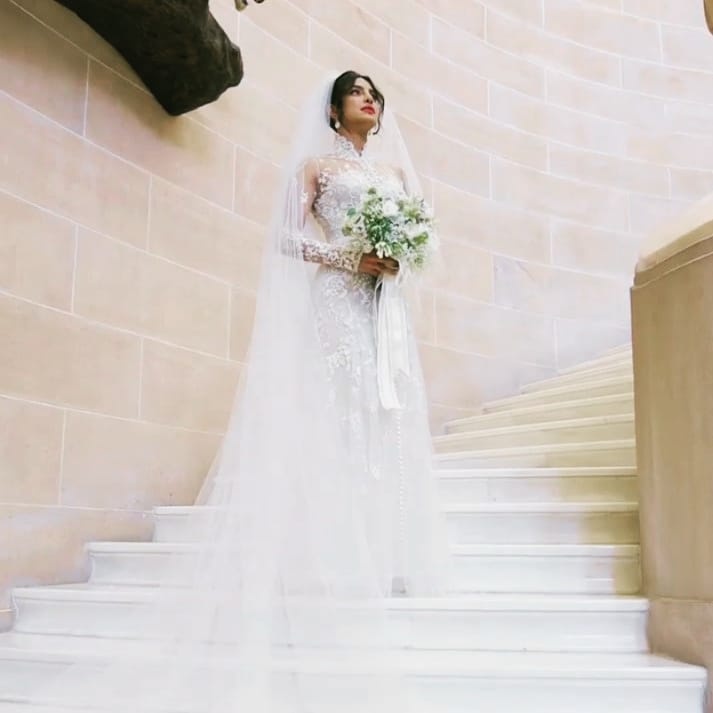 "It was all tears. All tears. I could not hold it in. I think I was nervous and scared. But as soon as the curtains opened, and I saw his face it was just like everything settled and I knew I was making the best decision of my life."
From the groom,
"The emotions were running high during the ceremonies, I think especially during the Western wedding for me. You know you think your whole life about that moment. Honestly, I could not have imagined it would be as perfect as it was. It was highly emotional."
The Groomsmen:
Group picture:
Ah, here's saying I am crying happy tears too listening all about their wedding and can't wait for more pictures!