All the exclusive Pics & Deets from Ranveer Singh and Deepika Padukone's Mumbai Reception!
Newlyweds, Ranveer Singh and Deepika Padukone have been in a celebratory mood since they got hitched in Italy earlier this month. And now that they are back in Mumbai post their Bangalore reception and days after their Epic Mumbai party thrown by Ranveer's sister Ritika, the couple broke the internet last night too!
Last night saw the Bollywood sweethearts' second reception and their first photos were nothing short of royal. In fact, the two look like real-life Bajirao and Mastani, don't you think?
Deepika looked a vision in white wearing an ivory and gold chikankari saree and jewels by Abu Jani and Sandeep Khosla!
Ranveer on the other hand looked dapper in a Rohit Bal attire complimenting Deepika's outfit totally!
Here's some candid moments from the much in love couple:
How cute is the 'R' and 'D' bouquet they received from the media?
Here's the power couple posing with the makeup artist: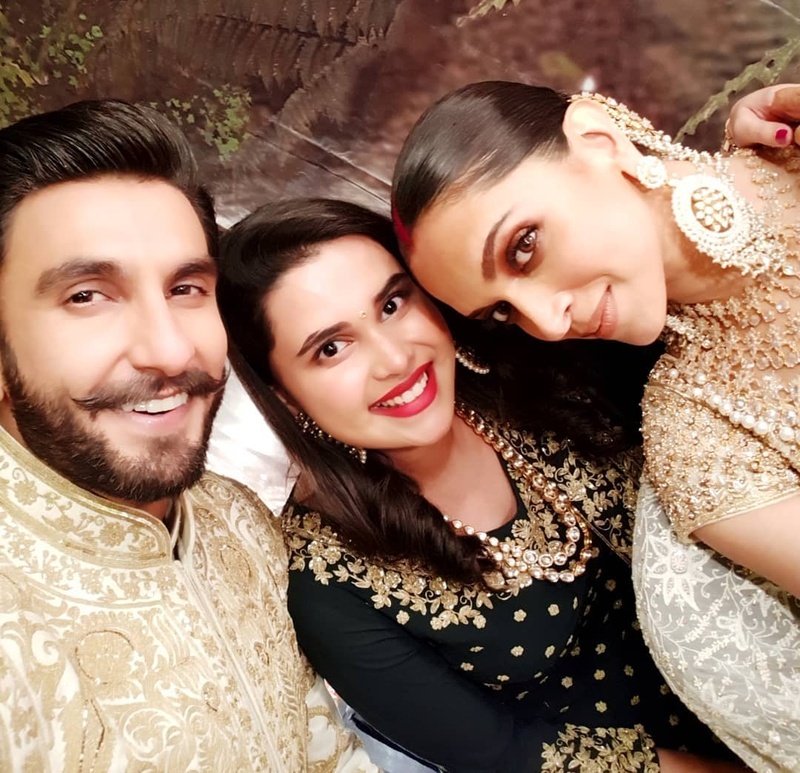 Ranveer's mom – Anju Bhavnani:
The madness inside the reception:
We spotted Ranveer on his best behaviour in each of the wedding functions – the Italy wedding to his Bangalore reception! Although, slowly Ranveer is seen turning on his 'offbeat' avatar and being in his element.
He was spotted displaying his quirky side at his sister Ritika's bash, earlier this week and the Mumbai reception he was ALL HIM!
Here's one when he got too bored entertaining the guests, so he decided to entertain himself:
And here's when he decided the DJ ain't playing anything good, so he took upon himself to put some life in the party:
He was spotted near the DJ's console, checking out songs on the laptop and perhaps selecting his favourites, by artistes like Robbie Williams and Jason Derulo.
And while all that's good and great, here's bringing to you what the Groom-of-the moment has to say about his relationship to Deepika. Apparently Ranveer Singh was sure Deepika Padukone was the one he would marry six months into the relationship. He said, "This is the woman who would become the mother of my children. I was ready for a while. I was just waiting for Deepika to be ready. It would happen whenever she had decided. I was fully ready and raring to go."
And while we have all seen the beautiful pictures of the Lake Como wedding, here's what Ranveer had to say about it, "the fairytale Lake Como wedding was what Deepika wanted and it was my duty as a 'husband of the millennium' to make her dreams come true. Whatever her vision of getting married, I wanted her to realise it. Whatever she wanted, it was done exactly in that manner. She deserves every bit of it," he said, adding that his happiness comes from her's." *where is the damn tissue box when you need it*
Well well, what celebrations are yet to come only time will tell, here's awaiting their Bollywood reception-bash though!