Are You Searching for a Marriage Hall in Madurai? Here Are 5
Madurai is the cultural capital of Tamil Nadu, being the epicenter of Dravidian traditions. It is also the third biggest city in Tamil Nadu. The written history of the city returns to the third century BCE, being referenced by Megasthenes, the Greek envoy to the Maurya realm, and Kautilya, the prime intellectual force behind the rule of the Mauryan emperor Chandragupta Maurya. This culturally rich city has wedding venues aplenty. So, if you are seeking a marriage hall in Madurai, then you won't be disappointed. Being said that here are the handpicked marriage halls in Madurai that you must check out prior to picking one for your nuptial ceremonies.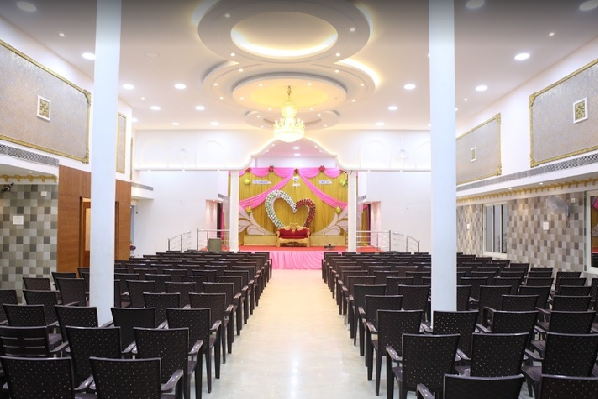 An epitome of sophistication, Surya Mahal, Madurai, is one of the best marriage halls in Madurai. An outright stunner, it graces in the territory of Tiruppalai and comprises of a ravishing banquet hall that is ideal for facilitating weddings, social gatherings, and pre-wedding festivities as it can suit many guests. The pillars in this enormous hall not only support the structure but also are a part of the embellishment. The lavish crystal fixture on the roof is the focal point that would grab all the eyeballs. The format is theater-style, putting everybody's emphasis on the exquisitely designed stage. The feel here is refined, as a result of which a demeanor of eliteness wins all through your site. The group of decorators at this venue focus on each and every detail and make the gathering region look immaculate.

Surya Mahal, Tiruppalai, Madurai
Address: Surya Mahal, No 1, Near Yadava College, Tiruppalai, Pechikulam, Tamil Nadu 625014
Key Features:
Open catering and decor
Colossal banquet hall
Well-connected
PSVR Mahal in Tiruppalai is a budget marriage hall in Madurai. An extraordinary spot to celebrate an occasion, its setting is perfect to have pre-wedding festivities, weddings, fantastic gatherings, and other such functions. It has an enormous banquet hall, which can undoubtedly suit several hundred of your kins to witness your big day. This site has in-house decorators, who would improve the aesthetics according to your requests and desires, which adds to the cheerful and celebratory vibes. At this venue, you can unwind and appreciate the inhouse professionals as they shoulder various tasks including the decor on your D-Day. Over here, in regards to food arrangement, you would have to bring a caterer to serve food platters consisting of vegetarian and non-vegetarian delicacies to your guests.

PSVR Mahal, Tiruppalai, Madurai
Address: PSVR Mahal, Ram Nagar, P&T Nagar, Anaiyur, Madurai – 625017
Key Features:
Allows outside caterers
Enormous banquet hall
In-house decor
JR Mahal AC is considered as one of the top marriage halls in Madurai by its loyal patrons. It graces the clamoring neighborhood of Tagore Nagar. The banquet hall here is ideal for social get-togethers, pre-wedding festivities, and of course, weddings. The chic style, stunning lights, and dynamic vibes make it a perfect venue for your big day. You can pick both the caterers and decorators of your choice to customize your celebrations. If you leave it for the in-house staff then you would thus be able to sit back here and make the most of your significant occasion while all the fundamentals are flawlessly dealt with. It does have a handful of rooms, that would come handy to accommodate your outstation guests.

JR Mahal AC, Tiruppalai, Madurai
Address: JR Mahal AC, Tagore Nagar, New Natham Road, Tiruppalai, Madurai – 625014
Key Features:
Traditional decor and dazzling illumination
Well-connected locality
Premier hospitality
Raj Mahal, Madurai is an ideal setting to have a medium to an enormous assembly of your kin on your big day. It is one of the most popular wedding halls in Madurai to celebrate your occasions, weddings, social gatherings, birthday bashes, etc. You can employ an external caterer of your choice to serve delightful vegan and non-vegetarian viands. The in-house decorators enhance the scene in sync with your festivities. The staff present here are prompt, prepared, and polite and ensures that you can be totally carefree during the hour of the occasion and enjoy the festivities with other guests. It does have a couple of rooms, that would come handy to accommodate your outstation guests.

Raj Mahal, KK Nagar, Madurai
Address: Raj Mahal, No.446, KK Nagar, Managiri, KK Nagar, Madurai, Tamil Nadu 625020
Key Features:
External caterers and decorators allowed
Traditional and floral decor
Colossal banquet hall
The SPK Hotel in KK Nagar with its lovely lawn, stunning terrace plus multiple banquet halls qualifies as one of the large marriage halls in Madurai. Situated in the center point of the city, this hotel does have sufficient rooms that will come handy for your guests who turn up for your function from other cities. It has won numerous accolades and awards for its best performance in 'Ethnic Hospitality' and would make your guests feel home away from home. The stunning well-kept green covers here conjure lively vibes. The banquet halls are similarly engaging and can let you welcome a substantial number of guests on your big day.

The SPK Hotel, KK Nagar, Madurai
Address: The SPK Hotel, Plot No. 6, 9th East Street, Lake View Road, Opp Sundaram Park, K.K Nagar, Madurai, Tamil Nadu 625020
Key Features:
Lovely lawn and stunning terrace plus multiple banquet halls
It has won numerous accolades and awards
Premier hospitality
Do you think you met the marriage hall in Madurai wherein you can foresee tying the knot to your beloved? If yes then state the venue and the corresponding reasons. By the way, best of luck for your wedding and its corresponding celebrations.