Arlene and Claude's Black & White Themed Contemporary Catholic Wedding and Reception at Holiday Inn, Goa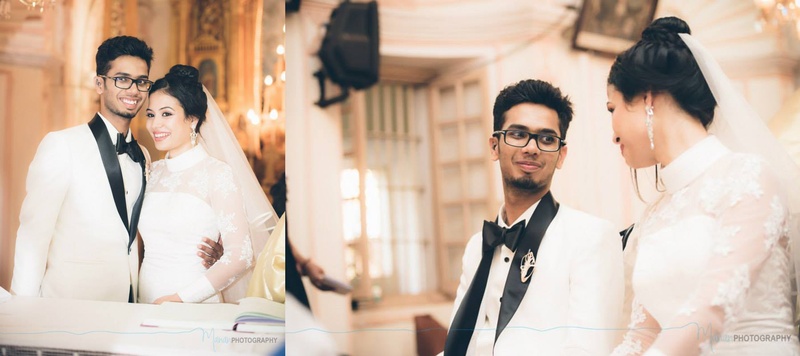 Some wedding albums just leave us dreamy and dewy eyed. Arlene and Claude's was definitely one of them. The striking simplicity of this celebration made us look up and take notice of the sweet love and romance Arlene and Claude shared. Their feelings were oh so evident through the captures by Manan Photography, we kept going to Shahruk and Kavita Krishnamurty in Kabhi Haan Khabi Na. We agree! We are such Bollywood crazies – movies are a major reference point for us when we get to witness inspirational romantic wedding stories.
The team at Manan Photography outdid themselves when shooting this wedding. Each shot was brilliantly framed, so much so that we had a hard time picking out our favourites. The groom's ensemble, Claude's portrait through the window, the wedding rings with the Mangal Sutra, the silhouetted shot of Arlene and the one taken inside out, where Claude's outside the church gates are memorable.
Let's talk about what we loved about this wedding, besides everything.
Double hearts to the Black and White themed wedding ceremony at the Holy Cross Church – such a classic idea, executed so beautifully and subtly through small details. We've said this so many times before and we will say it once more. It's all about the details. The detailing on the grooms wear, the black wrought iron chairs, the black and white ribbons strewn on to the church pews, the Moroccan lamps with white pillar candles, the gorgeous black and white wedding cake, the presentation of the wedding rings and the way the team at Manan Photography shot silhouettes with the colors in mind – all point to a theme well incorporated.
The historic wedding venue, The Holy Cross Church in Goa, although grand and imposing in structure was warm and inviting in ambiance. The beautifully carved pillars and alter and the frescoed ceiling made for a beautiful wedding backdrop. The warmly lit crystal chandeliers cast a golden glow on the entire ceremony, transforming it into something ethereal and out of the pages of a fairy tale.
We loved the personalized wedding band, the contemporized mangal sutra design with the diamond encrusted drop, Arlene's gorgeous diamond earrings and Claude's Sapphire and diamond earrings. We also loved the floral bouquet minimally constructed with fresh white roses and the regal black and white cake with the black bow detailing.
Claude's classic white tux with black collar details and a black bow tie, black brogues to match and the coordinated watch give us a peak into his oh so stylish persona. Let's not miss the apple phone and the Chanel perfume as part of the groom's styling kit. Claude's Dexter glasses, another very chic add on, we think. Oh did we forget the gorgeous diamond-sapphire cuff links. We are completely sold on this groom look.
And now let's spend some time on our dainty bride Arlene. Sheer sleeved and shouldered classic white dress with delicate embroidery details, a sheer veil, classic bridal up do, minimal make up and those anchor drop, nautical diamond earrings that we can't stop thinking about made her the classic Christian bride. Arlene's soft and pretty bridal look was perfect for her ceremony which was also perfect as the ceremony transformed into a lovely reception party.
Holiday Inn, Goa hosted Arlene and Claude's stunning outdoor reception. Fairy lights, white cabanas, another nautical inspiration in the form of a massive installation of a beautifully backlit sailboat festooned with fairy lights, lots of merry making, drinking and dancing made for a night to remember.
Go through Arlene and Claude's wedding memories to see what we are talking about.