Debbie and Jonathan's Best Day Ever!
Debbie and Jonathan knew from the very beginning that they wanted a destination beach wedding, and they got exactly what they wanted. Their union was held at Holiday Inn, Goa and set in a gorgeous theme of blue, white and yellow. Every element from the décor, right down to the ring pillow was matched to the theme.
Pre-wedding jitters (the good kind) were taking over both Jonathan and Debbie as they got ready for the most special day of their lives or as they call it – The Best Day Ever!
Jonathan donned a classy Hazelwood linen suit from Raymond and paired it with a navy blue bow tie and suspenders – looking absolutely dapper! The constant smile on his face only showed a part of the whirlwind of happiness, nervousness and excitement going on inside of him! He was finally getting to marry the girl of his dreams!
"I loved every single thing about my wedding. Ever since I opened my eyes that morning, my heart and mind was willing and ready to marry my best friend!" Debbie says that she couldn't help but express again and again how much she loved that day – whether it was having her best friend stand right beside her or getting to dance with the love of her life. Nothing but love flowed from her heart as she spoke about her most favorite day!
Debbie was definitely one of the most gorgeous brides we've seen. Her A-line ivory white gown that was designed by the ingenious Michelle Rodrigues had our jaws dropped right to the floor! The intricate embellishments of silver beads and crystals made her look like the quintessential Christian bride. With her minimal, natural makeup and dainty pearl earrings, this beautiful bride was the true embodiment of the words 'Beauty lies in simplicity'.
Walking down the aisle with her dad was the most emotional part. So many memories flashed back in her mind as she walked with the man who helped her take her very first steps as a baby. Jonathan, on the other hand, was feeling a different set of emotions. He says, "I hadn't seen her at all that day and even though she had a long walk across the lawns before she got to the aisle, I couldn't get a glimpse of her. But when I finally got to see her, it was completely worth the wait."
"She looked perfect," he added. (We couldn't agree more!)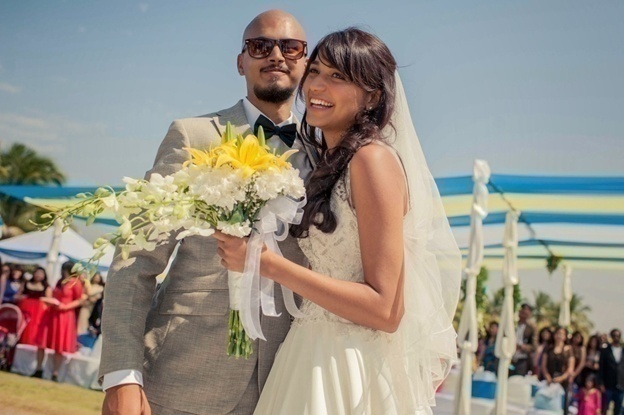 Once the wedding ceremonies commenced, Jonathan and Debbie exchanged vows of never-ending love, togetherness and promised to be each other's partners-in-crime forever! And even though they were reading out vows on a stage in front of a crowd full of people, at that moment, everything else just faded away. All that mattered was the two of them and the amazing journey they were about to embark on together!
Once they sealed the deal with a kiss, it was time to party! Friends, family and loved ones danced and toasted in celebration with this delightful couple. Fun pictures were taken at their Polaroid-themed photobooth cutout.
One of the best moments from their 'Best day ever' was the semi-private walk down the beach. Even though they knew that every move they made was being captured, it felt like the most natural thing to do – talking, laughing, and acting goofy.  They could have gone on for miles!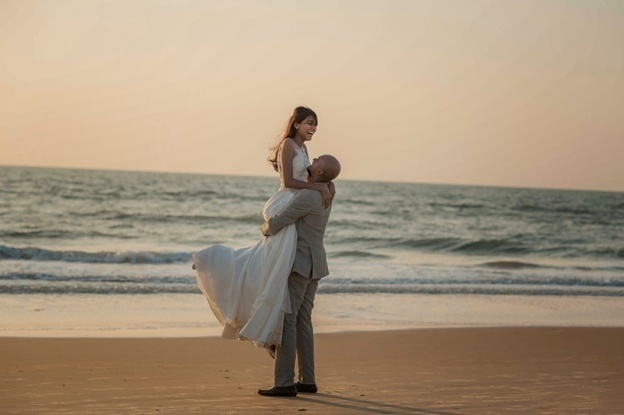 Weddings are crazy, and we won't disagree. The fights over lilies or carnations and white drapes over gold are exhausting but a few weddings, like this one, leave us believing that flawless weddings are a reality, and it is only fair to want to relive moments like these, time and time again.