Everything nobody ever told you about the basics of bridal jewellery!
The most important facet of wedding shopping is selecting your jewellery! For Indian brides, jewellery is not merely an expensive ornament, it is worth much more- feelings, values, culture and strong tradition. A bride takes utmost care and pays attention to every minute detail while choosing her jewellery, afterall, she doesn't want to leave any stone unturned when it comes to perfecting her D-day!
But, amongst all this some brides tend to face a roadblock in terms of understanding the slight differences and nuances between different types of bridal jewellery. But, you don't have to worry too much as I have got this pretty much sorted for y'all!
Here's a guide to some of the popular jewellery designs, which will help you in a hassle-free and easy shopping process:
1. Gota Jewellery
Image source: Fooljhadi
Image source: Fooljhadi
Image source: Rasha Gota jewellery
New-age brides are totally in love with floral jewellery and flaunt them especially on their haldi and mehendi ceremonies. If you want to go in for an alternative to floral jewellery, gota can be an ideal pick for you. It is lightweight and eye catching!
This jewellery consists of silver and golden threads woven into different fabrics. It could also include mirrors, ghungroos or pearls.
You could pick a matha patti, earrings or gota necklace and enhance your bridal ensemble with an ethnic touch!!
2. Polki Jewellery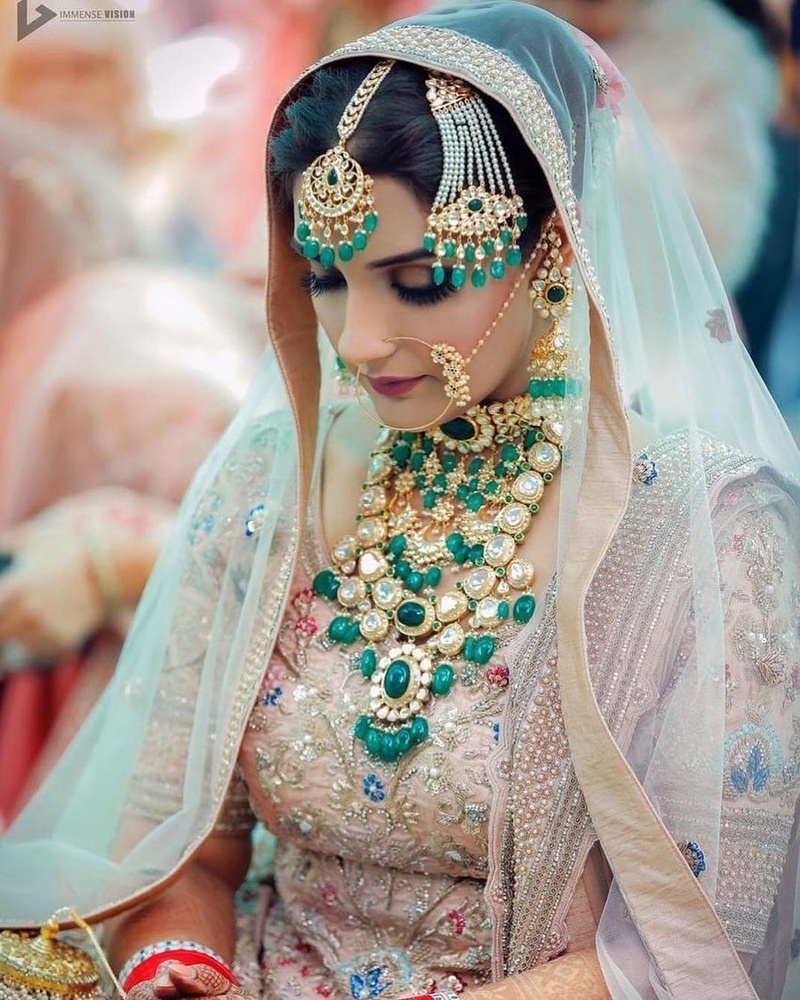 Image source: Immense Vision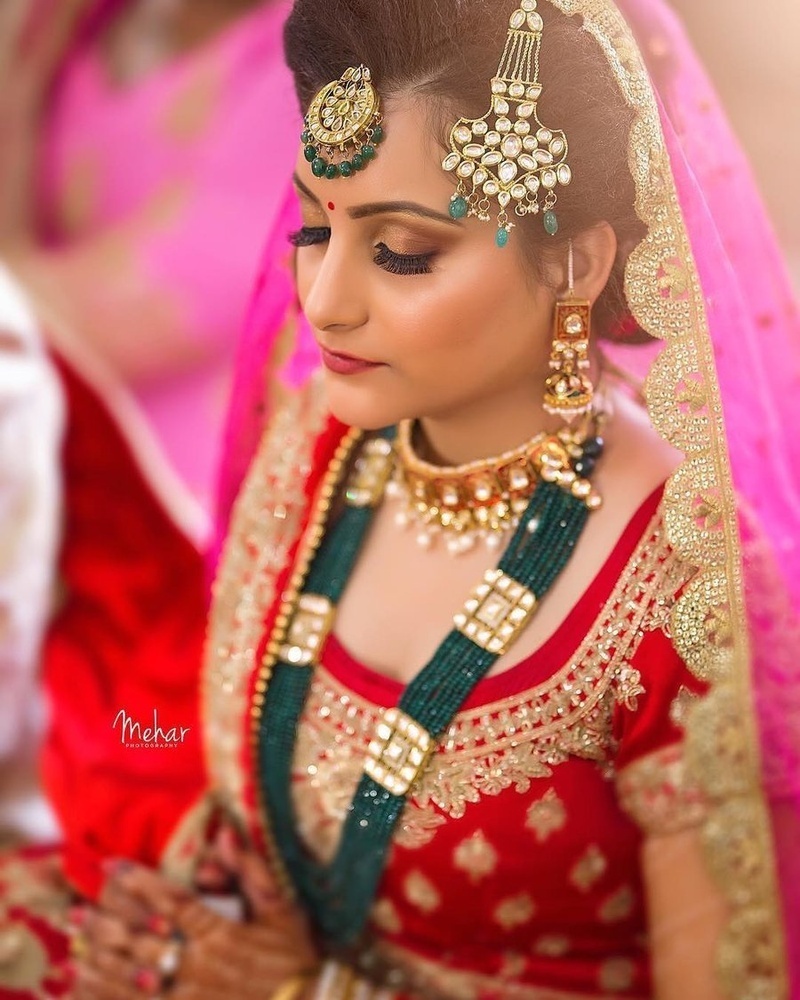 Image source: Mehar Photography
Image source: Hitched and Clicked
Most brides get confused between polki and kundan. But, I am here to sort out this out for you, obliterating any chances of you to be in doubt when it comes to Polki jewellery.
Polki refers to unfinished, uncut diamonds, which are set in a gold setting. Their size and extra luster is what makes them more coveted!
3. Meenakari Jewellery
Image source: Mohit Jaura Photography
Image source: Clicksunlimited Photography
Meenakari or enamel jewellery is a perfect pick for brides who want to break the monotony and add oomph to their entire bridal look!! This process refers to engraving ornaments with coloured enamels. Although originally adorned by Rajasthani brides, this jewellery has rapidly caught the attention of other brides as well and they are slaying their bridal ensemble by flaunting them. Minute detailing, intricate designs, exquisite meena work and precious gemstones, makes this a potential pick! Although you can get them customized, most are found with animal figurines or images of gods and goddesses.
4. Jadau Jewellery
Image source: Brides of Sabyasachi
Image source: Camera Waale Baraati
Jadau means embedded and this is the technique used to make this jewellery. Gold is melted to the point where it is pliable and then stones are embedded in it, making the jewellery attractive and charming! 
5. Temple Jewellery
Image source: Wedmantram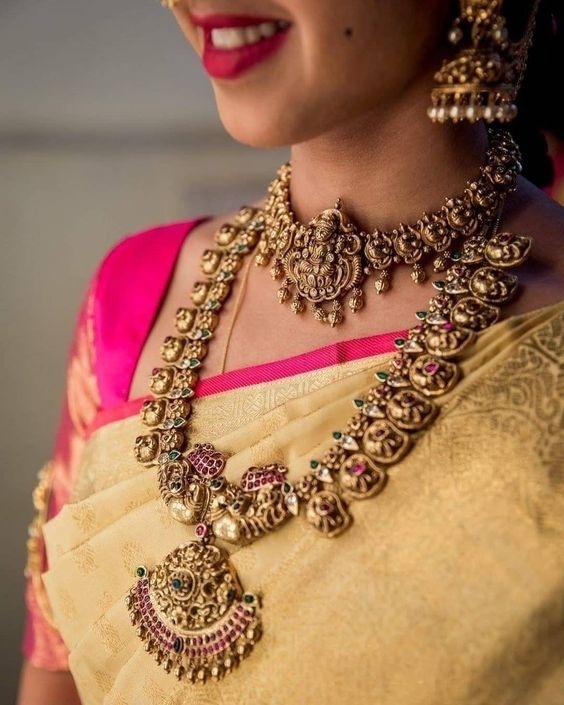 Traditionally a keepsake of South Indian brides, this piece of jewellery is now becoming a rage amongst other new-age brides as well! What makes it stand out from ordinary jewellery is the extra luster coming from pure gold, silver and precious stones. It also includes pearls, kundans, meenakari, emeralds and rubies, adding the extra oomph to the bridal look! Brides are usually seen going in for jewellery having floral shape, figurines of gods and goddesses, peacocks and other royal images.
6. Kundan Jewellery
Image source: Priyam Parikh Pictures
Image source: Lilac Weddings
Image source: Brides of Sabyasachi
Often confused with jadau and polki jewellery designs, Kundan jewellery includes beautiful stones or glass pieces embedded in gold to create an exquisite and unique look! Not only does this make the jewellery look magnificent, but also adds an extra bit of charm and regality!!
7. Kaasu Maalai
Image source: Madhurya
This spectacular traditional gold jewellery is made of small gold coins strung together! A perfect piece of jewellery complementing your wedding silk. The necklace cold either have plain gold coins or ones engraved with different symbols, mostly one of Hindu gods and goddesses.
8. Navratan Jewellery
This exquisite and absolutely stunning type of jewellery, is made of nine precious stone, believed to bring prosperity and good luck to the one who adorns this jewellery. Navratna jewellery not only spells luxury and regality, but also adds the extra glamour to your bridal ensemble!!
9. Manga mala jewellery
Image source: Rajatamaya
An embodiment of Indian culture and tradition, mangas signify fertility and prosperity and are found mostly as art of a South Indian bride's trousseau. This jewellery is sometimes found with different traditional symbols, like peacocks and leaves.
Now that you have all the necessary info, it is time to adorn your favourite jewellery and dazzle!
Images source: Pinterest (unless specified)