How to Deal With Allergies on Your Wedding Day? – Weddingz Advice #4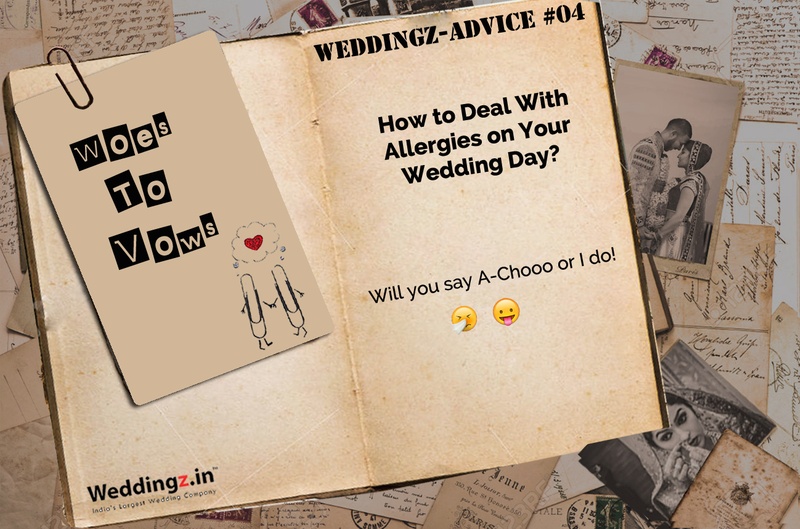 With you not handling your wedding decorations and that way your decorator has no idea you're allergic to roses, you're now caught amidst a flower wall filled with roses and the next thing you know a series of sneezes follow and you have no control over the situation. Embarrassing?! We can relate.
Not paying heed to your allergies can be the biggest wedding planning blunder you can make. To help you not deal with a bad rash, itchy eyes or constant A-choo's when you should be actually saying 'I Do', read on as we give you some helpful tips to plan ahead of time.
Are you allergic to candles?
So your decorator suggests placing thousands of candles around your venue to create that perfect dreamy ambiance you wanted to have for your first dance with your spouse. But, hey! You're allergic to the scent of it. Grab a bunch of faux candles or the scent-free natural candles made of soy or beeswax.
Are you allergic to flowers?
The worst of all allergies could be being hypersensitive to flowers. Indian weddings minus flowers can be a horrendous nightmare to some. But, with modern couples opting for flower-less wedding decorations, incorporating more modern elements like Moroccan lamps, paper pomanders, you needn't worry going all red sneezing the hell out of you with fragrant-filled flowers all around you.
-Choose artificial silk flowers or create your own paper flowers
-Choose no or low fragrance flower like daffodils, tulips, orchids, gladiolas, fuchsias, carnations, low-scent roses or tea roses and baby's breath.
-Avoid lilies and alstromeria the sap from them can cause a nasty rash
Are you allergic to makeup?
You've never even dared to brush a stroke of blush on your cheeks or tried the new kohl that's out in the market simply because you're not sure which ingredient in it might give you a bad rash?! A bride with no makeup – have you come across anyone like that?
Have a test and trial a month or two before your wedding with your makeup artist. If you think it's too early and the makeup artist may charge you a bomb for just trials, request a simple patch test of the products your makeup artist uses explaining to her your concerns about allergies.
Is your skin sensitive to platinum jewellery?
Most jewellery has nickel on them which causes a skin rash. Similarly, platinum is also one of the metals that can cause a rash on your skin. Whether it was your fiancé who decided to surprise you with a platinum ring or your beloved relative who gifted you a set, after wearing the jewellery if your skin seems to develop a rash, don't panic! Rinse and dry your affected skin area carefully. Avoid applying soap, as it can irritate the skin and the rash will stay longer than you expect it to go away. If your skin is not too raw or irritated, use an alcohol based sanitizer to lessen the irritation or apply a lotion that has a protective barrier like Eucerin.
Is your skin sensitive to a certain type of oil?
So your gal pals have been pampering you silly, so much so that they decide to gift you a cool spa treatment. With all the running around you've been doing planning your big day, you deserve a royal spa service. However, stay alert to which type of oil is being used on you. Oils such as ginger, bergamot, orange, lime, and grapefruit used in aromatherapy can provoke a rash after your skin is exposed to the sun. Request your masseuse to avoid these oils if you have a sensitive skin.
Helpful tips to keep in mind
If possible consult your doctor and request for a pre-medication for any of your allergies to prevent you from itchy, red eyes and lots of sneezing.
Take care of your allergies post your wedding too – Pack an allergy emergency kit for your honeymoon.
Do you have any other quick fixes to these allergies? Is there any allergy we missed mentioning? Let us know in the comment section below.