No Hush, No Blush – Your Bridal Lingerie Guide to Help you Choose Wisely
We've written about lehengas, sarees, clutches, bags, footwear and even individual pieces of jewellery. About time we spoke of bridal lingerie, dear brides. Your selection will make or break your outfit in terms of fit, not to mention the comfort or discomfort when you are sitting at the mandap for those long pheras. What should go into your trousseau trunk for all your intimate needs and what should you be carrying with you on your honeymoon? We break the silence and tell all. How to select the right lingerie for your personality so you can feel comfortable in your own skin?
Brides usually don't shop for bridal and honeymoon lingerie till the last few weeks. The task however turns out to be more difficult than anticipated. You often make rushed decisions. Bridal intimate wear is of immense importance to help you look and feel the best for your big day and it's only natural that one takes a well thought and well-tried experiment to stage and avoid a day of unsurety and discomfort. One should shop for intimate wear along with the final fittings of the bridal lehenga, saree or gown.
This season young brides are breaking out and experimenting with bridal and honeymoon lingerie. May it be bold colours, prints, cuts and sheers, Indian brides look stunning through all the genres. Here's a guide with popular category boards which will help all you young brides understand which type of lingerie you like and what you want to project as your intimate personality. Also, we show you the popular lingerie trends in India today.
MINIMALISTIC
In the course of the 90's there was a shift in fashion for women. Designers like Calvin Klein and Donna Karan made easy clothes for modern working women. Klein defined his idea for the modern minimalistic woman intimate wear to have, 'an indulgence in superbly executed cut, quite plays of colour tones and clean, strong shape.' For a bride who thinks, less is more; this is definitely your style. Wonderful ideas that will spice up your honeymoon, these pieces will also work well post wedding when you're back to everyday living.
ROMANTIC 
If you are a romantic bride who loves pastels, florals, and all kinds of softness, you're going to be attracted to this color palette. For a bride who is feminine, sensuous, natural gentle and perhaps a tad bit conservative, this section includes a very pastel background, with pinks, peach, cream and mint green as accent colors.
PRINTS
Prints are for the fun and quirky bride. This category gives you a lot of options ranging from floral to Disney cartoons, anything and everything can be a print. Personalized prints can also be made on intimate wear. So all our cheeky brides with a sense of humor, go all out with prints this season! Choose from small dainty English ditsy prints to large tropical floral prints and checks!
FASHION
This is for the bride who goes all out experimental with sheer, lace and cut. She's upfront about her style and can be a fashion leader, not a follower. Have fun with fur, silk, diamonds and sheer in this category! The color palette is pastel with whites, creams, greys and dark tonal maroons.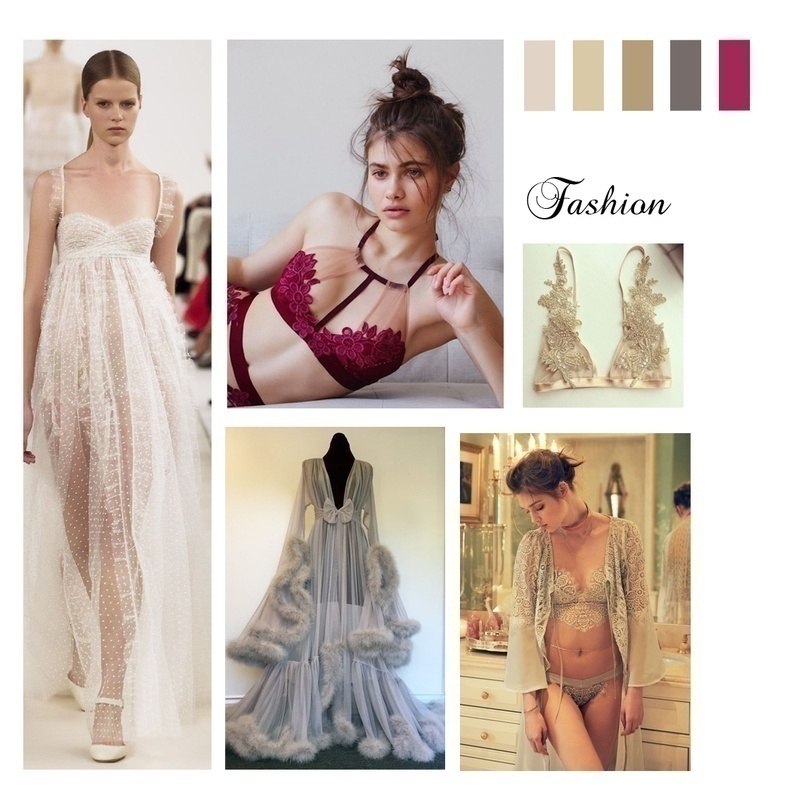 FIERY
  This category represents most Indian brides as they love to play with shades and tones of red. This board shows how you can use sheer, velvets and design to reinvent the must have bridal red lingerie.
ELEGANT
This category is for the regal or the royal bride. You are bold with color and beautiful with brocades, lace, silks, sheer and experimental with cuts. The color palette ranges from a bright cobalt blue to dark maroons and sheer black.
HONEYMOON CLASSICS
We all want our honeymoon lingerie wardrobe to be a well functioning unit (wink wink!) Here's a collection of fail-safe lingerie and nightwear that can work for most Indian body types and color. Bring these along and you are bound to have a successful honeymoon!
BEACHWEAR
For all those tropical beach honeymoon babes, it's time to tie your bikinis, sip some dirty martini for a well-deserved holiday! After all, you've accomplisged a major task. Getting married has been done and dusted. How about some relaxation and fun with your better half? Here's some exciting beachwear to turn up the honeymoon heat!
So there you have it! Like our blog if you enjoyed this one. Let us know what you'd like to hear from us about. Happy shopping!