We Gifted 100 Engaged Couples A Pre-Wedding Photoshoot With India's Top Photographers – And The Results Are Pure Happiness! [Mumbai Edition]
If you've been following us on instagram, you'd have come across our contest which a 100 hundred lucky couples won. We wanted to give them a way to interact with the two most important vendors in any wedding: photographer and makeup artist. So that's exactly what we gifted them – a pre-wedding photoshoot and a complete bridal makeup sessions with Mumbai's leading artists! Dream Diaries and The Cheesecake Project handled the photoshoot with their brilliant photography while Jharna Shah held an interactive makeup session for all the brides-to-be.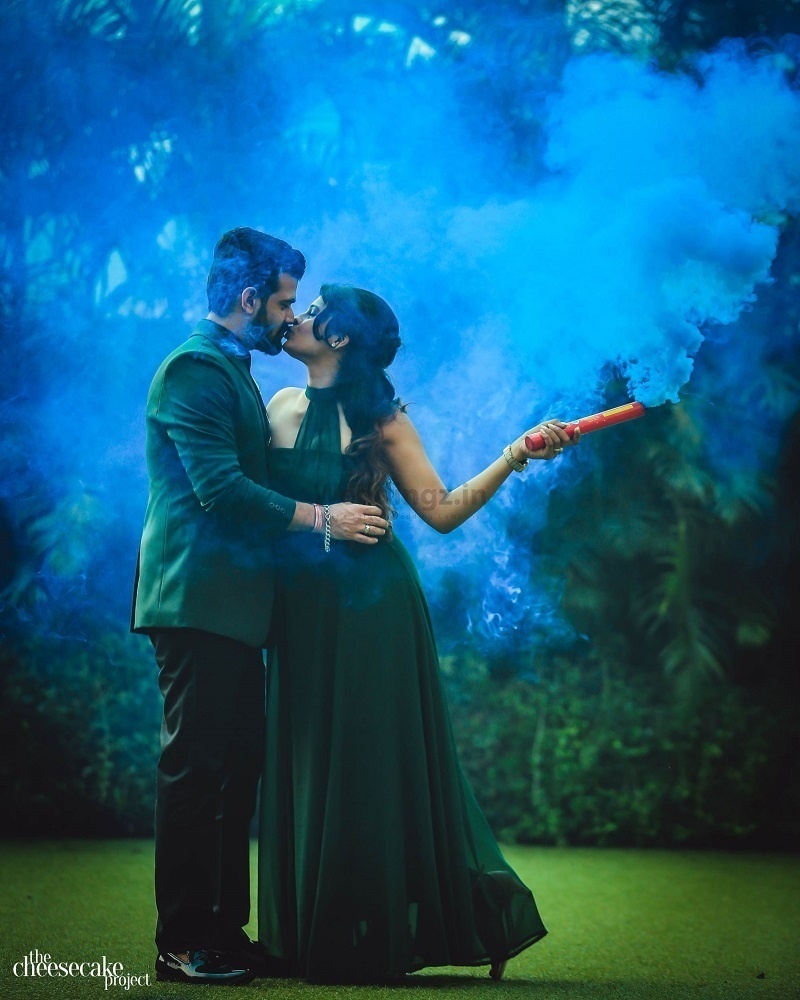 The beautiful Courtyard by Marriott poolside served as the perfect location. The  lush lawn and scenic surrounding made each picture come alive beautifully. The couples were being treated to a complete pre-wedding shoot experience with some fabulous pictures to treasure for a lifetime – they loved every bit of it!

The makeup session with Jharna Shah was held with every bride's beauty dilemmas in mind. Makeup is the most important thing on any bride's checklist and there are so many questions that every bride needs answered before she finalises her MUA for the wedding. So we gave our brides an exclusive chance to not only interact with one of Mumbai's most celebrated artists, but also to watch her live in action as she transformed one of our winners into a bride! They all had an opportunity to ask a real professional about all about makeup tricks, tips and more with genuine feedback and answers. How amazing is that!
We understand that managing and planning an Indian wedding is anything but easy! So to handle the big day easily, we introduced our couples to the WedCraze App. WedCraze allows you to manage your guests and keep them updated about everything in real time. It serves as one platform for you to share key info, all your guests to share photos, get to know each other, have an itinerary of the wedding events, and much more. Read more here.
What's more is we had Pretty Secrets collaborating with us! They gifted all the brides-to-be the goodie bags with the cutest little things in them. Adorable pink lingerie, vouchers, cute eye masks and a tote bag were included. We got some amazing reviews for each of the items. The lingerie was both cute and comfortable – perfect for a long day! And the sleep masks of course, were a much needed item they were glad they got. The brides simply loved it and we did too!
Now a wedding is not easy on the wallet and we're well aware of that. The tiniest of things do add up! Well, as always, Weddingz.in came to the rescue. We made a list of all the things that newly weds need help in. Keeping in mind grooming, bridal wear, honeymoon and even post-wedding furniture, we gifted them the Weddingz Amazing Offers booklets with great discounts and offers from huge brands like Make My Trip, Meena Bazaar, Flipkart, City Furnish, Urban Ladder, Vior etc. Read more here.
We also included a wedding checklist to help with all the planning – A step by step guide, teaching them to prioritise their tasks according to the time left for the wedding.

The response was overwhelming with couples coming back to us and telling us that we made the process of getting married so much easier for them. We're over the moon about how this turned out and are sure to keep hosting more! Stay tuned and watch out more amazing contests!