This top fashion blogger bride had the most gorgeous pastel lehenga shoot with her girls!
If you are an instagram person and even have the slightest interest in clothes and styling, chances are you will know who Urmi Daga of What Wear How is. This digital influencer has been in the game since forever and has finally tied the knot and goes by the name – Mrs. Urmi Daga Shah now!
So, what happens when a fashion blogger picks her own lehenga? I'll tell you what, the outfit will be on point, it will be perfect for the weather / season and without any doubt will be a treat for the eyes.
Check out her beautiful pastel wedding lehenga and tell me if it's not dreamy (Captured by Anuraag Rathi ) –
This is what the bride had to say about her outfit, "We decided to take the pastel route owing to the sweltering summer heat in Mumbai. The freshness and romantic charm of the palette was the perfect counter for the summer sun. Back when I still hadn't put a ring on it, my mom and I would always debate on the color of my bridal lehenga. I would always champion for a light pink pastel look while my mom favored the traditional red outfit. Thanks to the trendy celebrity weddings happening these days, she was somehow convinced. Yay! Monica made me the perfect bridal lehenga that had beautiful floral motifs, deliciously mixed with a pastel hue of pink and beige that gave a beautiful and romantic look to the outfit, perfectly complimenting the feel of the wedding. A romantic and intimate gathering of everyone I love and adore."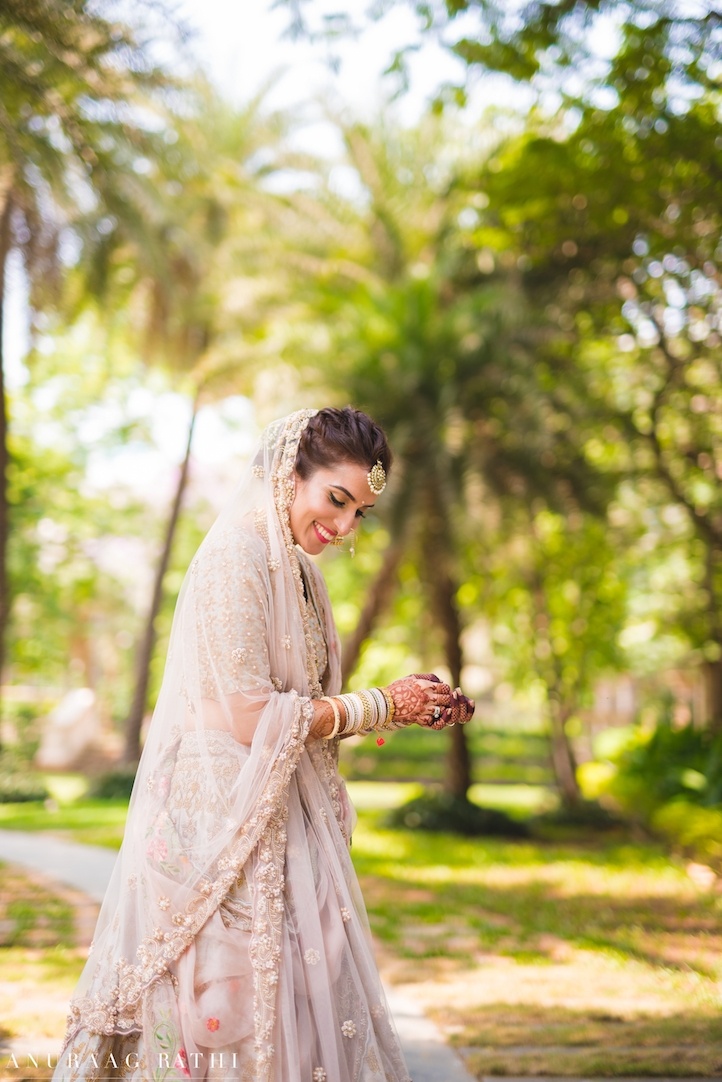 She completed the look with traditional golden jewellery (matching her latkans), a pearl maang-tikka (matching her embroidery) and matching bangles. I loved how minimal yet, totally phera-ready her whole bridal look is.
This is what her bridesmaids wore:
A lilac lehenga from the pastel family with a sheer dupatta and a golden border, complementing the bride's look.
This other one wore a pastel-pink lehenga skirt paired with a grey-ish blouse, sheer dupatta and minimal jewellery.
Some candid pics giving me major #BridesmaidsGoals:
Caught in the middle of cracking a joke –
While twirling away to glory –
Because your girlies will ALWAYS be there for you –
#Girlboss –
P.S., she pulled off all of her prep, from finalising the outfit to the wedding decor in just one month! Kudos to this bride who made this possible in a world where a bride takes 7 months to a year for planning her dream wedding.
Bridal goals right? I can hardly wait for her wedding pictures to come out.