Perfection does not come easy, and when we talk about making a wedding day celebration perfect, then definitely it is a herculean task. Do you know what goes into the process? Planning and when you are done planning, you again plan to check if everything you planned was perfect or not. One such precisely planned wedding can surely be a dream turned into a reality. However, we are here to help you a bit with the venues because that takes up the major process of wedding planning, and we really want to ease it out for you guys. So, we have picked Indore today, and we have compiled the best wedding resorts in Indore. Resorts definitely are go-to options for hosting a whimsical wedding day. Check it out yourself and pick one for your big day. Let's go!
Kalyanam Hotel And Resort, Indore, Umariya
First up on our list is one of the most beautiful wedding venues in Indore that offers a picture-perfect setting to celebrate your big day filled with romance. Kalyanam Hotel And Resort is a luxury banquet hall in Indore that has state-of-the-art architecture. The interiors of this venue will complement your idea of a dreamy wedding celebration. The decor team will further enhance the look and you can tie the knot with your loved one in style. Not only a picturesque banquet hall but this venue also has an open-air event area, so you have the freedom to pick a venue as per your preference. If this matches your idea of celebration, then get your bookings done right away.
Key Features:
Sprawling lawns for outdoor events
Luxury wedding resort in Indore
Allows alcohol consumption
Where: Kalyanam Hotel And Resort, Old AB Road, Opposite S.D. Bansal College, Umariya, Mhow – Indore Highway, Indore, Madhya Pradesh 453331
Patel Club And Resort, Indore, Rajendra Nagar
A well-connected locality always has an edge over other wedding venues as it offers the best accessibility, which makes it convenient for you as well as your guests. One such wedding venue in Indore is Patel Club And Resort. This venue has two distinct lawns to offer. The largest lawn has a  capacity of a maximum of 700 guests while the other one is a chic poolside area fit for around 250 guests. You can host your grand wedding day at this sprawling wedding garden in Indore, and even your bachelorette and other pre and post-wedding festivities can be celebrated here without any hassle. So, go ahead and get your bookings done here. 
Key Features:
In-house catering and decor available
Ample parking space provided
Poolside party area available
Where: Patel Club and Resort, Khasra No.182/2,182/3 Hukamkhedi, Rajendra Nagar, Near IPS Academy Indore India 452012
Crescent Spa And Resort, Indore, Ralamandal
Crescent Spa And Resort has an exemplary ambiance that speaks volumes about its luxurious indulgence. This venue indeed is one of the finest wedding resorts in Indore, which was built keeping in mind, a combination of great vision, great skill, and great fortune. This luxury resort in Indore sprawls over an area of lush greenery complemented by the class apart decor. All of these little touches of elegance make your wedding one of the most beautiful days of your life. It literally offers you everything you would need for your wedding day. So, if you are planning to host your wedding day and all the other wedding festivities at one place, then this wedding lawn in Indore can be the one for you.
Key Features:
Multiple party spaces available here
Ample parking space with valet
Ideal for large gatherings
Where: Crescent Spa and Resort, Ahead Of Devguriya Temple, Jamniya Khurd, Madhya Pradesh 452001
Shrida Greens Lawns And Resort, Indore, Rajendra Nagar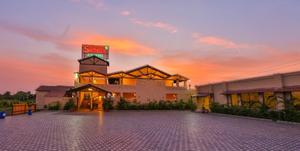 If you are looking for a stunning view so that you can have the best backdrop for your wedding, then the next venue surely will impress you with its beauty. This wedding resort in Indore is a perfect combination of style, luxury, and comfort, and you can experience it all under one roof. The venue we are talking about is Shrida Greens Lawns And Resort. They offer impeccable services, and their team of professionals will assist you at every step of your wedding day until the last minute. You totally can sit back and relax, as they do take care of everything with the utmost care. So, do you see yourself marrying the love of your life here?
Key Features:
One of the best accommodations 
Multiple party areas at the venue
Serves alcohol at the venue
Where: Shrida Greens Lawns and Resort, CAT Road, RRCAT, Indore, Madhya Pradesh 452012
Fun And Food Resort, Indore, Khandwa Road
Fun And Food Resort is exactly what the name defines it to be, a fun venue that has the best chefs to serve delicious finger-licking delights. Resorts have the perfect setting for a weekend wedding getaway, and this wedding venue in Indore will cater to this dream. This venue in Indore boasts of multiple party areas and can fit over a thousand guests altogether. They also offer decor services in-house, so you don't have to worry about it for your big day, though you can get your favorite one from outside too. Overall, the last venue on the list is a great venue to pick for a grand resort wedding celebration. 
Key Features:
In-house decorators and caterers available
Provides various leisure activity options
An array of food and beverages served
Where: Fun and Food Resort, Behind BSNL Office, Khandwa Road, Morda Patak, Indore, Madhya Pradesh 452020
That's all, folks! This was our handpicked best wedding resorts in Indore, where you can host your whimsical wedding day. We hope that you have found a venue on our list, and we wish you all the luck for your big day. However, if you are looking for more options in terms of wedding venues and services, then you are welcome to explore our website. 
Weddingz.in brings hassle-free event planning and venue booking at your fingertips! Book with us and bag 'Guaranteed Best Prices' on all the wedding venues or event areas listed with us. If you have any queries about a venue or want to learn more about our services, visit our website or give us a call at +91- 76-66-77-88-99.