10 Adorable Bride-and-Father moments that got us teary-eyed!
For a girl, her father is the part of her soul. A 'superman' who would rescue her anytime whenever she needs him. Tears roll down my cheeks when I think about the time when I have to let go off my father's hand and leave for a new beginning. To all the fathers who bid farewell to their 'little princesses' with a heavy heart, but always with a smile covering the sorrow of it; I dedicate this post to you. To the man that she has always looked up to, here's a small tribute with some of the most beautiful moments that we managed to enlist:
1. Follow the lead- cause he has always guided you through the way!
Image Source: Shutterdown Photography
2. A cute moment captured- because daddy just can't say no!
Image Source: Candid Tales
3. Cause his 'little princess' has always been his fashion advisor!
Image Source: Camlition Productions
4. The father who lightens up the mood with his broad smile!
Image Source: The Wedding Story
Image Source: Nitin Arora Photgraphy
5. When its time to say goodbye, there are no words but tears-
Image Source: Chetna Bhat Photography
Image Source: Albummed
6. Guiding you throughout your life
Image Source: Going Bananas Photography
7. The beautiful goodbye kiss!
Image Source: Moni and Adri Photography
Image Source: The Photo Diary
8. The father who just can't get enough of her daughter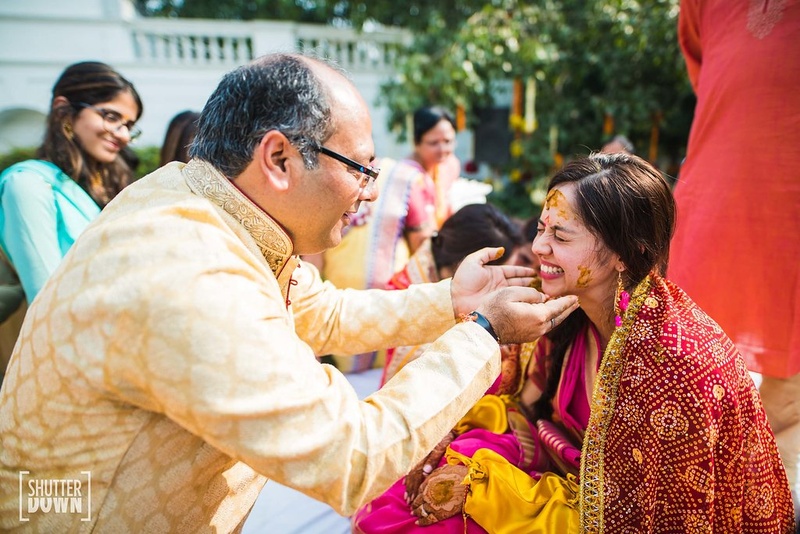 Image Source: Shutterdown Photography
9. The holy Kanyadaan moment
Image Source: Knots by AMP
10. A hug with father is a necessity- be it at any time!
Image Source: Richa Kashelkar Photography
There is no way one can count the number of beautiful emotions a girl experiences with her father and so there's no denying to the fact that there is nothing but unconditional love that makes up a father's heart. Cheers to the golden-heart man!