10 Beach wedding mandaps that you can't miss!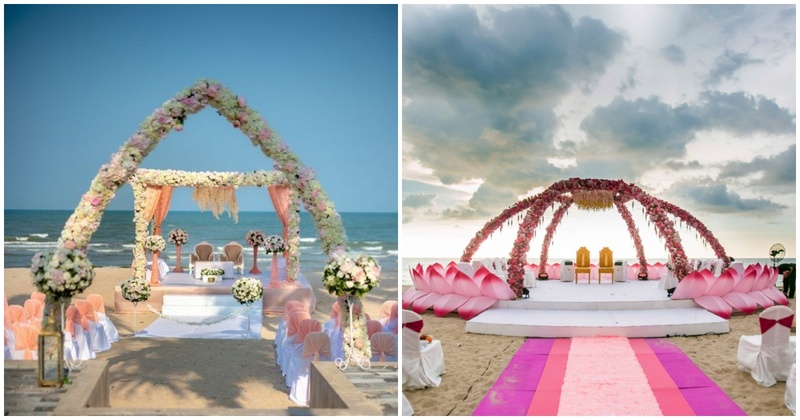 Close your eyes and imagine tying the knot with your loved one with a backdrop including the sun, the ocean, the waves, the different hues of the sky and of course the beach. Got lost in your thoughts, didn't you?
A beach wedding has all the ingredients to make your 'dreamy' wedding desires come true.
A beach wedding is not like a conventional wedding, where there is an array of elements to enhance the look of your D-day. Here, a mandap is all you have! In this make or break situation, it is imperative your mandap outshines everything else (quite literally).
Here are some spectacular wedding mandap designs that will help you zeroing in on the the kind of mandap you want for your shaadi:
1.Simple and sober beach mandap
Image source: www.anoop.photgraphy
Use of simple pastel colours, make this mandap design look elegant and warm.
2.Royal and romantic beach mandap
Image source: romeshdhamijaproductions
This dome as part of the mandap makes it look royal and the beautiful white, dark pink, light pink and peach flowers add a tinge of romance to the ambience.
3.Minimalistic beach mandap
Image source: onceuponatime.weddingtales
'Less is more'
This idiom couldn't fit better!
4.Different and dainty beach mandap
Image source: teamdwp
Imagine yourself tying the knot against this backdrop!
This mandap is not over-the-top or in your face. It is delicate and dainty and definitely sets the bar high.
5. Gorgeous grandeur beach mandap
Image source: bloomboxdesigns
There is a slight homely feeling to this mandap. It looks warm, comforting and subtle. A perfect setting for an afternoon beach wedding.
6.Lotus love beach mandap
Image source: storiesbyjosephradhik
This is a rather romantic mandap, using the shape of a lotus coupled with pillars decorated with pink flowers.
7.Breathtaking beach mandap
Image source: klikvacations
The view of the beach is difficult to compete with. This rather simple mandap pink mandap serves as a nice setting to take place.
8.Floral beauty beach mandap
Image source: anoopphotog
Too many flowers?
Is that even a thing?
With flowers it is the more the merrier and nothing can possibly go wrong!
9.Fairytale setting beach mandap
Image source: Lin&JirsaPhotography
Imagine the walkway to your mandap?
Well, this could transport you into a whole different world. This mandap is brilliant for a cute and adorable wedding, with your loved one.
10. Pink and purple beach mandap
This pink and purple mandap looks refreshing and young. A breath of fresh air from the conventional ones.
Decided your mandap design yet?
Image source: Pinterest unless specified