10 Breathtaking Borla Designs for Brides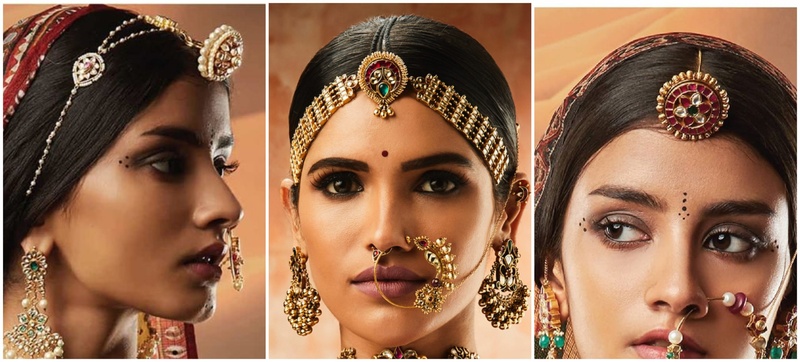 Inspired from the round fruit bor or jujube that was typically found and more prominent in Rajasthan centuries ago, the Rajasthani Borla derives its name and origin both from the fruit! This unique jewel is an important part of a Rajasthani bridal look and is also known as rakhdi tikka. Known for its beautiful amalgamation of grace and royalty, this gorgeous piece of jewellery today has traversed regional barriers and reigns on the forehead of brides all over!
The Rajasthani borla therefore is more inclusive and all-embracing than ever before. Hence you can simply stand out and choose to opt for this beautiful jewellery and notch up your bridal look. Here is all the inspiration you need for that! Take a look:
1. The Single-Stringed Stunner!
Image Source Art Karat
Opt for this single-stringed coloured stone borla to nail your look just adequately. If you're already opting for some heavy jewellery, this elegant piece will balance things out for you beautifully!
2. The Marvellous Matha Patti Borla Magic
Image Source Tanishq
This unique, circular gem-studded version of the matha patti is perfect if you want to be a timeless traditional bride. This one is sure to notch up your look by leaps!
3. Regal in Kundan!
Image Source Art Karat
We cannot stop gushing over this look! If you're all set to be this classic royal and exuberant bride, then this is the borla of your dreams.
4. Strand of Sublimity!
Image Source The Unicorn Studios
Your hunt for that perfect statement borla ends here! This diamond delight is enough to turn those portraits memorable.
5. The In-house Padmavati!
Image Source Art Karat
Light up your own wedding videos with this exquisite borla matha patti. For a breathtaking bridal look, this one needs to be in your kitty!
6. The Pearl-Perched Borla Beauty!
Image Source Adaaye Makeover
Nothing beats the grandeur of this pearl borla matha patti! We love those tiny grain-like droppings and the sophisticated strand holding it all together.
7. #Borlagoals for OTT Brides!
Image Source Muskan Manhas
You can still be the princess of your own kingdom with this extraordinary borlamatha patti! We love every bit of this piece and can vouch no one would be able to take their eyes off you in this.
8. Crafted to Perfection!
Image Source Art Karat
We are in absolute awe of this intricate piece! Be it royal bride goals or traditional bridal beauty, this one ticks all the boxes.
9. Perfect it with this Floral-Kundan Piece!
Image Source Jasmine Vedi
A refreshing pattern to give wings to your perfect bridal look dreams! This one's for you to flaunt, preserve and pass-on.
10. An Elegant Ode to Ethnicity!
Image Source Smita Kakwani
Pay a delightful ode to your rich roots with this exotic borla piece! This one indeed makes for a picture-perfect frame.
So ladies, we hope you not only found your borla inspo here but even some difficult choices to choose from these amazing ones. Tell us which ones you have opted for?