10 breathtaking honeymoon destinations in India to visit during monsoons!
Monsoons are definitely the season of love. Rains pouring, greenery everywhere, foggy air, dark sky, rivers gushing, what's not to fall in love with this weather?
If you too are a die-heart 'Tip Tip Barsa pani' romantic, and are planning to go take the roads with your beloved, there's nothing like a monsoon getaway to calm and chill after your wedding nuptials are over.
Here are some amazing honeymoon destinations in India that look even more beautiful and picturesque during the monsoon season.
1. Wayanad – Untrodden pathways amidst the scented jungles:
This sure is one of the best destinations for any newly married couple to discover each other amidst the natural beauty and showers from up above. Hence, it finds its place first in our list.
Wayanad does not fall short of waterfall, gushing rivers, and misty mornings, especially during the monsoon months which makes it an ideal honeymooner's getaway.
Best Honeymoon Experiences:
– Rainforest trekking – imagine walking through the carpeted grass hand in hand with your beloved while a herd of elephants passes you by.
– Camping in the dense forest!
– Muthanga & Tholpetty Wildlife Sanctuary – it'll provide you with an experience of a lifetime.
– Tour of the spice plantation & shop for fresh spices especially pepper, cardamom, honey & more in the local bazaar.
– Head Thusharagiri, located in Kozhikode district, for it provides one of the finest trekking trail which guarantees you views of striking waterfalls, gushing rivers and lush green flora and fauna.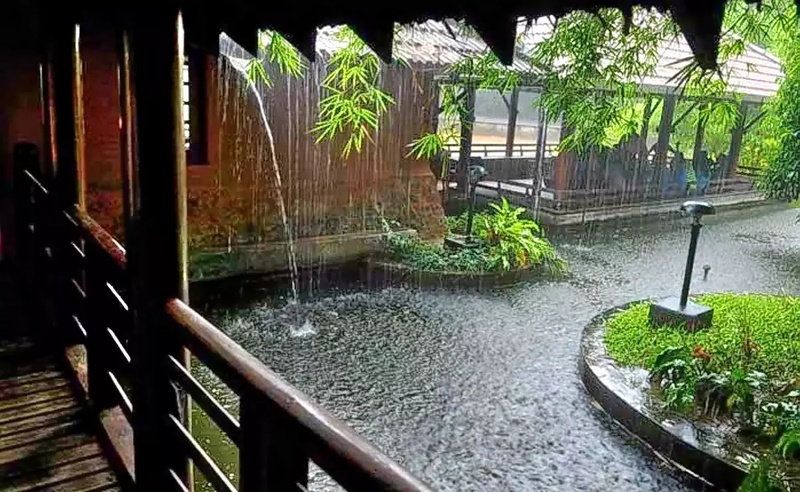 2. Darjeeling – Of sunrises, sunsets & the colorful train:
This amazing monsoon honeymoon destination in India offers the most stunning and breathtaking sunrise and sunset view ever. It's indeed a great find for the newly weds, as it not only provides some great adventure but also a chance with your beloved, to fall in love all-over-again with picturesque backdrops.
Best Honeymoon experiences:
– Adore the beauty of the snow clad Tiger hills and visit the Jhandi Dara sunset point for one of the best sunsets across the mighty Himalayas
– Enroll for a bike tour of the city and try your hands on some professional mountaineering
– Take the ropeway to get bird's eye view of the entire city
– Seek blessing at the Tibetan Buddhist Monetary and the Mahakal Temple
– Visit the zoological park and the Neora valley national park for some wild adventure.
 3. Goa – Beaches, parties, monsoon showers & fenny:
A beautiful monsoon getaway, Goa is amongst the best sought-after honeymoon destinations in India, especially in the months of August and September.
Thanks to its 'LIT' nightlife, sun kissed beaches, historical churches and spicy goan food in this beautiful rainys, Goa will definitely elevate your passion!
Best Honeymoon Experiences:
– Shop at the famous flea markets for some amazing stuff.
– If the weather permits, indulge in some watersports on the beaches.
– Experience the calm and peaceful environment in the cathedrals and churches in old Goa.
– Go off road. Take a tour of old Goa and experience the beauty of western ghats.
– Plan a trip to the stunning Arvalem Waterfalls and Dudhsagar Waterfalls.
– You are surely going to have a good time here watching the sunset with your special someone while experiencing the magical raindrops.
 4. Coorg – Romance, privacy & serenity:
Best known for its alluring natural beauty, this amazing honeymoon place in India definitely attracts tons of newlyweds, especially during monsoons. The valleys, mountains & forests come alive in the rainy season making it a perfect backdrop for the honeymooners!
Best Honeymoon Experiences:
– Enjoy trekking sessions on the lush green valleys!
– Sit by river Cauvery and enjoy the tranquil, serene atmosphere.
– If the weather permits, go rafting!
– Trek to the beautiful Iruppu Falls and Unchalli Falls.
5. Kovalam – Sandy shores, romantic sunsets & pampering spas:
Kovalam is one of the most sought-after destinations in the monsoons by the honeymooners. You would be awestruck by the splendid coconut trees surrounding the beaches and the sea kissing your feet with a pleasant breeze to pamper your souls.
Best Honeymoon Experiences:
– Enjoy the breathtaking views of the lighthouse beach
– Build some sand castles amidst the green coconut trees
– Enjoy a boat cruise on the backwaters of Kerala for a romantic time together
– Witness the most beautiful sunset in the Arabian sea on the Samundra beach
– Do not forget to treat yourself with a couples spa while on your honeymoon in Kerala.
6. Mahabaleshwar – Strawberries, rains & gorgeous views:
This beautiful monsoon honeymoon destination in India comes alive during July and August with plush greenery across the western ghats. It is one of the most popular honeymoon destinations especially during monsoon.
Best Honeymoon Experiences:
– Taste fresh Strawberries & more strawberries! 😉
– Behold the views of the valley from Arthur's Seat, Kate's Point & Needle Hole Point with your love.
– Go for a boat ride with your better half at the Lake Venna
– Wake up early to surprising hues of the sky at the sunrise point.
7. Munnar – Misty mornings & scented aromas:
This scented hill station is blessed with mountains and lush green environs. With blankets of plantations, bickering waterfalls, sparkling rivers, and some rain shower, Munnar makes for a perfectly romantic honeymoon destination in India in monsoon.
Best Honeymoon experiences:
– Relish the breathtaking view of tea plantations as you drive down the curvy roads.
– Witness waterfalls in full swing in monsoons.
– Visit Eravikulam National Park for some gorgeous views
– Stop over to see some spectacular views of the Mattupetty dam and lake
8. Udaipur – Royal luxuries & lake rides:
Udaipur unlike other destination is not a hill station, nevertheless is a great destination to celebrate your honeymoon. Udaipur is the also known as the city of lake, where you can relax and enjoy some precious moments with your beloved. It is amongst the best honeymoon destinations in India in monsoon.
Best Honeymoon Experiences:
– Enjoy boat rides on the lakes of Udaipur with your partner in the pleasant weather.
– Stay at the royal heritage hotels and kick start your life like a royalty
– Taste the delectable Rajasthani cuisine
– Sehelion-KI-Bari – Queen's resort for their friends, Sukhadia Circle (Drive Pass) are some excellent stopover
9. Ladakh – Adventure, mountains, bike rides & celebrations
What better than Ladakh when it comes to honeymoon? The soaring heights, deserted mountains and post monsoon celebrations are a treat to the eyes. This amazing honeymoon place in India, especially post monsoon is just divine.
Best Honeymoon Experiences
– The scenic beauty of Pangong lake is eye pleasing and it's worth a visit with your love!
– Visit the Royal Palace of Leh structure which offers panoramic views of the city
– Remember to visit The Nubra valley, and trek to the Shanti Stupa and enjoy a breathtaking views of sunrise and sunset.
– Go on a yak safari, enjoy a camel ride and go for a bike trip on the rocky terrains
– Visit the Hemis National Park, go rafting in the river Indus, try your hands on motor biking.
– Seek blessing at the old and famous Buddhist monasteries.
10. Kodaikanal – Lakes, pine trees & tranquility:
What better place than Kodaikanal to enjoy with your better half to celebrate your marriage? This beautiful hill station is located in the southern part of India in the Palani Hills in Tamil Nadu. You would be enchanted by the endless pine trees, gushing streams and roaring waterfalls in the monsoon. Kodaikanal is amongst the few beautiful and affordable honeymoon destinations in monsoon in India.
Best Honeymoon Experiences:
– Visit the roaring Bear shola falls which is gushing with water especially during the monsoon
– Trek to the pillar rocks for majestic views of the valley.
– Take some time out and enjoy the learn about the heritage in the Shenbaganur Museum
– Hire a shikara and go for a boat ride in Berijam Lake and Kodaikanal Lake. You could hire a honeymoon boat.
 So what are you waiting for? Get your bags packing!