10 brides who have slayed their weddings in pastel lehengas!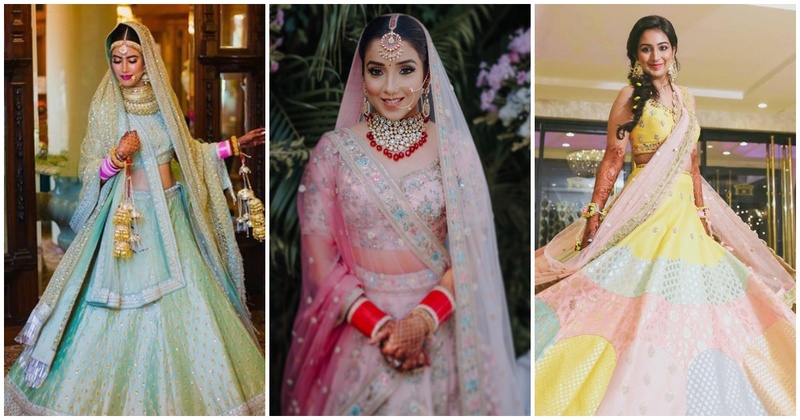 When choosing a lehenga for your D-day, the colour often becomes the deciding point. With red and maroon lehengas never going out of fashion, why not try out some lovely pastel shades?
You might think pastels are dull and boring and 'not-so-happening' to flaunt on your wedding. Drop your apprehensions!
We are busting this myth by bringing you some handpicked photographs of beautiful brides who carried off their pastel lehengas with poise and elegance:
1.Shimmer and shine
Image source: theweddingfiles
This beautiful, slightly shimmery pink lehenga with gold embroidery and the gold and green jewellery look like a match made in heaven!
2.Pretty peach
Image source: theknottystory
Peach and ocre- no one would imagine this combination would go together so well, right? This bride is slaying it in her peach lehenga.
3.Pastel splash!
Image source: nitinaroraphotography
Why should one colour have all the fun?
Bring it on! This bride has her lehenga with shades of yellow, baby pink, light blue and a bit of light brown too.
4.Purely Pink
This bride flaunts a beautiful traditional pink lehenga, with gold and silver embroidery.
5.Blushing in blue
Image source: fotografia9
Who would imagine eggshell blue would make a perfect lehenga?
This bride teams up her blue and gold lehenga with a pair of pink bangles and we are going gaga over this look.
6.Pastel perfection
Image source: goingbananasphotography
Combining peach red, gold and dark pink is bold and hey! It has turned out to be beautiful as well.
7.Mix and match
This bride looks nothing short of a princess!
The combination makes her look stunning.
8.Green and gorgeous
Image source: theweddingstory
Amongst the pink, blue and peaches, this green lehenga is a breath of fresh air and definitely doesn't fail to impress!
9.Cute and chic
Image source: gautamkhullarphotography
This bride knows it best! She has adorned an absolutely adorable pink lehenga with small blue flowers and green leaves. It is subtle, elegant and we can't stop drooling over it!
10. Adorable in apricot
Image source: gautamkhullarphotography
This gold and apricot lehenga is traditional, yet refreshing.
Convinced you can pull of a pastel lehenga?
Image source: Pinterest unless specified