10 Cool & Unique Ways to Decorate your Wedding Chairs!
When planning a wedding there's no such thing like minute details. Everything from wedding invite content, to the banquet hall, to the lenines of the table, they all matter equally.
While you are making weddings more personalized with creative favors, your footwear and jewellery, there's something more that you can do to add up to your personalized wedding!
Gone are the days of fordable metallic chairs or the basic plastic chairs. There are some cool ways you can use to have finely decorated wedding chairs.
1. Abundance of beauty
Seal your merry moments with beautiful blush-hues blossoms.
2. Si Señora
Image Source: Jillian Mitchell
These beautiful driftwood chair calligraphed in Spanish with a touch vibrant colours are something you must bookmark if you are planning a beach wedding.
3. When we were young
Image Source: Bridal Guide Magazine
Walking down the aisle on a memory lane. The baby photos of couples when they have known each other their entire life.
4. For a fairytale love story
Image Source: Juniper Green Photography
Aren't these chairs perfect for a fairytale couple. How beautiful these chairs look with pretty wooden heart adornments and not to forget the ribbon!
5. Pretty-simple with ribbons
If you are looking to have a minimal upgrade to your wedding decor, then these long length ribbons are a perfect pick!
6. The rusty chic
Perfect for an old english wedding theme with burlap straps and lace.
7. Colour fabric bows
The traditional Indian adaptation will always add up to your brownie points.
8. Sheer glamour
As they say, ruffles never go out of fashion. This perfect wedding chair decoration can add instant glamour to your wedding decor.
9. Vineyard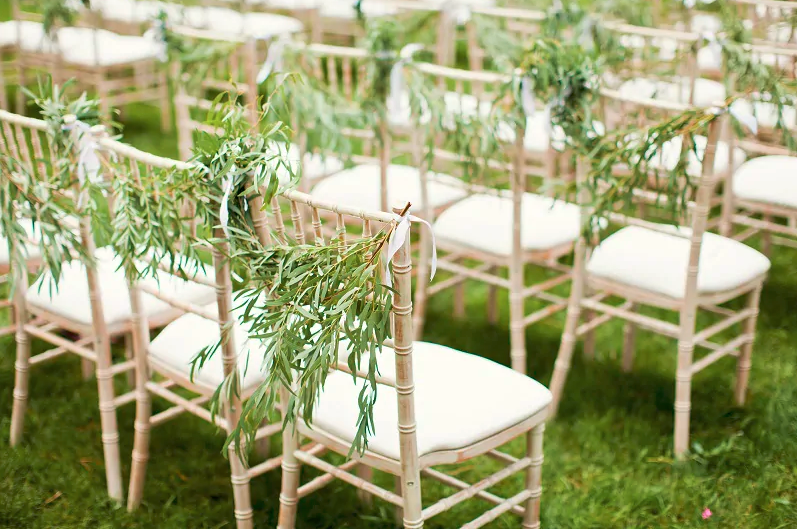 If you plan an outdoor wedding, something more natural and minimal would be a perfect fit.
10. Sheer white fabrics woven on the chair back
It is one of the most simple yet elegant wedding chair decorations.
Image source: Pinterest (Unless specified)
These are some cool ways you can decorate the wedding chairs and you can add some other elements too!