10 dramatic nose rings for brides who want to make a style statement!
When you are trying to get together all the different (innumerable) pieces of jewellery together for your D-day, there is one piece of jewellery which just cannot be missed and that is the bridal nose ring or nath! It is something that catches the eye first and you just can't go wrong with it.
New-age brides want to improvise and go in for more unconventional, dramatic and offbeat naths that make quite a statement! Naths these days are a good mix of authentic and contemporary designs.
I've got you some nath designs that will inspire you to opt out for more dramatic naths to flaunt on your D-day:
1.The extremely simple peacock inspired nose ring is major goals for any to-be bride who wants to keep it simple and dramatic at the same time!
Image source: Royal Affair Weddings
2. The ornate nose ring with a mix and match look is an unconventional option you can go in for, to add oomph to your ensemble!
Image source: Pinterest
3. Love this studded kundan and pearl nose ring- its elegant, classy and makes a statement!
Image source: Aviraj Saluja
4. A stunning studded gold and silver nose ring with a small coloured peacock on the inside is subtle and chic!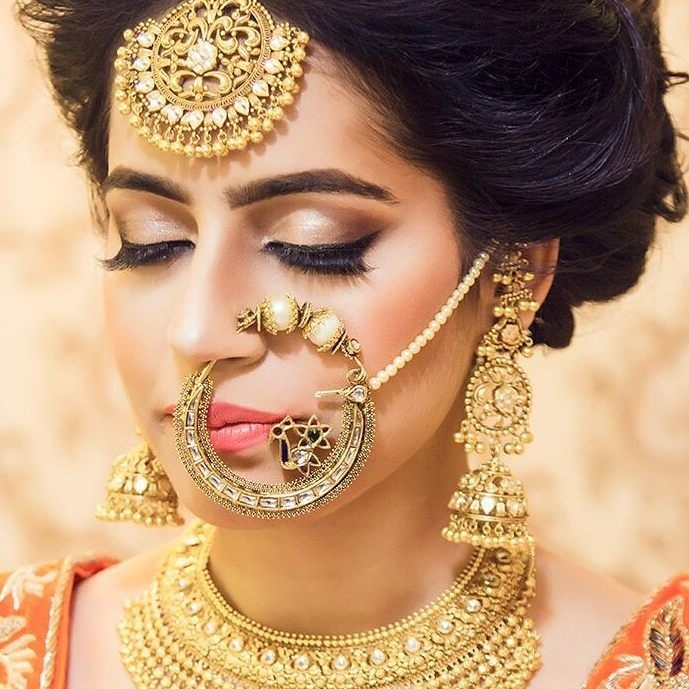 Image source: Shubhdeep Gill
5. I cannot help but go 'Wowwwwww' on seeing this nose ring with white and dark green micro pearls!
Image source: Taras Taraporvala
6. This fish and peacock inspired design is vibrant, young and absolutely gorgeous!
Image source: Beginnings for you
7. Who knew an all gold nose ring would look so attractive and stunning? But, this intricately designed one has blown my mind!
Image source: Prism Lens photography
8. The studded, rather ethnic nose ring design with massive pearls is a headturner!
Image source: Mohit Bhardwaj
9. The studded nose ring with gold dangling beads is a showstopper!
Image source: Manan Mehta photography
10. A rather subtle option for a bride who wants to stick to something minimalistic!
Image source: Movie'ing Moments
Which nose ring has stolen your heart?