10 Dramatic rani haar designs that WOW-ED us!
On her D-day, every bride feels like a queen or 'rani'. But why do you only want to just feel like one, when you can actually dress up like a queen? Donning the heirloom piece of jewellery- the 'rani haar', can instantly add the royal touch to any bride's entire ensemble and before you know it you will end up impressing everyone with this look.
The eloquent, authentic and exquisite rani haar is not only meant for the dadis, naanis and aunties, you could effortlessly carry it off if paired with complementing jewellery and outfit. This piece of jewellery will give you a chance to show off your tradition, family heritage as well as leave your dulha awestruck!!
Here are some gorgeous rani haar designs that you could go through to get inspiration for your bridal look:
1.Oversized and opulent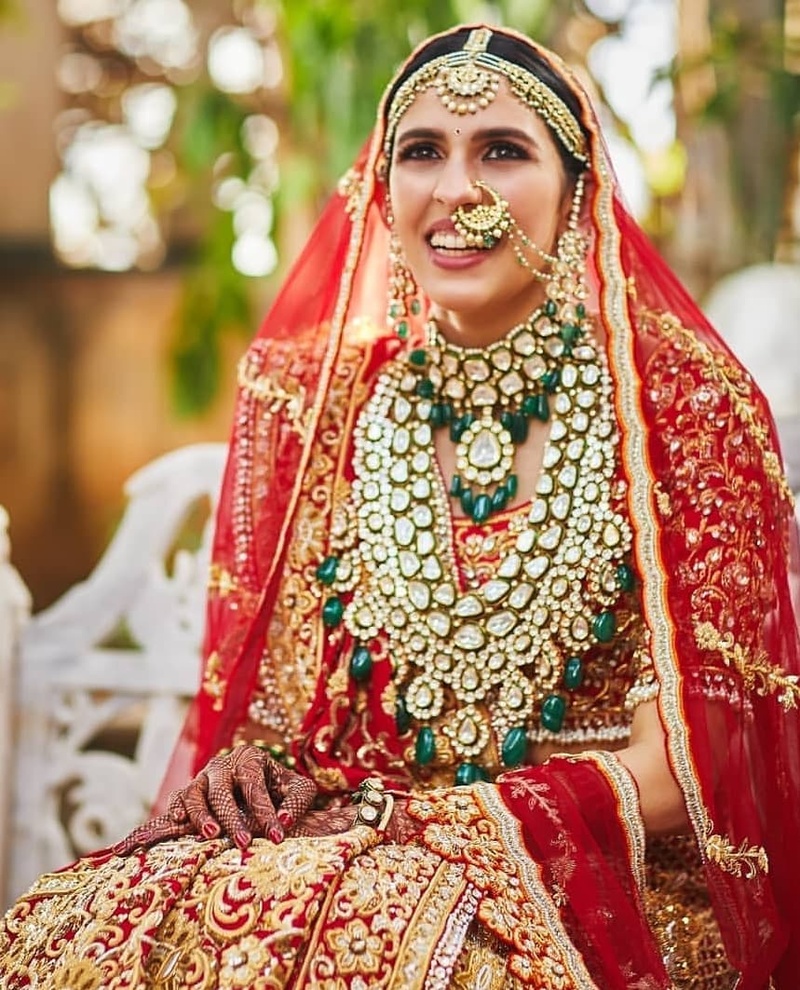 Image source: Rohan Shrestha
The emerald rani haar fits perfectly with this gorgeous red and gold lehenga! Shloka Mehta wins our hearts with this look!
2. Unique and understated
Image source: Romesh Dhamija Productions
If you have a dramatic and grand-looking choker or necklace, it's always better to balance it with a comparatively understated rani haar, like this one with green micro-pearls and a large gold, studded pendant.
3. The one who resembled a queen!
Image source: Stories by Joseph Radhik
Japansese culture pearls, diamonds and emeralds- this dramatic and uniquely-styled rani haar is a trendsetter and Priyanka Chopra looks nothing short of royalty in this one!!
4. Emeralds and Polki
Image source: Hitched and Clicked
The bride won us over with this beautiful rani haar with dangling jhumkaas at the ends and the eye-catching hues of the stones!
5. Chic and minimalistic
Image source: Through the Barrel
Swooning us over with this combination and choice of rani haar, this bride has nailed her look. Her sea green haar looks spectacular, paired with a baby pink lehenga!
6. Sticking to the basics!
Image source: V-AR Filmers
If you are not the type of bride who is interested in experimenting a lot with the design of the rani haar, stick to something like this- basic and authentic!
7. Making a statement!
Image source: Shahid Naar
Ditching the idea of pairing the rani haar with a choker or any other piece of jewellery around the neck, the bride aces her look with this multi-layered necklace!
8. Jadau haar
Image source: Brides of Sabyasachi
The bride has paired this ethnic jadau haar with a dainty pearl choker!
9. Traditional yet trendy!
Image source: Fotoart_by_sami_irani
The bride has adorned multiple necklaces, excluding the pretty multicoloured, ethnic rani haar! She pulls of the look with style and ease!!
10. Grand and gorgeous
Image source: Orange The Salon
Ace your bridal look with a satlada rani haar, with polki and emeralds! This one screams elegance, royalty and celebration!
What are you waiting for? Flaunt your rani haar in queen-style!