10 Engagement Rings you need to checkout before you propose to your girl!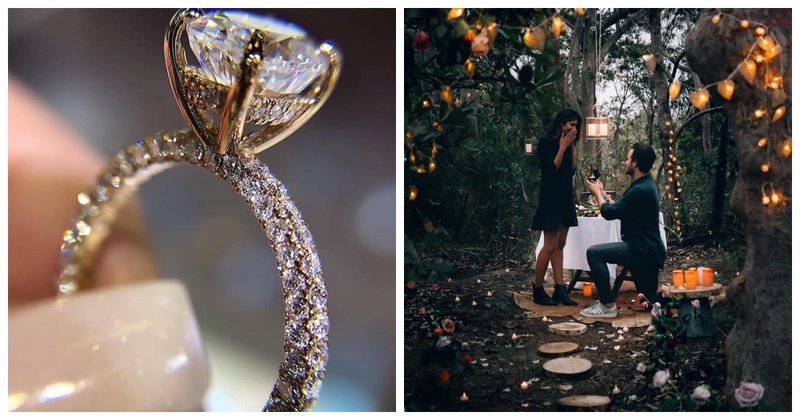 Dear grooms to be, the engagement ring you give to your girl is a big deal. The shape, colour, diamond everything needs to be more than perfect! You don't want her to be disappointed, do you? To help you a little, we curated a list of the best engagement rings we've seen so that you can pick up the perfect one for your bride to be! Thank us later!
1. A diamond studded ring with huge ass rock sitting on top
Image source: Seller of Jewels
2. A unique ring in the shape of the word 'love' accompanied with a rose gold heart ring!
Image source: Seller of Jewels
3. The princess cut ring for the brides who wish to go classy. Also, this dog is so cute!!
Image source: Oh So Perfect Proposal
4. Another classic, the round shaped ring is a crowd puller!
5. Oval shaped diamond on a bed of two rings instead of one!
6. An emerald cut rock with a royal mirror cut border
7. Select something hatke like this big topaz round cut ring!
Image source: Seller of Jewels
8. A delicate bow shaped ring? Pretty pretty!
Image source: Phantom Jewels
9. The crown ring for the queen of your heart!
Image source: Phantom Jewels
10. This offbeat ring will definitely steal her heart!
Now go and flaunt your knowledge in front of your lady love, she'll be flabbergasted! And if you wish to know more about shapes and what kind of a ring will be perfect for your sweetheart, check out this blog!