10 Floral accessories to amp your wedding hairstyles!
Flowers in general have slipped into the wedding universe like never before! From floral mandaps to floral jewellery and from floral printed outfits to floral accessories, there has been a paradigm shift in the kind of importance flowers have acquired in weddings, over the past few years.
One facet of this is the use of floral accessories, brides are using to amp up their bridal hairstyles and adding the extra oomph to their overall look! Whether it is teeny weeny baby breaths which are a refreshing new pick or whether it is the strings of mogra flowers wrapped around a bride's puffed bun, these accessories are surely a trend that is here to stay!!
Here's me listing some of the most gorgeous floral accessories brides flaunted in their hairstyles:
1. This bride is flaunting a traditional-style wedding bun, surrounded by multiple strands of white mogra flowers and an ornate accessory in the centre!
Image source: Prakatwork
2. How about this chic messy braid with fresh white flower petals inserted haphazardly, for a more casual look!
Image source: Amrit Kaur
3. With this hairstyle, the bride has gone OTT, covering her entire bun with pastel-hued flower petals!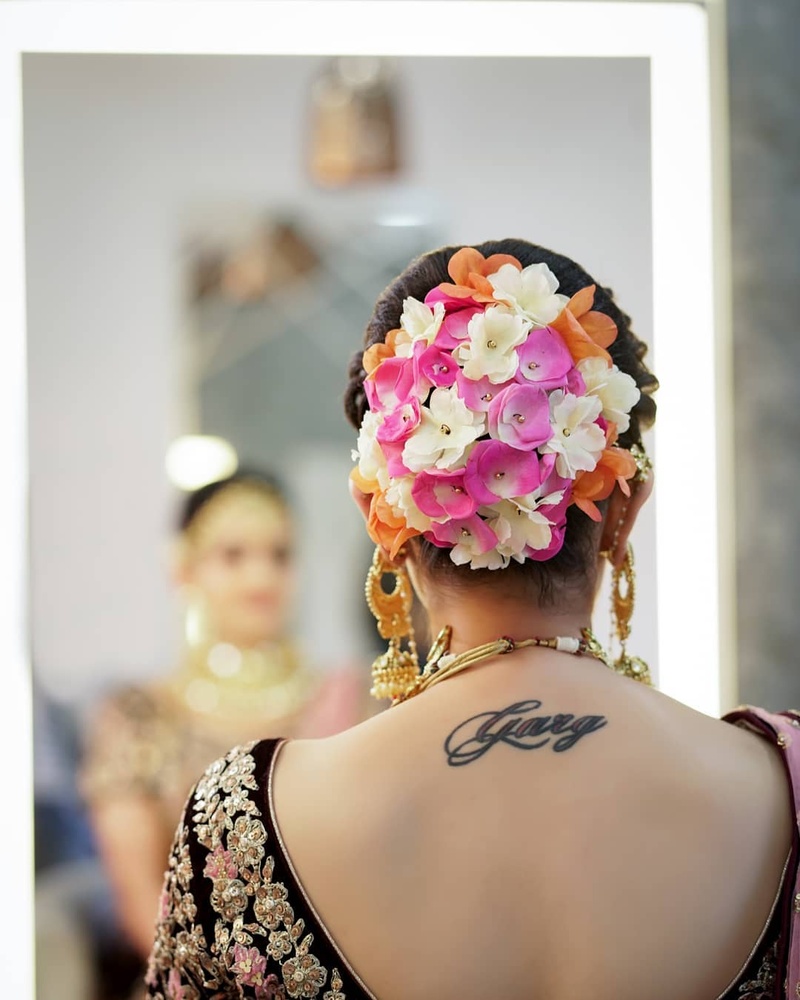 Image source: Aanal Savalia
4. Adding more colour and a boho vibe to your outfit with these pretty pastel-hued flowers and baby breaths.
Image source: Le Fleur Jewels
5. Looks like this bride is inspired by Sonam Kapoor's wedding hairstyle! I personally love this long braid with intertwined with flowers.
Imager source: Le Fleur Jewels
6. Perfect mehendi floral hair accessory- vivacious dark pink flowers coupled with dainty baby breaths!
Image source: Ritika Kadam
7. You could also keep it simple with a large braid, perched with light-coloured roses and leaves!
Image source: Ritika Kadam
8. A rather young, fresh and chic combination of small lavender and yellow flowers- complimenting the outfit perfectly!
Image source: Ritika Kadam
9. Keeping it super simple by scattering some dark purple teeny weeny flowers in your tresses!
Image source: Ritika Kadam
10. How about a pretty floral tiara? This is totes giving me major #PrincessFeels!!
Image source: Prune India
Gals, are y'all ready to flaunt your tresses, in style?