10+ Fun And Quirky Couple Photo Ideas You Would Wanna Steal!
Your wedding album will be the most precious keepsake memory of your life. So, it's only natural for you to want all your romantic moments to be captured very beautifully. Off late, we have been witnessing some couples who have gone beyond the usual cliched poses and have tried some really cool, fun and quirky ones!
Believe us when we say this, they are a lot more fun than the same old titanic and 'bending the knee' pose!  Here's us listing 11 couple poses you would totally wanna steal:
1. When he knew, what his future holds!
The expression on the groom's face says it all in this picture. Those behind the scene pictures where you are doing her hair or trying her sandal straps, can make for some really ofbeat pictures. 
Source – ShutterDown Photography
2. You, me and us!
You can add the 'awwwwww' factor to your wedding album just by including your dog-best friend!
Source – Ombre by Harsheen
3. For the love of food!
If you happen to love food a little more than you love each other, then its got to have its well-deserved place in your album!
Source – Ministry of memories
4. For the co-ordinated couple:
We absolutely adore how this couple has worn matching outfits and are being their fun-quirky selves! Ten points to gender-neutral fashion too – but that's another story another post. 
Source – Canonboy Productions
5. 

When the guy is tortured, quite literally!
You have to give it to these guys who took their pre-wedding shoot to just another level!
Here's a groom sandwiched in a kiss between his bae and his bride-to-be;
…and here's one who learned the lesson to never say "I am always right".
Source – Canonboy Productions
6. Love you to the moon and back with a modern twist!
We see some tilted squinty towers, twinkling stars, dancing clouds, a cupid bunny, a ladder for the guy, and a blushing moon for the girl – all doodled on the sand! How cool is this resurrected the cliché?  
Source – The Ministry of Memories
Here we see a guy who is ready to follow his love through anything, even if it means flying via doodled balloons! How cute is that?
Source – Shutterdown
7. For sci-fi lovers:
If you are a couple who has always wanted to be in a Sci-Fi movie, then here's some major inspiration for the same. Some creative use of your car space, a perfect angle, and voila – you are a couple in a sci-fi movie scene!
Source – Canonboy Productions
8. A shoot that says 'Love is crazy'!
For all the couples who like to keep it real, do crazy things together and have fun while at it, then they should do the same for the camera too.
It doesn't matter if you are Potter fan playing Quidditch,
Source – Little Big Weddings
…or simply love to pull each other's legs!
Source  – Fotografia 9
9. For the lovers in the fast lane:
If long drives have always been your thing,  then you have to consider this shot!
Source  – Stories by Joseph Radhik  
10. 

 For the couples who make kissing a sport:
Newsflash, that old school kissing under the stars and against picturesque locations is just too mainstream! We totally love how these couples say 'everything else can wait, but I just can't wait to kiss you!'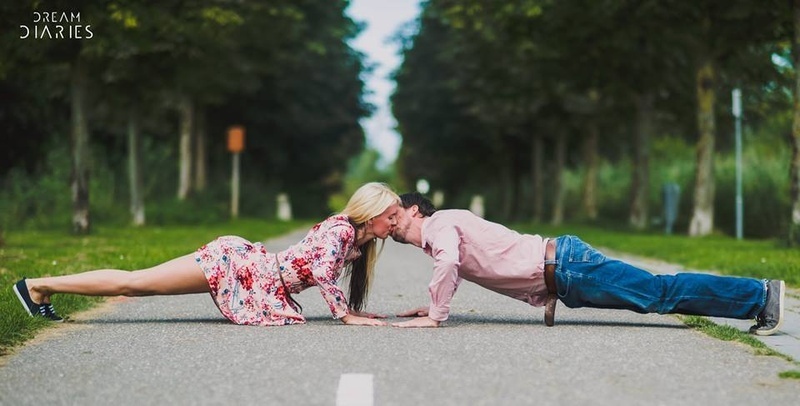 Source – Dream Diaries
Source – Prasad Devrukhkar
10. For the lovers who are ready to take the plunge:
For all the adventurous and experimental couples in the house, a shoot underwater is a must-have.
Source – WeddingNama  
11. 

On backwater boats:
What's more romantic than being on a boat, in the middle of nowhere and holding hands?  
Source – Stories By Joseph Radhik
Source – Stillemotional Photographers
Wedding photography is about capturing the couple's love for each other and any element of quirk is totally welcome. If you too are willing to walk the road less traveled and try a slight variation to all the classic romantic poses, we hope you try something similar from one of these photo shoots!