10 Fun Ways These Brides Announced Their Love Story
Sangeet functions nowadays are so predictable. Typically, there is a song and dance routine to Bollywood songs where the families try to depict the couple's love story, even if it is an arranged marriage. I am so glad that certain brides took matters in their own hands and kicked the conventional 'box' right out of the room.
And pyaar kiya toh darna kya? These brides did not shy away from flaunting their love story and a few special moments through their lehengas, footwear, mehendi, and decor! Brides-to-be, if you want to retell your romantic journey with your beloved, step aside from thumkas and give other elements a chance! Curious to know more? Scroll down now…
Lehengas
1. Professing Love through Poems
Lehenga: Kresha Bajaj
The queen of personalization, Kresha Bajaj, is the mastermind behind this gorgeous pink lehenga. If you take a closer look, you'll realise that there is much more to it than its color, cut, and embellishments. The lehenga is adorned with poems written by the groom for the love of his life. They are embroidered onto each kali, while roses intertwined with their names travel up the lehenga into vines. The hem is finished off with a starry night skyline of their favorite city – New york!
2. Quotes
Lehenga: Anita Dongre
Bride Benaisha Kharas got her favourite love quote embroidered into the dupatta. She wore a pretty pink lehenga with gota patti created especially for her by her mother-in-law, Anita Dongre!
3. Beliefs
Image source: Sohal Photography
Lehenga: Soltee by Sulokshana Monga
A custom Soltee creation, this lehenga had more than average details etched in it! Renu wore a blush pink lehenga as it's her better half's favourite color on her. Elements from the Hindu mythology, a common love shared by both, were embroidered onto her lehenga. She says, "Our love for Hindu mythology & the stories we heard growing up about Krishna, are represented by the peacocks. The small embroidered lotus flowers on the customized veil were personal to us because Rajiv's name translates to lotus, which in itself is a symbol of purity. And lastly, the meticulously beaded bed of water the birds are on was magic, because not only were we married next to water bodies, it rained a lot on our wedding day. We certainly took peacocks dancing in the rain to a whole new level!"
3. Special Moments
Image source: Siddharth Wedding & Event Photography
Inspired by Kresha Bajaj's creation, bride Astha decided to wear a custom emerald lehenga for her sangeet ceremony. Her mother Anu Hora, the designer behind Anu Aastha Couture, took the vision of her dream lehenga and worked on it. The lehenga depicts their runaway trip to Goa. Due to visa issues, Astha couldn't move to Canada with Aziz. The wedding got postponed, and after another year of not being together, they felt they just needed a getaway from everything to be with each other. So they took a trip to Goa and spent some beautiful moments in each other's company!
Footwear
1 . Love Quotes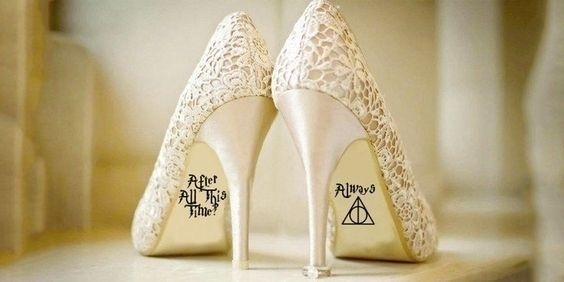 Image source: Pinterest
Can't go wrong with Harry Potter, can you?
2. Messages
Image source: Knots by AMP
Monisha and Varun wrote messages for each other on the back of the shoes. Talk about stepping into a new life with the best foot forward! How kyaut!!
Decor
Image source: Arjun Menon, Art Leaves A Mark
Famous blogger Masoom Minawala tied the knot almost 2 years ago. Her wedding is still the talk of the town because of the unique and exciting elements incorporated in her wedding festivities. No wonder her fun and colourful mehendi ceremony caught my attention! Small white Ferris wheels were placed on every table – these symbolise the London Eye, where her now-husband proposed to her!
Mehendi
1. Proposal
Actress Shweta Tripathi's mehendi was just as unique as her.
Getting her mehendi done by artist Jyoti Cheddha, she said, "There are elements from our wedding invite too. There's a crab, as I am Cancerian, there's a football as it's his first love, apparently. Then there's an umbrella, champagne glasses, sunglasses, starfish, and the bride and groom figurines. I love lotuses, birds and fish, so they are also in my mehendi in abundance, all over!"
2. GoT Bride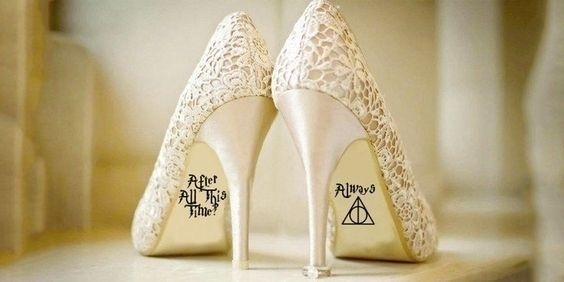 Image source: Alankritaa by Rashi
Real bride Penny broke the internet with her mehendi design, the way she galloped to her wedding venue and her rockstar attitude! She got GoT sigils, the couple's favourite drinks and the yellow frame from F.R.I.E.N.D.S incorporated in her mehendi design!
See, it's not that hard, is it?