10 Gorgeous Mehendi Designs for Your Fingers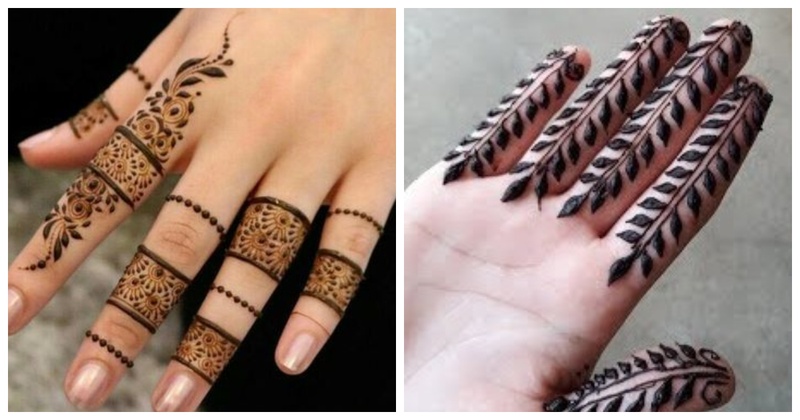 Who doesn't love mehendi? It's like a temporary but a really pretty tattoo that can go from being detailed with a story to tell, to modern, abstract and minimal.
But there are many brides, bridesmaids and female friends and relatives who do not particularly enjoy having their entire hands painted with mehendi. So, there is a great option for such people – 'Finger Mehendi'! It is basically a quick and modern approach to applying mehendi where the design is restricted to just the fingers. The trend is becoming incredibly popular and nowadays and there are some fun designs to choose from. Take a look at 10 designs that can convince you to try this trend:
FRONT
1. A quick and hassle-free tribal mehendi design for your fingers!
Image Source: Aza Henna Art
2. You can have a simple Arabic mehendi design done on each of your fingers and then on your thumb, have the design run down your palm and end at your wrist.
Image Source: Alisa Parveen
3. You can also stick to just having mehendi done on your tiny finger and have it trickle down your palm and end at the wrist.
Image Source: Pinterest
4. Why stick to having floral prints on your attire? You can have your fingers etched with a pretty floral Mehendi design too!
Image Source: Pinterest
5. How about some leaves to trace the length of your fingers?
Image Source: Pinterest
BACK
1. A modern approach to your finger mehendi is to play around with 1-2 different designs without going too overboard.
Image Source: Nurah's Henna
2. There is also the option of making it look more detailed with a criss-cross design.
Image Source: Asma Aaira
3. You can simply start doodling a design on one finger and then continue doing the same design on the other fingers as well!
Image Source: Pinterest
4. To keep it really basic and minimal, you can have the mehendi done on just the one finger. It is definitely something different!
Image Source: Henna Paradise
5. A no-fuss yet statement-making mehendi design is just vines made at different levels on your fingers.
Image Source: Pinterest
So, now if you want to try Finger Mehendi, you have some great examples to choose from!