10 new-age and unconventional kaleeres that are making us drool!
Kaleeres is something that never seems to run of fashion! Every bride loves adorning and flaunting this authentic piece of jewellery on her D-day and why not? It is inarguably a gorgeous accessory and compliments your chudha extremely well.
While the traditional kaleeras are rather bulky and gold, new age brides want to experiment with some offbeat, sleek, floral and colourful ones.
Here is a list of unconventional kaleeras that didn't quite make us miss the authentic ones:
1.Mix and match
Image source: Dipak Studios
This bride flaunts her dainty silver kaleeras, with bright purple flowers attached to strings of flowers. This is plain and simple a breath of fresh air!
2. Mirror work kaleera
Image source: Manish Khatri photography
This gold kaleera with mirror work and small red beads, look royal, ethnic and dismisses the run-of-the mill ones.
3. Orange pom poms
Image source: Studio Finesse
Basic and subtle light gold kaleeras with delicate pearls and orange pom poms compliments the shade of the bride's lehenga beautifully!
4. Floral beauty
Image source: Recall pictures
Yet another bride effortlessly pulls off these delicate kaleeras teamed with both pink and purple flowers.
5. Red and Royal
Image source: Art capture productions
The heavy embroidered lehenga of the bride is complimented with a stunning pair of ethnic chunky kaleeras with red tassels.
6. Modern twist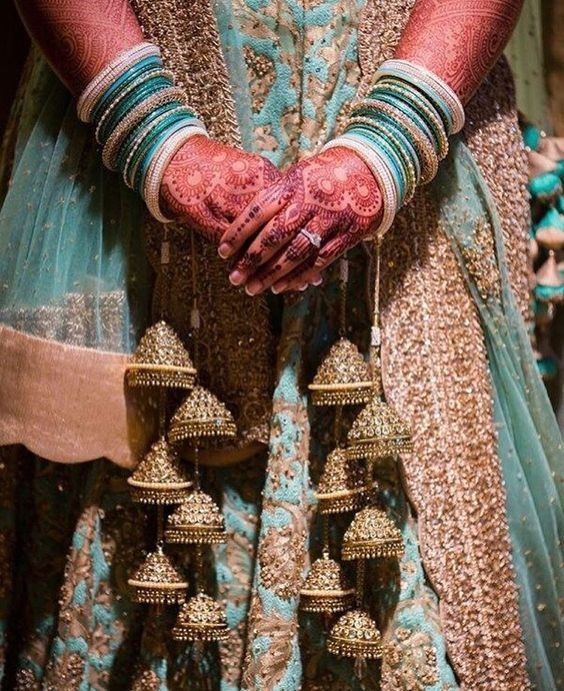 Image source: Pinterest
The classic kaleeras have been given a modern and contemporary twist and we are simply loving it!
7. Glitter and bling
Image source: Kirandeep photography
If you want to go in for kaleeras that are light, less bulky and full of shimmer and shine, this is the one!
8. Going all blue!
Image source: Deepika's Deep clicks
This bride ditched contrasts and went in for all blues, including her kaleeras and guess what? We aren't cribbing, uh-uh! The blue kaleeras with shimmer and sparkle look stunning.
9. Green and gold
Image source: Morvi images
These kaleeras are elegant and graceful. Something that goes perfectly with pastel coloured lehengas. The small green beads add the extra traditional touch.
10. Pearlicious
Image source: Film My Story
If you want to stick to something really simple and chic, go in for something like this. It is minimalistic and compliments light shade lehengas beautifully!
Which kaleeras have you chosen to adorn?