10 non-cliche' decor themes for a fun offbeat wedding!
Hello again pretty ladies! This time we have come up with a very exciting list to help you plan your wedding – all the trending wedding themes!
Yes, you heard it (or rather read it) right! What's the fun in having a wedding which does not have a dreamy dream theme attached to it. Ofcourse, you must have imagined how the best day of your life would look like-be it under the stars or filled with bollywood glamour and fun, or maybe it looks totally floral; but the fun portion in the wedding is added only by attaching a happening theme to it!
Scroll down to get mesmerized with the coolest wedding theme trends that we spotted.
P.S.- Get your idea buckets ready!
1. The Bollywood dreams theme for the movie-buff couple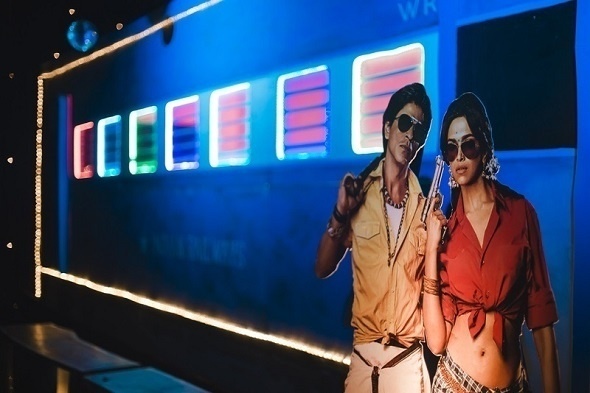 Image Source: The photo diary
Saurabh and Subiya had a Bollywood dhamaka in their wedding reception and the party was without a doubt top notch! People came dressed as movie characters and the couple reserved the cool characters of the Shandaar movie for themselves!
2. Totally offbeat – The circus themed wedding
Image Source: Rani pink wedding planners
This circus themed wedding definitely was an offbeat one as visible in the pictures but apart from that, it also takes you to a journey of nostalgia along with it! Sounds fun, doesn't it?  😀
3. Nawabi Mughal themed wedding
Image Source: Devika Narayan and co.
This glitter golden colour coordinated couple had a beautiful beach wedding and the theme was as pretty as their outfits. I mean just look at that jaw dropping Nawabi decor with those glass lamps and Mughal styled mandap!
4. Gorgeous colours and totally offbeat-Moroccan wedding theme!
Image Source: Momente Wedding Planners
I am simply not able to get over this one! Definitely, the most colourful theme that we spotted. I mean, just look at how beautifully the decorators have played with different colours!! Hats off!
5. Traditional temple bells for this South Indian Punjabi bride's wedding!
Image Source: Shades Photography
This utterly beautiful Punjabi bride who had an amazing traditional South Indian wedding was full of the traditional Indian themed decor- full of flowers and temple bells! The oh-so pretty bride and her holistic theme decor chosen for the wedding was something that glued my eyes to it!
6. The evergreen love for the leafy green colour
Image Source: Going Bananas
Karishma and Sandeep, our literal evergreen couple went for a beautiful green colour themed decor. It was a subtle recreation of the Indian culture in the French countryside. From the location, to the bride's lehenga, the wedding was all about this colour!
7. An all white wedding for this pretty Sabyasachi bride
Image Source: Moni and Adri Photography
Roman and Komal had the most alluring all white wedding in the beautiful beach of Mexico. I've never seen white appear so subtle and vibrant at the same time! I mean how great it is to coordinate every little thing in this subtle colour!
8. The traditional Rajasthani themed wedding
Image Source: 10 on 10 decorations
Image Source: 10 on 10 decorations
Getting married in a Rajasthani themed wedding has its own style. Those hukkas and raajsi aasans brings out the true style that a traditional Rajasthani wedding has! Incredible Rajasthan of the Incredible India!
9. The floral Extravaganza themed wedding
Image Source: Bhumi and Simran Photography
Image Source: Samuel Lippke Studios
Image Source: Once upon a time Photography
If you talk about a traditional Indian wedding, then flowers would definitely find a comfortable position in the top 3 list. Be it a the Genda phool, or mix and match of different rose petals, floral decor never lets you down! I personally found the Genda phool decor of Swati and Devesh's wedding the most mesmerizing! Totally desi! Which one out of the three did u prefer?
10. As Eminem says- why be a king when you can be a God! 😉
Image Source: Dipak Studios
This big fat Indian wedding had a totally out of the world theme! I mean literally OUT OF THE WORLD! The couple's wedding theme was the blessings of the gracious God and the wedding had a full Mandap like feel to it! Even the bride's heroic entry as Goddess Saraswati was something that caught up everyone's attention!
11. Buckle up for this amazing Rustic themed wedding!
Image Source: Mangalyam Films
Damini who is a wedding planner herself recently got married in a beautiful beach wedding in Goa, she had an all rustic theme for every occasion! Now be it- Sangeet or reception or the wedding itself, it was all set in an offbeat rogue and rustic setting! So cool na!
So, is your bucket overflowing as yet? 😉