10 non-cliche' gift ideas for your Valentine!
Gifting your loved one something that makes him / her feel special on Valentine's Day is quite a challenge. There are a variety of gift options to choose from and coming to a conclusion can be quite mind-boggling.
With chocolates, jewellery, flowers and soft toys being too old school, the only way to make your partner happy is to gift them something exclusive and uncommon, at the same time it being cute and romantic. Sounds like a task? Well, it can be. But, we are here to help you choose a perfect gift, for y'all to make some perfect memories:
1. Apple watch
Buy your loved one this watch, showing that you really care! This has everything your special one needs- helps you track your health and fitness, frees you from accessing your phone again and again and oh! It looks so cool, you can't miss it! What's better?
Click here to get a flat 10% off on your watch by applying the coupon code.
2. Heart-shaped pizza
Image source: kitchen_maotouying
This is the best gift you could surprise your special one with on this occasion. We suggest this as a perfect gift for your foodie partner and the best part about this is that you can get some pizza too.
P.S- Make sure he/she is not dieting or simply don't quote us!
3. Bottles with messages
Write handwritten secret messages stating why you love your partner as a Valentine's Day gift. It is best to have 14 bottles ready, signifying the date. You can write these messages on different coloured papers and add a bit of confetti, thermocol or glitter into the bottles for the extra oomph.
4. Personalized travel kit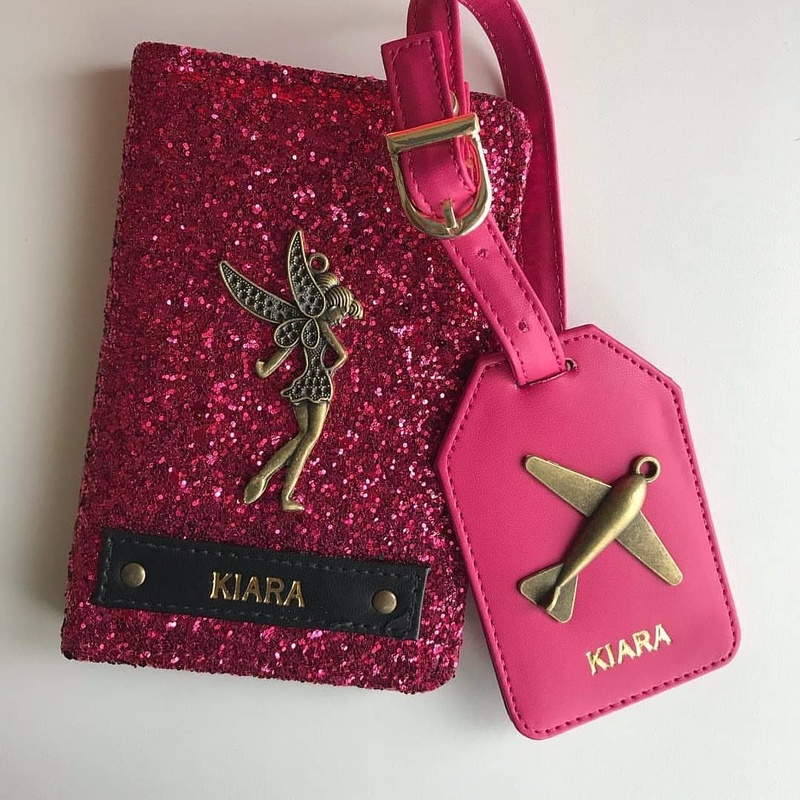 Image source: giftglobe
Image source: giftglobe
One thing everyone wants and deserves on this special day is something personalized and customized. Nothing will appeal more than a gift with a personal touch. Buy a passport cover with this cool luggage tag and surprise your partner.
5. Love book
Image source: lovebookonline
Make a customized, printable book with personalized characters denoting you and your partner. Add all your special moments by choosing from a wide range of scenarios and get a message printed on each page for your loved one. This is an excellent idea to remind your partner of the most cherished, embarrassing, cute, stupid and lovable moments of your relationship.
6. Couple pillow
Image source: oye_happy
This gift is a perfect, lovable one, especially for those cute, cuddle moments. Surprise your partner with a soft and fluffy cushion with both your names and the date when either one of y'all proposed, it being a constant reminder of your journey of love.
7. Travel board
Image source: conquestmaps
Gift your partner a travel board with push pins which he/she could put up on the wall. Both of y'all can put same coloured pins on spots which y'all have already visited together and other coloured pins for spots that are on the wishlist. This will bring out the adventure in addition to the romance.
8. Wine glasses
Image source: cloverdalemall
These are not your regular set of wine glasses. Get these quirky ones for your cozy and romantic dinner date on Valentine's day and spend a LIT evening.
9. Couple T-shirts
Image source: Tshirsforcouple
What's more fun than twinning with your partner? Wear the same tees or those that compliment each other. This is a brilliant idea for upping the romance levels as well as for some great photos.
P.S- You do want to have photos that people see and go "Goals", don't you?
10. Handmade cookies
This is a really good alternative if you are on a shoestring budget or if you are a hundred percent confident about your cooking skills. Well, if you have them, flaunt them! Get your apron on and start baking some heart shaped cookies with cute messages written on each one of them. Don't forget to get the recipe right.
With Valentine's Day not too far, it is time you start prepping a gift idea!