10 Party Props You Need To Buy To Throw That Crazy Bachelorette – With Shopping Links!
Bachelorette!!!! It's that one special party for you and your gal-pals to celebrate your new beginning. It's a day (or a week depending on you and your posse) to be spent with your lovelies – bonding, laughing & going completely crazy, not giving a shit about what's going to happen next!
Hosting a party that important can be a little tricky and since we are not all born party planners, there's always a chance to forget something.
To help you throw the most epic and LIT bachelorette, we have compiled a list of 10+ party essentials you need to buy! Scroll on –
1. A bachelorette themed invite:
Don't be the boring bride who sends her bachelorette invite via a text or email! Go old-school and send a really cool invitation card to your bridesmaids. Brownie points for sending a card that's in sync with the theme of the party!
You can get it here.
2. Sashes:
You have got to have these at your party because every queen deserves a sash!
You can get it here.
3. Personalised badges:
Bridesmaid badges are the need of every bachelorette party because 'why should the bride have all the attention'?
You can get these here.
4. Matching clothes:
You've got to flaunt your #BrideTribe the right way!
We say get some matching t-shirts or swimsuits as a memorabilia to remember the party even after it's over.
You can get it here.
5. Booze:
Do we really need to explain why do you need these?
If it's a house party make sure to sip on some really cute and naughty cocktails and if you are partying outside, a sexy bartender can also keep the drinks interesting. 😀
You can get it here.
6. Customised glasses:
What? They really do make the process of taking the shots 10 times cooler.
You can get it here.
Ummmm… maybe these men will make you reach for the glasses instead of gulping it from the bottles itself.  
You can get them here.
7. Naughty nibbles:
Like everything else at your bachelorette party, even the nibbles need to be naughty! 😉
You can get it here.
8. Metallic tattoos:
How about some really cool tats for your #BrideTribe?
You can get it here.
9. Dirty games:
No bachelorette party is complete without some fun games.
While there are a lot of fun bachelorette party games out there, the dirty ones always top the list!  
While this one is a DIY you can get some similar games here.
10. DIY mugshots:
You know it's going to be one hell of a night and you'll obviously take a lot of pictures, but how about some really cool mug-shots too?
You can get it here.
11. DND door hanger:
DND door hangers are a must-have because ain't nobody gets to disturb the #BrideSquad when they are busy partying!
You can get it here.
12. Hangover Kit: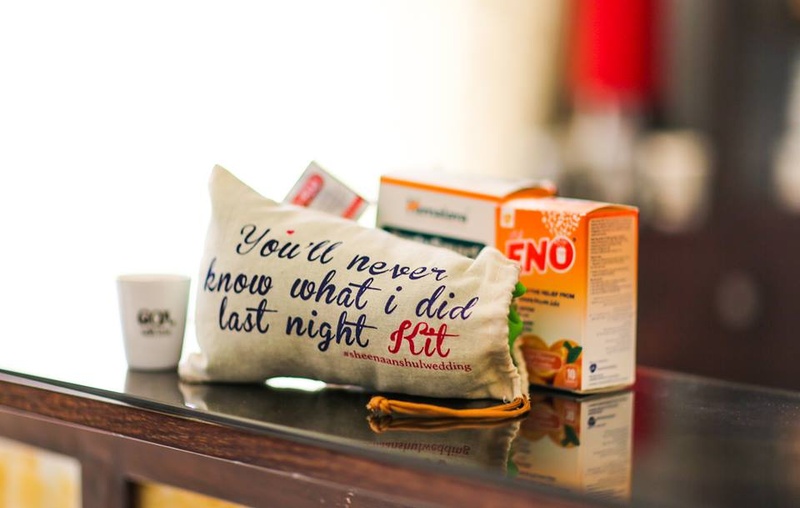 Your girls will thank you for this when they wake up in the morning (ok! we mean afternoon) with their world spinning upside down!
You can get it here.
13. Party Favours:
Get a little creative with your party favors and thank your girls for the efforts they put in to host your bachelorette party. Also, remember to #KeepItStylish and sassy!   
You can get it here.
With our list coming to an end, we hope you are all pumped up to blow off some steam, forget the wedding stress and enjoy the last few days of your unmarried life with your gal pals!