10 pictures which prove bells are the new pristine decor element you were looking out for!
Apart from the fact that they exude auspiciousness and purity and mark the beginning of rituals as per Hindu traditions, bells are now slowly creeping into the decor seen, with many Indian weddings opting out for bells as an integral decor element. I have fallen for these and I am sure you will be enamoured by them too!
From having them intertwined in garlands, as part of the bride's phoolon ki chaadar and as ceiling hangings, this charming element is adding more than just the tinkle to Indian weddings. There are umpteen ways to use them and infuse them in your decor and it is likely you won't run out of ideas (anytime soon).
Here's a list of decor pictures I spotted, where bells have been used in the most clever and beautiful way possible:
1. Simplistic, classic bells hanging at the ends of mogra garlands is an elegant decor element!
Image source: Kishor Krishnamoorthi
2. How about oversized floral bells made up of marigold flowers for a fresh vibe!
3. This spiral chandelier made up of genda flowers, with bells at the end, is a creative decor element!
4. Ornate bells with portraits of Hindu Gods engraved on them, with rings of yellow, fresh flowers.
5. Can it get any dreamier than this? Mandap decor with hanging kaleeras and bells is a good pick!!
Image source: Naman Verma Photography
6. A wooden wall with hanging bells is an innovative way to use this element!
Image source: Aash Studio
7. Cascading lotuses, flowers and gigantic ornate bells, I am totally in awe of this decor!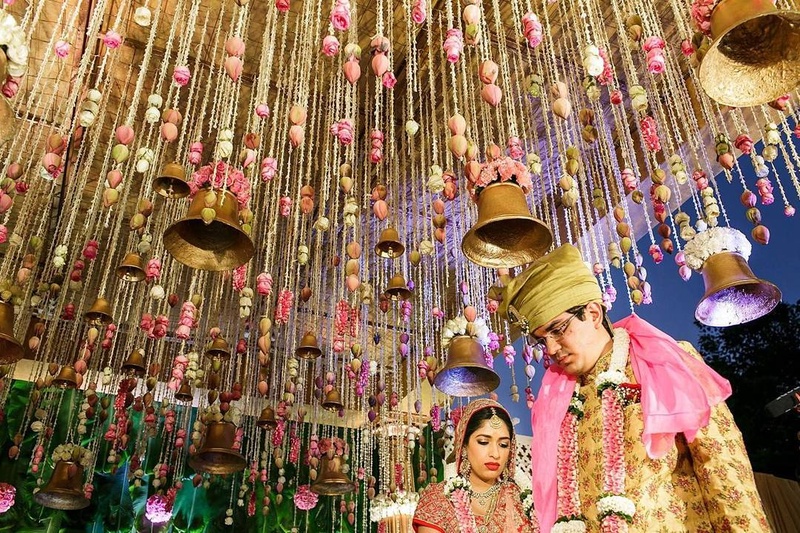 Image source: Aash Studio
8. The bride's phoolon ki chaadar made out of bells- a unique way to infuse them in the decor element.
Image source: Ombre by Harsheen Jammu
9. The mandap's dome surrounded by brass bells and pillars replete with fresh red flowers is an opulent decor idea.
Image source: Andevi Weddings
10. Gigantic bells cascading from the ceiling, serving as a good decor leading towards the wedding venue.
Image source: Andevi Weddings
Are you already thinking of ideas of how to infuse bells to your wedding decor?