10 Refreshing Reception Decor Ideas, sans the stage!
A big stage with the couple standing for loooooong hours, smiling till their jaws start to hurt, while hundreds of guests queue up to meet them and get themselves clicked with the newlyweds- this 'reception ritual' is now passe!
More and more couples are ditching this idea and having more casual seating arrangements, wreaths, swings or are simply indulging in clicking pictures, selfies and chatting with their guests, which is certainly more warm and informal!!
Here are some decor ideas for your wedding reception that will put the big and bulky stages to shame:
1.An enthralling  moroccan setting by the beach!
Image source: The Wedding Salad
Decor by: Atisuto events
2. A perfect decor idea for the couple who wants a simple sit-down dinner. A tunnel of foliage and branches with bulbs hanging overhead!
Image source: The Wedding Salad
Decor by: Atisuto
3. Beautiful seating arrangement with a dome and floral drapes!
Image source: Clicks by Garry
4. Rustic backdrop and informal seating arrangement – a great option for a farmhouse reception!
Image source: Shutterdown
Decor by: Wedding Duo
5. A cavern made out of fairy lights along with a monopoly board, adding a bit of quirkiness to the decor!
Image source: 3D Decor by Dinaz
6. Jaali arches, vintage lamps, florals, the mesmerizing chandelier, the tulsi strands and so much pink!
Image source: Feather Tree by Aviraj
7. Beautiful prism lanterns wrapped around with fairy lights. A cost-effective, yet stunning decor idea!
Image source: Shades Photography
Decor by: Atisuto
8. Minimalistic vintage backdrop with alluring chandeliers- perfect setting for the newlyweds
Image source: Feather Tree by Aviraj
9. Open air setting with a mix of floral and velvet sofas sets a great mood for a late evening reception ceremony!
Image source: Stories by Joseph Radhik
Decor by: Devika Narain
10. A floral wreath, pillars, flowers, fairy lights and a simple sofa for the couple- a rather minimalistic decor idea for a reception ceremony!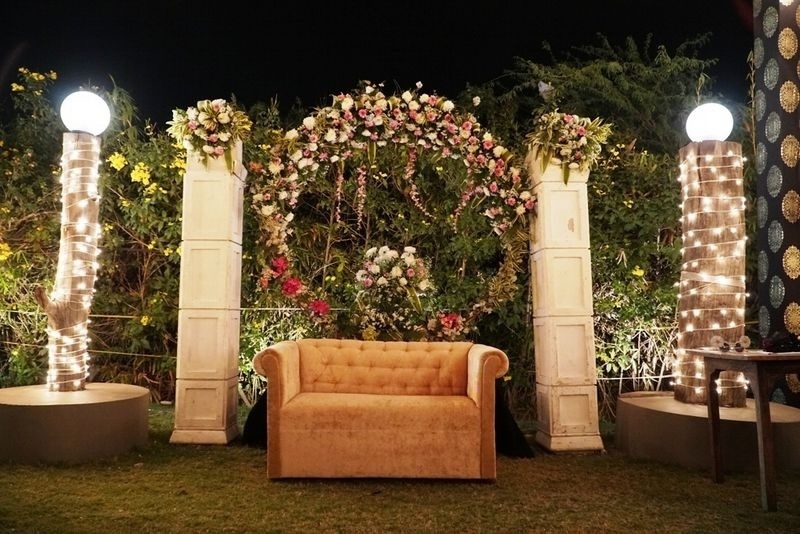 Image source: Kreative Events
Which decor idea stole the show for you?
Cover images source: Feather Tree by Aviraj