10 Super Fun and Quirky Ideas to throw the most Epic Pool Party at your Wedding!
Poolside and beachside parties are the new trends that are being adopted by the couple and it definitely adds excitement, thrill and loads and loads of fun to a wedding celebration.
Well, splashing water parties have always been fun, be it a beach or a pool and guess what we have in store for you this time? Yes, you guessed it right! This time we have come up with absolutely amazing pool party ideas and inspirations that we were able to capture, so that you don't have a hard time adding this super cool party to your event list. Don't waste time and keep scrolling for major inspirations-
1. Deepika and Sahil's Thailand pool party bash!
Sahil and Deepika had an absolute blast at their Thailand pool party in the Sheraton Hua Hin resort. The duo wore stunning outfits for this event. The bride rocked the yellow indo western look while the groom wore a subtle peach shirt.
The breathtaking aqua blue decor of this party took its decor inspiration from the famous dream catchers giving away boho party feels!
Image Source: Siddharth Pruthi Photography
If you are looking for some cool party props, then how about these awesome summer hats and colourful jute rope floral garlands!
2. Kaabia Grewal's customised Greece bachelorette party!
Kabia Grewal, the co-founder of Out House Jewellery, gave a bomb bachelorette party at the gorgeous beach of Mykonos, Greece. The bride and her bridesmaids had their drool worthy swimsuits custom-designed by the famous Shivan and Naresh.
The guests wore coordinated outfits and I'm not able to stop drooling over their cool casual style.
The bride's extremely offbeat outfit choice had me staring at this picture for quite a moment, literally!
P.S.- Loved the threadlike fringes and the gorgeous asymmetric neckline of the bride's outfit!
The bachelorette party featured customised clear Kabanos bag, specially made for the bride's crew. Adored the beaded decoration of it!
Not only the Kabanos bag, but the bachelorette also had a special tote bag for the guests. Giving us major inspirations for an offbeat coordinated bachelorette!
Image Source: Shivan and Naresh
Bringing modern Bohemian style with the bride-to-be's handcrafted and custom-made ear cuffs, stylised with feathered plumes and a smattering of pearls. Drop-dead-gorgeous!
3. Alysha and Anay's Thai style pool party!
Alysha and Anay, who got hitched in a dreamy Thailand wedding, had a traditional Thai style pool party which featured Thai dancers encircling the couple at their entry. The bride perfectly carried off a funky look with her indo-western cape gown.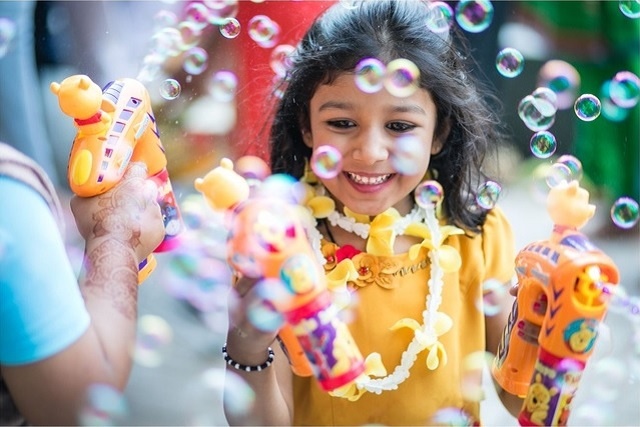 The party had a fun element for all its guests. Kids, or adults, everyone enjoys the cute bubble guns, right?
Image Source: Snapster Studio
This party featured amazing party props which gave us major inspirational goals.
4. Emma and Ravi's colourful pool party in Lonavala!
Emma and Ravi, who got married in a gorgeous wedding in Lonavala, also surprised their guests with a funky pool party. It had colours, customised outfits and of course loads and loads of fun.
Team bride and team groom wore customised outfits that differentiated them with each other. Team bride opted for caps with 'Bride Tribe' captioned over it while the groomsmen went for a 'Groom's squad' captioned caps!
The decor of the party included cute bride and groom's pictures welcoming the guests to their #Emvi party!
Image Source: Romesh Dhamija Productions
The guests sure had a great time immersed in the pool water playing the fun party games.
5. Blogger bride Margi Sakaria's Bangkok pajama and pool party!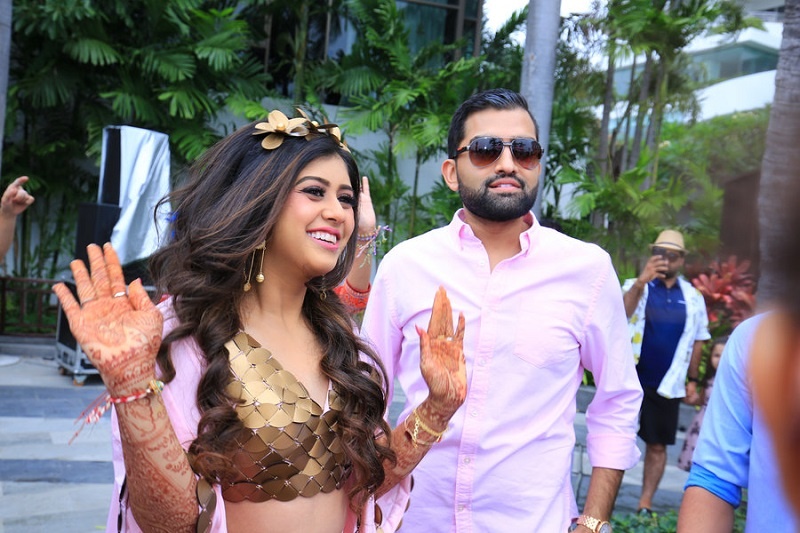 This blogger bride opted for an amazing pool party followed by a fun pajama party dhamaka. She wore a gorgeous outfit designed by everyone's favourite Shivan and Naresh and ruled hearts.
Featuring funky props and floral decors, this party sure was a memorable one!
Some boho table decor inspirations that you can totally bookmark!
And of course the water guns. Enjoying a pool party like a child is sure seems alot of fun.
Image Source: Shade and Light Photo Studio
I know, I know that this is not a water side party but just couldn't get over this offbeat pajama party that followed the funky pool party. I mean, doesn't it look absolutely amazing?
6. Sameeksha and Vishal's rocking Thai pool party!
The couple made a grand entry with the Thai dancers dancing beside them wearing colourful floral dresses and a pretty headgear. The bride wore a cute pastel pink lehenga while the groom fashioned a blue Hawaiian shirt.
Loved the traditional Thai outfits of the dancers who added a charm to the party.
The table featured beautiful floral garlands as the decor which later were used as a cool party prop.
A pool party with a canoe? Whaaaaaaat? I'm definitely bookmarking this one for sure!
Image Source: Malvika Periwal Photography
This lemon filled glass with popping flowers is sure a perfect table setup for your pool party, isn't it?
7. Malvika and Pranay's Goan pool party!
Malvika and Pranay who got hitched in a gorgeous wedding in Goa, wore absolutely drool worthy outfits in their wedding functions! The bride's choice of an amazing yellow Indo-western outfit is definitely heart throbbing! Keep scrolling to get major decor goals.
I have never seen such a cool way to include an important bug spray message in the decor. Loved it!
The floating floral trays were a perfect choice that complimented the colourful decor!
Now, here is something interesting! The decor included the guests name in the most "never thought about it" way possible!
Image Source: WhatKnot Photography
This party had the most offbeat decor I have ever seen. I mean, what a funky way to feature your special wedding hashtag in your pool bash! Loved it!
8. Ashmita and Jeet's beachside pool party in Kerala!
The bride and groom looked absolutely stunning in their choice of outfits. The groom went for a shirt with asymmetric shades of blue while the bride wore a gorgeous boho top paired with casual dhoti pants!
And of course the floral headgears! Everyone was supposed to wear a stunning floral headgear that gave out cool party vibes!
This beachside party sure knows how to have fun!
Image Source: Creative Lens Photography
Cute yellow floral decor with a beautiful lilac signage seems quite a pretty way of welcoming the guests!
9. Disha and Rushi's beachside pool bash in Thailand!
Dish and Rushi gave a pool bash to their guests at their wedding celebration and it sure was an amazing one! It was conducted at Sofitel Resort and Spa in Krabi, Thailand and being held at the beachside, it had an easy access to a fun boat ride as well! So cool na!
What's the fun in a party without a bunch of super cool games? I seriously want to go picking around these colourful balls of joy! So fun!
Image Source: Knot in focus
Froth extravaganza for this one! A totally  offbeat way to enjoy the pool party cause it sure looks fun!
10. Pallak and Sid's engagement pool party held at Dona Sylvia Beach Resort, Goa
The floral headgears and garlands definitely give out Hawaiian vibes!
Loved the wedding customised T-shirts for guests!
If you are looking for decor inspirations, I don't think you're gonna spot anything better than this pop of colours decor.
P.S.- I am so in love with that cute rainbow guitar!
Image Source: Shutterdown Photography
Now, have you ever seen a decor so quirky? I am simply not able to get over this superb caricature poster featured at this pool party!
So couples, it's time to get inspired and include a little fun pool party in your even list if you haven't yet included it!