10 super-fun, pretty and quirky mehendi decor elements that will make your mehendi ceremony stand out!
Gone are the days when gendapools, floral decor and bangles were largely the vital elements used for mehendi decor. New-age couples want more- elements that WOW their guests, portray their love story and add the extra quirk and oomph to the functions. Being a daytime function, filled with fun, dance, music and merriment- you can go ALL OUT in terms of decor when it comes to this ceremony.
While I was browsing through to bring you inspiring decor elements, I came across oodles of ideas and sifting them through wasn't easy, considering how awesome most of them were!! These bright, unconventional and vibrant elements can easily transform the most dull and boring corner at your mehendi ceremony into a super-fun, lively and aesthetically appealing one.
Here is a list of elements, from tassels to dreamcatchers and bottles to baskets which you could use as decoration, this wedding season:
1. Terrariums
Image source: Shades
Image source: With Love, Nilma
These are a great pick if you are looking out for a rather edgy, modern and unconventional touch to your mehendi. You could either have them in the form of simple ceiling hangings, or with fairy lights wrapped around them or simply with some gorgeous, or as holders with gorgeous flowers.
2. Origami
Image source: With love, Nilma
Image source: With Love, Nilma
This decor element is a personal favourite! It's chic, it is DIY and it is super reasonable. You could experiment with this, there is no dearth of ideas when it comes to origami decor!
3. Dreamcatchers
Image source: Kant Photography
Colourful, funky, vibrant and pretty- Dreamcatchers add an uber-cool vibe to the overall decor. Not to miss the bohemian-inspired feel it exudes.
4. Glass bottles
Image source: Amy Burke Designs
Glass bottles/mason jars are a great idea for mehendi decor. You could paint them in different hues, fill them with flowers and foliage and also use them as table centerpieces.
5. Umbrellas
Image source: DreamzKrraft
Image source: Mosaic Events
Umbrellas are a great element to add the traditional and ethnic touch to the decor, especially the bright ones with mirror-work. They could be used as a an amazing ceiling decor idea!
6. Trunks
Image source: Atisuto Events
Image source: Taarini Weddings
Beautiful painted trunks with different designs, patterns and colours is a great mehendi decor option. Making the decor strappy, chic and adding the vintage look!
7. Tassels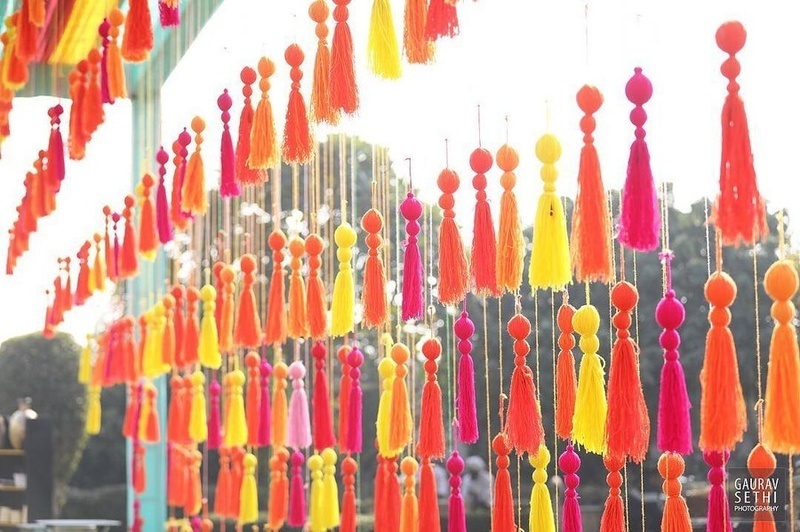 Image source: Gaurav Sethi Photography
Image source: Feather tree by Aviraj Saluja
Tassels can be used everywhere!!
You could create a tassel backdrop or you could have tassels hanging from the ceiling.
8. Tyres
Image source: Mosaic Events
You could use them as flower holders, stack them up in a corner to add to the aesthetics or simple have cushions on them for perfect seating arrangements- cosy, informal and reasonable!
9. Cones
Cones filled with flowers or used to decorate the backdrop or used for a photo booth option at the mehendi ceremony, is always a great idea!
10. Baskets
Image source: With love, Nilma
Image source: Devika Narain & Co.
A great idea to reuse wooden and cane baskets. You could hang them upside down and use them as lamps or you could use them as flower and foliage holders.
You could also paint them to match the decor of the ceremony!
Images sources: Pinterest (unless specified)
Which decor element are you planning to pick for your mehendi ceremony?