10 Tasty diet snacks to make sure you fit into your bridal lehenga!
The wedding season is here and I am sure all you brides are prepping for your shaadi functions! While you are focusing on the outfit, jewellery and other details, it's important you make sure that your diet doesn't go for a toss! You don't want to be struggling to get into that wedding lehenga or get it altered over and over again till your D-day, do you???
Well, you don't have to do much! While munching on mid-day snacks is inevitable, all you have to do is pick the right ones.
Just replace some unhealthy snacks from your diet with equally (almost) yummy ones and say goodbye to the aerated drinks, chips, fried snacks and other foods which cause weight gain and bloating.
Here is a list of yummy and healthy snacks, a deadly combo you don't want to miss:
1. Makhane (Fox nuts)
Image source: Pinterest
Fox nuts or makhane are rich in protein content and they don't have any trans-fat! Also, it has oodles of potassium which makes it an ideal mid-day snack. It is also light and easy to carry on the go!!
TIP: You could also roast these lightly with a bit of clarified butter for the extra crunch and add some salt and pepper to them.
350 calories per 100 gms
2. Dark chocolate
Image source: Marie Reginato
Dark chocolate has some lesser known health facts which people generally miss or don't believe in. Not only is this highly nutritious, but also a good antioxidant and helps reduce heart disease.
TIP: Its best to have them in small proportions and not to binge on them!
Approximately 535-to 625 calories per 100 gms
3. Berries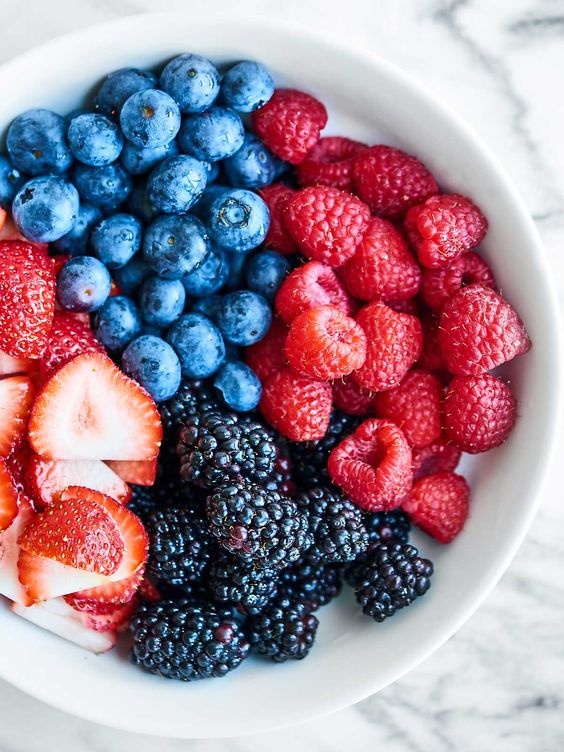 Image source: Show me the yummy
Berries are a treasure house of nutrition. They are high in fibre, an antioxidant, help maintain good skin and keeps cholesterol under control.
TIP: If you aren't a berry-lover, you could blend a mix of berries in small proportions and add milk to the same to make a tasty smoothie!
43 calories per 100gms
4. Granola
Image source: Simply Quinoa
High on iron, fibre and protein, this is a good mid-day snack if consumed in small proportions.
471 calories per 100 gms
5. Cucumber slices
Image source: Simple Whisked
Not only are cucumbers low in calories, they also have excessive vitamins and minerals. It aids weight loss, promotes hydration and helps regulate your diet.
TIP: You could have cucumber slices with a low-calorie yoghurt dip or sprinkle some lime, pepper and salt on them.
15 calories per 100gms
6. Oatmeal biscuits
Image source: Persnickety Plates
These are quite filling and can help you lose weight when consumed in small proportions. Oatmeal is highly nutritional and are antioxidants.
TIP: You could have biscuits with almonds or other nuts in it for extra nutrition and fibre.
450 calories per 100gms
7. Sweet potato salad
Image source: Pinterest
A great antioxidant, high on nutrition and filled with nutrients, sweet potato is a great snack to munch on during the day.
TIP: You could have it with coriander chutney to enhance the taste.
87 calories per 100gms
8. Mixed Nuts
Image source: Real Simple Good
Mixed nuts are super high on fiber and its best to make it a part of your regular diet. These help lower cholesterol and help in weight loss.
TIP: Make sure you don't have more than a handful as nuts tend to be heaty.
617 calories per 100gms
9. Hard boiled eggs
Image source: Jessica Gavin
Boiled eggs are a great mid-day snack or to start your day with. Its high on nutrients, proteins, is an antioxidant and helps reduce weight.
TIP: You could garnish these with salt, pepper and herbs for better taste.
155 calories per 100gms
10. Sugar-free Strawberry Chia seed smoothie
Image source: Jar of Lemons
This smoothie is high in protein, is an antioxidant and is filled with fiber. Moreover, it is super tasty which makes it a good and filling option for weight control.
TIP: You could also add a banana to this smoothie for extra protein and taste!
Approximately 300 calories per 100ml
Ready. Set. Munch!