10 Tips for looking beautiful in your Wedding Photographs
Image Source: WeddingNama
We have seen most of the brides carry forward themselves even in discomfort and anxiety when showing their faces in front of the camera on their wedding day. Today, in this article we will share some of our top wedding day tips to make you feel confident in front of lenses and shutters even if you think that you're not so photogenic. 
Don't worry! Not knowing what to do, how to pose with your hands in front of the cameras isn't all that uncommon. Unless you are a professional model, you are probably not accustomed to being in front of the camera for hours on end. Trust us, don't believe in perceptions that you're not photogenic. To learn how to make yourself better in picture posing, follow these curated ideas of expert wedding photographers.
Image Source: WeddingNama
1. Use your Hands
Your secret weapon to candid photos is one you'll be holding anyway—your bouquet, your clutch or any well-wrapped wedding gift. Having a prop eliminates that awkward feeling of what to hold, and focusing on whatever it is you're holding will take the pressure off the pose and help you take a more relaxed photo.
Image Source: Wedding Photo Creators
2. Everything Looks Better from the Above
Have your photographer position himself/herself at the top of a staircase or a balcony so you can look upwards into the lens. Trust us on this one: your jawline will look slimmer, your under-eye area will be lifted, and you'll look inches taller.
Image Source: WeddingNama
3. Pretend there's no Camera
While it won't be easy to forget about the photographer standing right in front of you, a three-quarter shot is always admiring and radiates an easy-breezy approach. So just look away from the lens and pretend that there's no camera in front of you.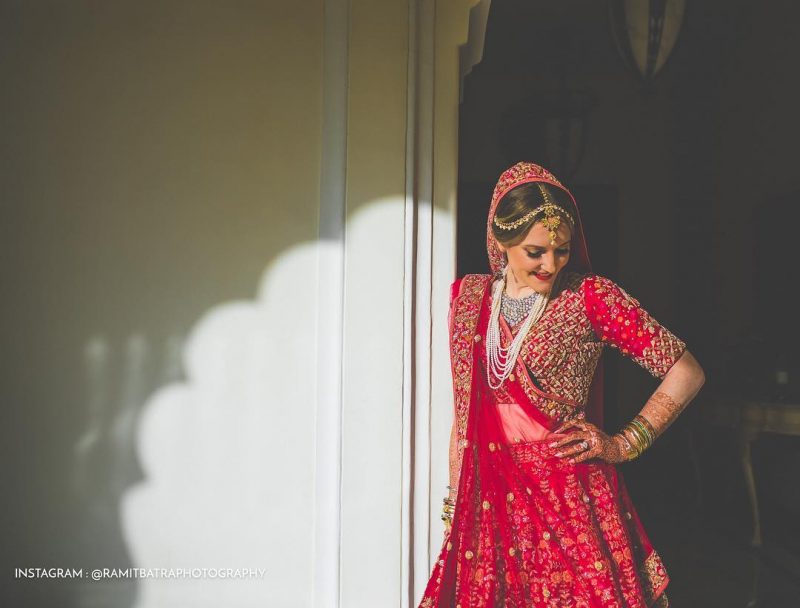 Image Source: Ramit Batra Photography
4.Show 0ff the Venue: Getting a shot from a distance not only exaggerates the beautiful wedding venue backdrop; it also won't put an awkward smile or nervous body language on display. Ask your photographer to take wider views of your candid moments on your wedding stages.
5. Maximize Natural Lighting for Indoor Shots
Try to utilize the natural lights as much as you can in the day time and for that, you can stick closer to the windows.
6. Don't Overshadow your Eyes
Try soft eye shadow palettes of pinks, peaches, and earth tones and don't over-do the eyeshadow. It may cause your eyes to look too small in photographs.
7. No Double-chin Shots
Take a deep breath to relax your shoulders and pitch your head slightly forward. It will prevent the double chin shots.
8. Go candid and have fun:
The only way to aid good candid images is by not stressing out and enjoying your moment with your loved ones.  Rest of the role will be played by your outfit, decor, props etc.
9. Pose with your Best Profile
Figure out your best profile, i.e. the better side of your face, and you will look more flattering in pictures. If you cannot figure this out yourself, consult the wedding photographer earlier
10. Show the Smile
Go through the pictures of yourself and notice how your smile impacts on your appearances on that. The more you smile, the more natural it'll look.
Along with achieving a picture-perfect venue and putting on a royal outfit, follow these tips and your wedding pictures will come out absolutely dreamy. Steep in every moment and let your natural bridal glow shine through. Just go with the flow and you'll end up with the most beautiful photo book ever!