10 trending blue bridal lehengas you cannot resist adorning!
These days, brides are no longer sticking to the quintessential red or maroon lehengas, they are experimenting with different hues and I am super pleased with that! Forget pastels and pinks, brides are now slaying it in different shades of blue.
Whether it is powder blue, royal blue or cerulean, these brides are setting the bar rather high, while flaunting their blue outfits!! There is something mysterious about this colour that makes every bride who wears it look elegant, graceful and mesmerizing.
I am listing real brides who donned blue lehengas for their wedding ceremonies and rocked their bridal look:
1. Ravishing in Royal blue!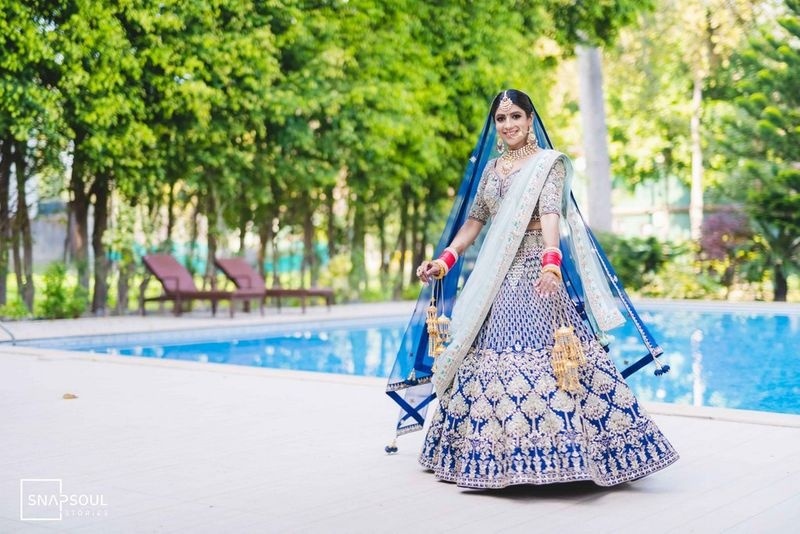 Image source: Snapsoul
This bride is acing her bridal look in this royal blue ensemble. I love the patterns on the lehenga and the heavy silver work on the blouse. Also, the fact that she has draped double dupattas! Not to miss the tassels and pom poms which are adding the extra oomph to the look!
2. Traditional blue lehenga
Image source: ShutterDown
I personally love lehengas which have a rather ethnic touch to them and this is one of my favourites. The coral, navy blue and aqua coloured patterns, bring life to the lehenga and the simple sheer dupatta with gold embroidery makes it look elegant. Not to miss the silver waistband, which is bringing out the silhouette!
3. Blue floral lehenga
Image source: Sandeep Gadhvi Photography
A beautiful light blue lehenga with pretty pink motifs is delightful to the eyes. I love the sheer pink dupatta and the high-waisted skirt. It adds grace to the entire bridal look! The bride has paired her outfit with dark pink chudhas and she has nailed her ensemble!
4. Blue lehenga with gold embroidery!
Image source: Chiragfreny
This rather heavy blue lehenga with a variety of patchwork and embroidered designs is love! The sheer dupatta with embroidery matching the one on the lehenga makes it look breathtaking!
What's best?
The bride has teamed it with minimal jewellery, in fact just a subtle maathapatti.
5. Blue lehenga skirt with a net blouse!
Image source: Framed by RG
I like the fact that this bride has experimented with her wedding ensemble and she has aced it! A royal blue lehenga skirt with large gold motifs, a net blouse with delicate and dainty designs and a simplistic net dupatta- this bride is killing it!!
6. Sky blue lehenga skirt with wine blouse!
Image source: Recall pictures
This lightweight blue lehenga is something you could definitely flaunt on your mehendi or haldi. I am swooning over the combination of a sky blue skirt with gold embroidery paired with a wine coloured blouse and minimalistic jewellery.
7. Cerulean lehenga with delicate embroidery!
Image source: Kirandeep photography
Cerulean lehenga with minimalistic patterns paired with double dupattas is a stunning combination! Love the balance created with the pastel hued net dupatta and the purple kaleeras.
8. Dazzling in blue!
Image source: Deepika Sharma
Everything about this bride's look screams 'BLUE' and for all the right reasons!! I am crushing over this shimmery powder blue lehenga with silver embroidery and a sheer veil. Not to miss the chic tassels and pom poms on the lehenga and the pretty blue chuddhas.
9. Lightweight blue lehenga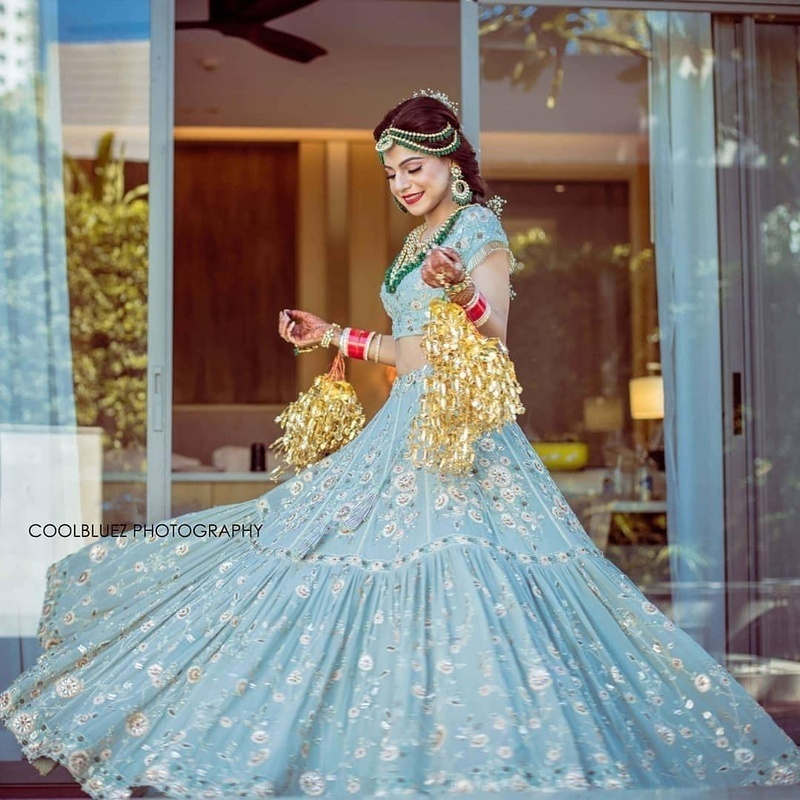 Image source: CoolBluez photography
Looooove this flared sky blue lehenga with simple silver designs and a matching blouse. I like how the bride has ditched the dupatta and teamed her outfit with contrasting emerald green jewellery!!
10. Pretty in powder blue!
Image Source: Cupcake Productions
Powder blue lehenga with silver and gold zari work leaves me awestruck. Love the subtlety and elegance it brings to the whole bridal look. The bride has teamed it with minimalistic jewellery and very simple makeup, inturn looking stunning!
Which refreshing lehenga are you planning to adorn on your D-day?